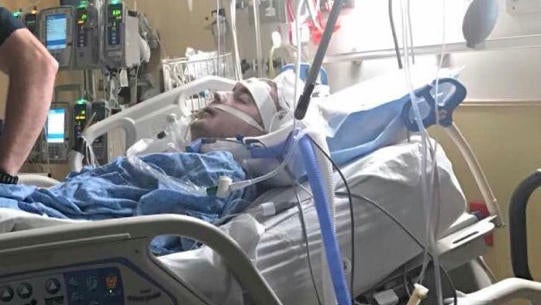 Tooth infection leads to young dad's death, family says
A tooth infection quickly turned deadly for a young California man last week, according to his family.
Vadim Anatoliyevich Kondratyuk of Sacramento was just 26 years old and the father of two young children.
A truck driver, he was en route to New York last week when he started to feel pain in his mouth. He stopped in Oklahoma to see a dentist who looked at his infection, cleaned it, and prescribed him antibiotics, his family said.
But when he got to New York, the pain came back and his mouth began to swell. Kondratyuk's brother decided to drive him home. When his condition worsened, they stopped at a hospital in Utah where doctors said the infection from his tooth had progressed and spread throughout his body. Kondratyuk's lungs had fluid in them, making it difficult to breathe on his own.
The antibiotics were not strong enough to fight the infection, his family said, and his heart gave out.
He died on Monday morning.
"They had him on medication, they tried everything they could," Kondratyuk's wife Nataliya told the Sacramento Bee. "We prayed for him that day, that night, hoping he was going to survive. But God has his plan, and we had a talk with the doctors and they told us how this all happened. … It was just not healing how it was supposed to. It was just getting worse."
His family set up a GoFundMe page to raise money for the funeral and family living expenses.
"Vadim was a very humble and calm person," they write. "A wonderful father, husband, brother, son, and friend. He would always put others before himself and was known to be the peacemaker. He had a very close and special relationship with his two daughters and he loved spending time with his family."
As of Wednesday, the family received over $180,000 in donations.
"On behalf of Nataliya, her daughters and all of Vadim's family, thank you sincerely for your support during this difficult time! We have been blown away by the love and kindness we have been shown by our friends, family, community and even kind strangers," the family said. "May God Bless you for your generosity."
Thanks for reading CBS NEWS.
Create your free account or log in
for more features.