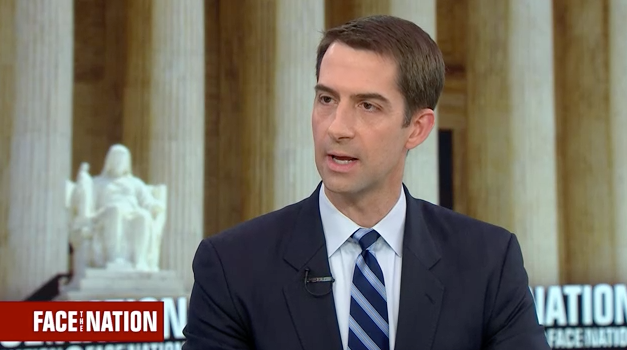 Tom Cotton claims Christine Blasey Ford has been "victimized by Democrats"
Arkansas Republican Sen. Tom Cotton claims that Christine Blasey Ford, who gave dramatic testimony alleging Supreme Court nominee Judge Brett Kavanaugh sexually assaulted her, has been "victimized by Democrats" on the Judiciary Committee, who he said have "turned the advise and consent process into a search and destroy mission."
"The Democrats have disgraced this process and the United States Senate in the orchestrated smear campaign of character assassination they've run against Judge Kavanaugh," Cotton said on "Face the Nation" Sunday.
Asked if he found Ford's testimony credible, Cotton said she was "sympathetic and she was sincere," before again criticizing his Democratic colleagues.
"She has been victimized by the Democrats in this process ... They betrayed her own requests for confidentiality. They leaked this to the media at the last minute because they are on a search and destroy mission for Brett Kavanaugh," he said.
Ford told her congresswoman, Rep. Anna Eshoo of California, about the alleged incident before Kavanaugh was nominated to the Supreme Court in July. She later detailed her allegations in a letter to Sen. Dianne Feinstein, the top Democrat on the Judiciary Committee. Ford asked Feinstein to keep the letter confidential.
Cotton said that Feinstein should have shared the letter with Republican Sen. Chuck Grassley, the committee chairman. He said the allegations could have been handled "discreetly" by the FBI.
"Any impact that this entire episode has had on women's willingness to come forward and report sexual assault, which I encourage them all to do immediately after it happens, is caused by the Democrats, is caused by Dianne Feinstein and Chuck Schumer not respecting her requests for confidentiality," he said.
Cotton said he found Kavanaugh to be "truthful and "appropriately indignant" throughout his testimony Thursday. He suggested that if Democrats wanted a more reserved reaction, "They should have thought about that before they accused him of being a serial sex criminal for the last two weeks."
Cotton also said he would be "open to evaluating" any potential new evidence against the judge unearthed the FBI.
"I said I strongly suspect that every statement that was made to the Judiciary Committee under penalty of perjury is the exact same statement that's going to be made to the FBI," said Cotton.
Thanks for reading CBS NEWS.
Create your free account or log in
for more features.