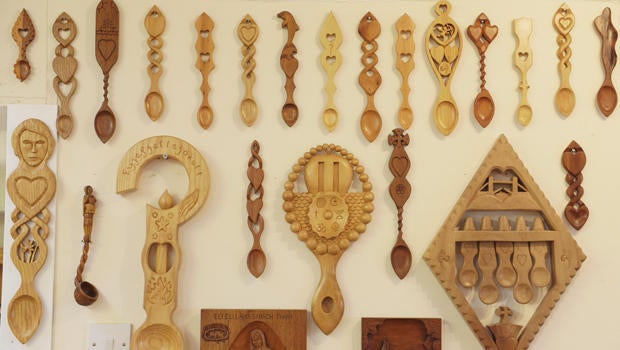 Tokens of love: The Welsh tradition of lovespoons
Conor Knighton's love of ISLAND HOPPING has taken him to a scenic spot that's all about love:
Off the northwest coast of Wales, lovely Llanddwyn Island holds a special place in the hearts of Welsh lovers.
It was here that St. Dwynwen -- the Welsh patron saint of lovers -- lived out her days, praying for romantics everywhere to find the happiness she never did.
The Welsh celebrate St. Dwynwen's Day on January 25th.
And if you want to show your sweetheart that you REALLY love them, you don't get them chocolates or flowers or jewelry; you get them … a spoon.
Kerry Thomas is a woodcarver who specializes in the art of Welsh lovespoons.
"It's a Welsh tradition, which dates back to the 17th century," he said. "Lovespoons were carved by young men, and offered to the young ladies that they were courting. And if accepted, they were then regarded as tokens of engagement, or betrothal."
Thomas made his first simple spoon in 1969 as a gift for his girlfriend. "I thought that I would learn how to carve to save myself having to buy an engagement ring!" he laughed.
That spoon worked its magic -- and Thomas has been making increasingly elaborate utensils every year to commemorate his life together with his wife.
He showed Knighton an intricate four-sided spoon: Two smooth spoons, two rough spoons.
"What's that signify?" Knighton asked.
"The rough and smooth of married life. So, it's our wedding spoon," Thomas replied. "It's not all going to be smooth, it's not all going to be rough."
Each spoon starts as a single piece of wood. After drawing and cutting out a design, Thomas will spend hours crafting custom spoons for couples who may not be as handy as he is.
Each one is a labor of love.
You can say a lot with a spoon. Each twist, each knot signifies something important. "You put in little bits of stories," Thomas said. "You're putting little messages into your spoons."
At Castle Welsh Crafts in the capital city of Cardiff, owner Bob Rice guides his customers through the language of lovespoons.
A symbol such as a wheel means "I will work for you." An anchor might symbolize "steadfast love." A lock, the promise of a new home. The number of "seeds in the cage" is often used to represent how many children a couple would like to have.
"So if some guy goes home, and he's had one done with SIX spheres in, well, she better look out!" Rice laughed.
These decorative objects were once functional; the spoon itself is a symbol.
"What you do with a spoon? You're mixing and blending," said Thomas. "So, the lovespoon, you're mixing and blending the two hearts together. That's the object."
It's a way to say "I love you" in wood instead of in words.

More from Conor Knighton's "Island Hopping" series:

For more info:
Thanks for reading CBS NEWS.
Create your free account or log in
for more features.