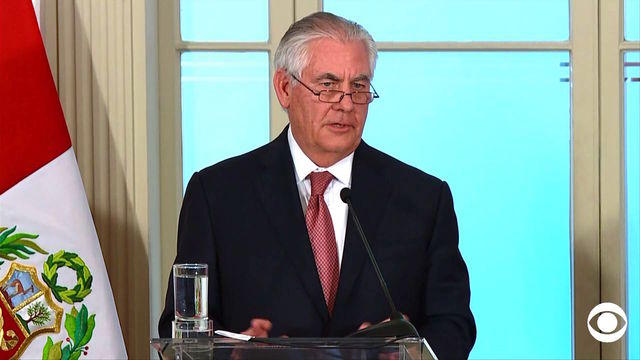 Tillerson won't rule out talks with North Korea at Olympics
LIMA, PERU -- Secretary of State Rex Tillerson isn't ruling out the possibility of the U.S. talking with North Korea at the Olympics later this month.
"With respect to the vice president's trip to the Olympics and whether or not there would be an opportunity for any kind of a meeting with North Korea, I think we'll just see. We'll have to see what happens," said Tillerson, in response to a question from CBS News.
Vice President Pence will lead the U.S. delegation to PyeongChang, South Korea for the Winter Olympics later this week. North Korea, which is building up a nuclear program that the U.S. staunchly opposes, will also be there with a delegation.
Tillerson once again said diplomacy is the preferable way to solve the threat presented by the North Korea and its nuclear weapons. He did not back off his position when it was pointed out that he had not outright objected to talks on the sidelines of the world's most anticipated sporting event.
The White House has struck a different tone in previewing Pence's trip to PyeongChang, saying that Pence will not seek meetings with any North Koreans while he is there.
"The first one being that we are seeing unprecedented levels of international support for maximum pressure strategy and the VP will make it very clear during this trip that maximum pressure strategy is only going to intensify," said a White House official.
In the past, Tillerson has said that North Korea knows where the phone is if they want to talk to him. At one point last year, he said that discussions should occur even if they are about the shape of the table for future negotiations or the weather.
The White House would not stand by those remarks and Tillerson has since rolled the assertion back slightly, saying that talks will have to be about the denuclearization of the North Korean peninsula, which is the ultimate U.S. goal.
Given that South Korea is allowing the North Koreans to come to the games -- and is marching with them during the opening ceremony -- there have been questions about how tough the U.S. ally is actually being on their northern foe. South Korean also officials met with North Korean officials to establish the agreement that allowed them to come to the games.
The White House denies that there are is a schism between the Washington and Seoul and says the South Korea is "clear-eyed" about the dangers of North Korea building its nuclear program.
"President Moon has been clear in his statements that North Korea must move towards denuclearization in tandem with any expectation of real improvement in inter Korean ties," said a White House official. "We've seen this before – charm offenses by the north and lead to a period of fruitless talks that bought more time for the north to advance it's missile and nuclear programs only to lead the world in a more dangerous situation."
The US is leading a worldwide pressure campaign to force North Korea to come to the table and discuss its nuclear program. "We have never had sanctions regime as comprehensive as this one," Tillerson said earlier this year. More than 20 countries have now cut off their diplomatic ties with North Korea.
The UN has also passed rounds of sanctions on the North Korean regime and is urging all countries to enforce those sanctions in order to make their regime really feel their impact. Yet questions remain about the effectiveness of those sanctions is yet to be determined.
The State Department says that they see signs that the sanctions are impacting the country. For example, they have seen North Korean fishing boats running out of oil recently in Japanese waters. Yet a recent United Nations report found that North Korea made $200 million in 9 months despite sanctions between January and September of 2017 from exports banned under U.N. Security Council resolutions designed to debilitate Pyongyang's nuclear weapons program.
Thanks for reading CBS NEWS.
Create your free account or log in
for more features.