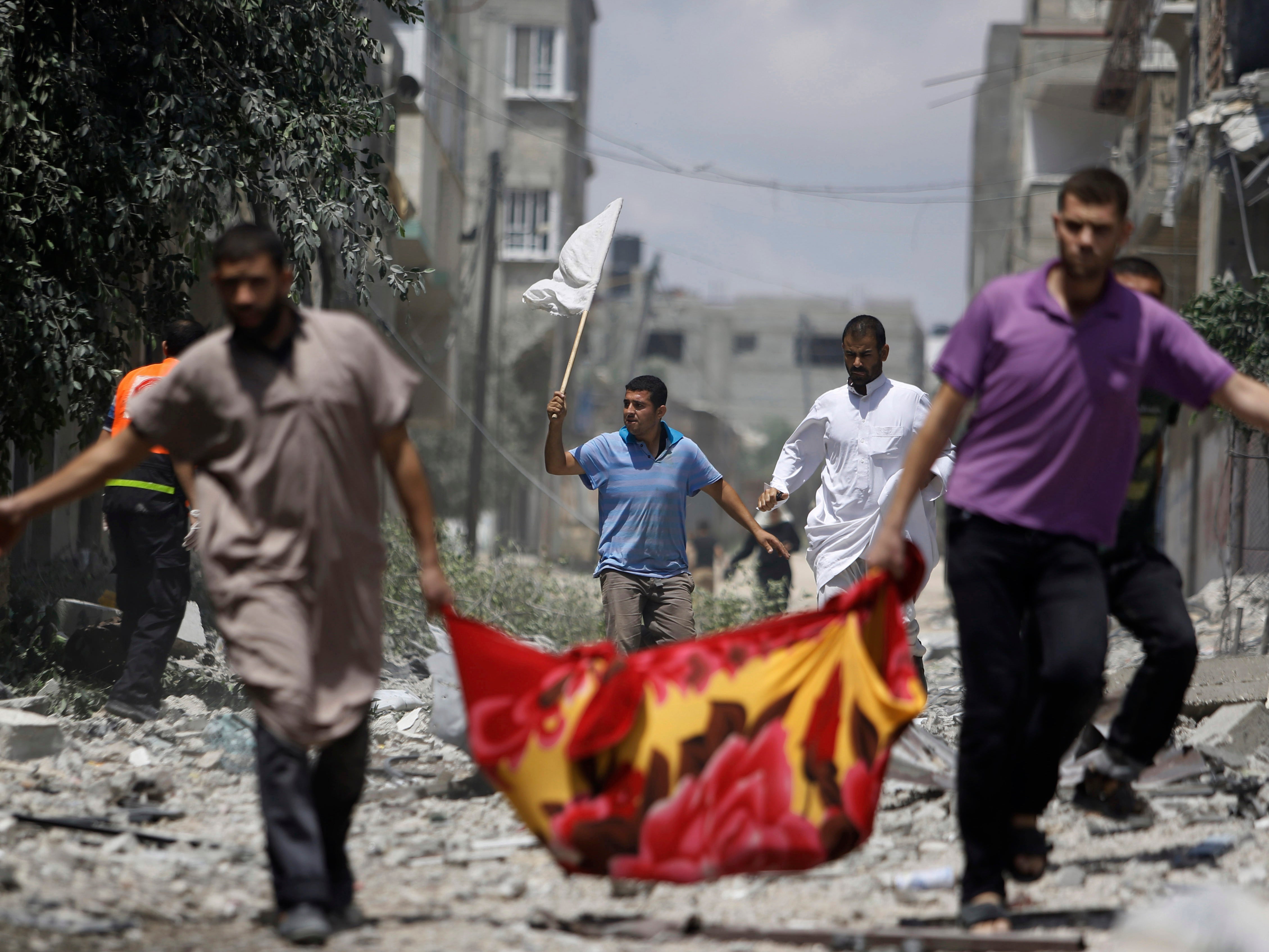 Escalated Gaza offensive exacts steep price on both sides
GAZA CITY, Gaza Strip - The first major ground battle in two weeks of Israel-Hamas fighting exacted a steep price Sunday: It killed at least 90 Palestinians and 13 Israeli soldiers and forced thousands of terrified Palestinian civilians to flee their neighborhood, reportedly used to launch rockets at Israel and now devastated by the fighting.
In addition, a spokesman for Hamas' armed wing claimed the group had captured an Israeli soldier during the day's fighting. Israel's ambassador to the U.N., Ron Prosor, dismissed the claim late Sunday.
"There's no kidnapped Israeli soldier and those rumors are untrue," he said.
Israeli Prime Minister Benjamin Netanyahu said the offensive would continue "as long as necessary" to end attacks from Gaza on Israeli civilians.
But Hamas seems defiant, international cease-fire efforts are stalled, and international criticism is becoming more vocal as the death toll among Palestinian civilians rises.
U.N. chief Ban Ki-moon called Israel's latest incursion "atrocious," and said it must do far more to protect civilians.
The U.N. Security Council was meeting in emergency session on Sunday night. The meeting was held at the request of Jordan.
In Israel, public opinion will struggle to tolerate rising military losses in an open-ended campaign. Already, Sunday's deaths marked the highest number of soldiers killed on a single day since Israel's war in Lebanon in 2006.
The ferocious battle in Gaza City's Shijaiyah neighborhood came on the third day of Israel's ground offensive, which had been preceded by a 10-day air campaign.
There, it was a day of running for your life, reports CBS News correspondent Barry Petersen.
"I was crying and shouting," Medea Abdul Atta told CBS News through a translator. "I saw bodies spread in the street. I have never seen such a terrible thing."
Shells poured in for hours, only briefly interrupted by a humanitarian cease fire, allowing rescuers to find the wounded. Mostly, this was a day when they found those who died in the streets. Most of all, however, this was a day of grieving at the overwhelmed morgue in the city's main hospital.
There is a grim efficiency about death in the hospital that as soon as families come and identify a body and they take it away, another one takes its place, Petersen reports.
Every face was a story of loss, including the story of Faud Jaber, an ambulance driver killed when his ambulance was hit by a shell, according to his family.
"He wasn't a fighter," a female relative said. "He was a fighter for humanity, an ambulance driver. Why did he deserve to die?"
In all, at least 435 Palestinians have been killed and more than 3,000 wounded in the past two weeks, according to Palestinian health officials. The overall death toll on the Israeli side rose to 20, including 18 soldiers, along with dozens of wounded troops, during that period.
Among the Israeli soldiers killed Sunday were two American citizens. The family of Max Steinberg, who live in California, confirmed his death to CBS News. Steinberg, 24, was a sharpshooter for the Golani Brigade.
Sgt. Nissim Sean Carmeli, 21, was from South Padre Island, Texas, and had volunteered for duty and served in the Golani Brigade. A State Department spokeswoman confirmed the deaths late Sunday but declined to comment further.
Rabbi Asher Hecht, co-director of Chabad of the Rio Grande Valley, told CBS News that Carmeli's parents are Israeli. He was born in Texas but moved to Israel as a teenager.
"He had always a smile on his face. He was a boy with a beautiful personality. He often came off as a person with a very gentle soul," Hecht said.
Sunday's battle began when Israeli troops backed by tanks entered the densely populated Shijaiyah district just after midnight Sunday. They were met by a "huge" level of resistance by Hamas fighters who fired anti-tank missiles, rocket-propelled grenades and automatic weapons from houses and buildings, said Lt. Col. Peter Lerner, an army spokesman.
Residents said they came under intense Israeli tank fire.
"The gate of hell has opened, and shrapnel came through the windows," Shijaiyah resident Jawad Hassanain said by phone. He and his family fled to a nearby building after their house shook from explosions.
Casualties were rushed to Gaza's central Shifa Hospital. Wailing parents, some covered with blood or dust from debris, carried children peppered by shrapnel, and the emergency room quickly overflowed, forcing doctors to treat some patients in a hallway.
During a brief Red Cross-brokered lull later in the day, rescue workers toured the neighborhood to retrieve the dead, pulling bodies from the rubble of homes.
In a last sweep of the area on Sunday afternoon, rescue workers heard the faint voice of a woman in the rubble of a house.
"I'm here with my husband and niece," the woman said, adding that there were also three bodies near her. "I'm here under the shop. God please, I can't breathe."
In the incident witnessed by Associated Press journalists, rescue workers tried to organize a bulldozer, but the situation was deemed too dangerous and the crew left. Later, the rescue workers returned with a bulldozer, after coordination with Israeli forces through the Red Crescent, and pulled the three from the rubble, said Said Hamam, a member of the rescue services.
The 13 Israeli soldiers were killed in several separate incidents in Shijaiya, including gun battles and rocket attacks. In the deadliest, Gaza fighters detonated a bomb near an armored personnel carrier, killing seven soldiers inside, the army said. In another incident, three soldiers were killed when they became trapped in a burning building, it said.
Despite the losses, the army chief, Lt. Gen. Benny Gantz, said Israel intends escalate the operation. Gaza residents received automated phone calls late Sunday, warning them to evacuate refugee camps in the center of the Gaza Strip.
Israel had launched the campaign to hurt Hamas' ability to fire rockets and to destroy tunnels dug by the militants to sneak into Israel to carry out attacks.
Shijaiyah was targeted as a Hamas stronghold and because 8 percent of more than 1,700 rockets fired at Israel since July 8 were launched from there, said Lerner.
The military said that since the beginning of ground operation late last week, it has killed 110 Gaza fighters and targeted more than 1,000 sites linked to militants. Soldiers also exposed 14 tunnels, all interconnected and leading toward Israel, and detonated six of them, including one with a length of 1.2 kilometers and an access point within a house, the army said.
"It's like the Underground, the Metro or the subway," said Lerner, the army spokesman, referring to the tunnel system.
The first days of the current ground offensive were in marked contrast to Israel's last major invasion of Gaza in January 2009, known in Israel as Cast Lead, when Hamas fighters rarely engaged Israeli forces.
Now, Gaza's militants seem better armed, including with anti-tank rockets.
"I see an escalation in weaponry," Amos Yadlin, a former Israeli military intelligence chief, told Israel TV's Channel 10. "This isn't the same weaponry as in Cast Lead."
Netanyahu said in nationally televised comments Sunday that the ground campaign is vital to Israel's security because the tunnels could be used for "mega terror attacks and kidnappings," but acknowledged the operation is "full of risks."
Speaking earlier to CNN, Netanyahu said the ultimate goal is to "restore a sustainable quiet" for Israel's citizens. Once that is achieved, he said he hopes to enlist the international community "to demilitarize Gaza," but did not explain what that would entail.
Asked about the mounting number of dead and wounded among Palestinians, he said Israel is only targeting militants.
"All civilian casualties are unintended by us, but intended by Hamas. They want to pile up as many civilian dead as they can. ... It's gruesome," Netanyahu said. "They use telegenically dead Palestinians for their cause. They want the more dead the better."
Meanwhile, a speedy cease-fire seems elusive, as the U.S. and some of the regional powers disagree on how to resolve the Israel-Hamas conflict.
Hamas rejected Egypt's proposal last week that both sides halt fire and then discuss a possible easing of the Gaza border blockade, enforced by Israel and Egypt since Hamas seized Gaza in 2007.
For Hamas, easing the blockade is key to survival, after an intensified border closure of Gaza by Egypt in the past year drove the movement into a crippling financial crisis. Hamas has insisted on guarantees concerning the blockade before it stops fighting and has demanded that others, including Qatar, join Egypt as a mediator.
Kerry said on "Face the Nation" Sunday that he supported Egypt's effort toward a ceasefire without preconditions, saying that Hamas is seeking "a reward for their terrorist behavior" in pushing for the blockade to be eased.
"We support Israel and the international community's right not to be extorted by terrorism."
Kerry is traveling Monday to Egypt to press for a cease-fire to hostilities. The Obama administration toned down its earlier rebuke of Israel for attacks on the Gaza Strip that have killed civilians, including children, although Kerry said he remains concerned about the rising death toll .
"It's ugly. War is ugly," Kerry said. "And bad things are going to happen. But they (Hamas) need to recognize their own responsibility."
Martin Indyk, the former U.S. Special Envoy for the most recent round of negotiations that collapsed earlier this year, said the Palestinian Authority, led by Mahmoud Abbas, must assert control over Hamas and in Gaza before a long-term political solution, elusive for so many years, can be achieved.
"That obviously is a long and difficult process but it needs to start with a cease-fire. So the question is whether Egypt, the United States, perhaps with the help of Qatar which provides the financial leverage, can convince Hamas that it's in the interest of the Palestinian people now to stop firing in favor of a process that leads to the Palestinian Authority taking control in Gaza," Indyk said on "Face the Nation."
However, Qatar is seen as more sympathetic to Hamas.
Qatari Foreign Minister Khalid al-Attiya said after a meeting with U.N. chief Ban that it is not important which country achieves the terms of a cease-fire so long as justice is achieved.
"We condemn the acts of aggression that Israel has carried out against the Palestinian people, and most recently the massacre of Shijaiyah today in which most of those killed were children," said al-Attiya.
Ban had harsh words for Israel's military operation, while reiterating his call for an immediate cease-fire.
"While I was en route to Doha, dozens more civilians, including children, have been killed in Israeli military strikes in the Shijaiyah neighborhood in Gaza," he said.
"I condemn this atrocious action. Israel must exercise maximum restraint and do far more to protect civilians," he said.
Thanks for reading CBS NEWS.
Create your free account or log in
for more features.