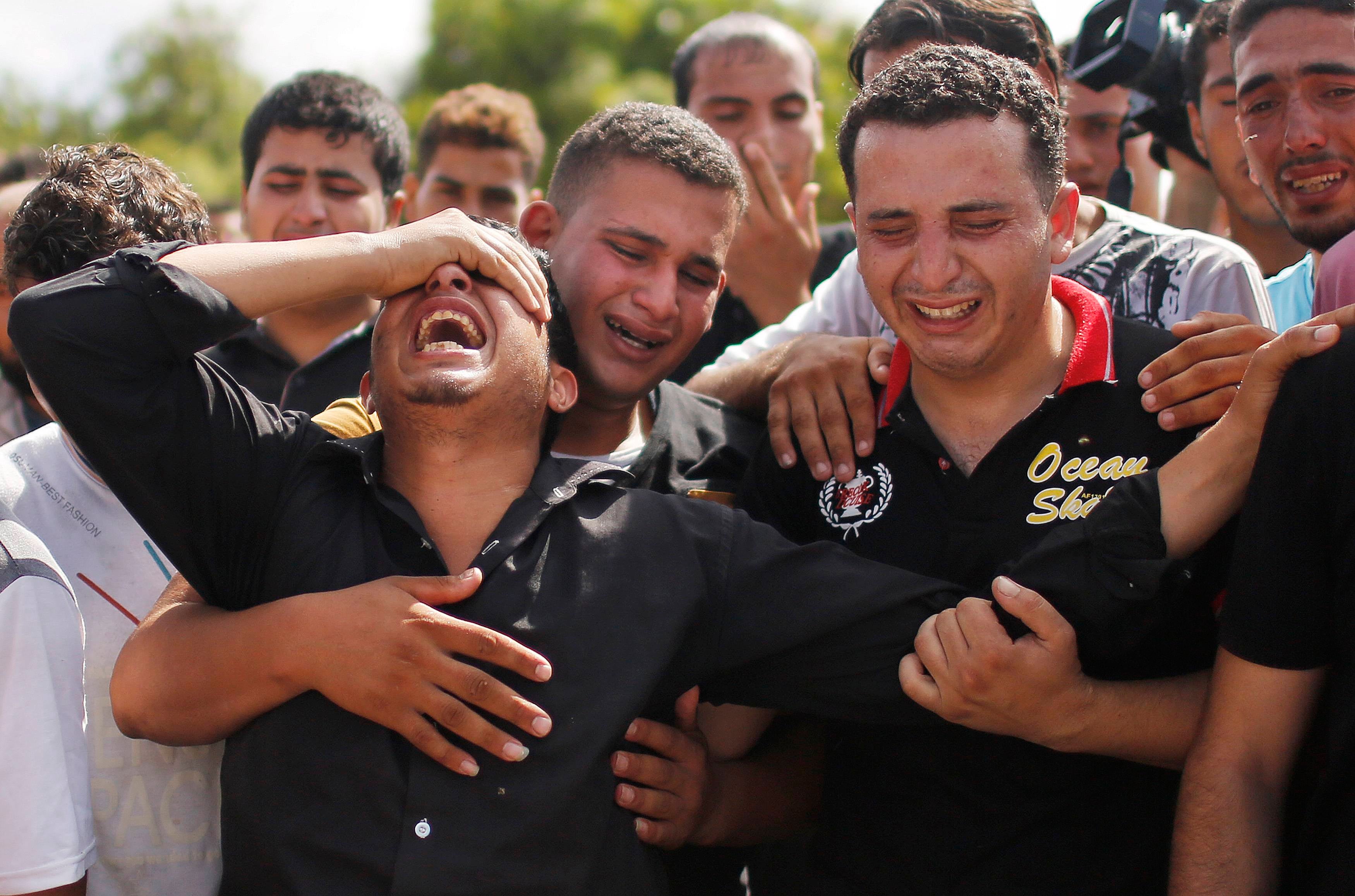 Israeli troops uncover Gaza tunnels as death toll climbs
GAZA CITY, Gaza Strip -- Israeli troops uncovered more than a dozen cross-border tunnels and battled Gaza militants on the second day of an open-ended ground operation Saturday, as the Palestinian death toll neared 350 and diplomats scrambled to revive cease-fire efforts.
The Israeli military said it had severely diminished the arsenal of Hamas, the Islamic militant group ruling Gaza, but the militants have continued to fire rockets.
In the northern Gaza Strip, Palestinian officials reported intensified Israeli airstrikes, shelling and numerous civilian casualties. Health officials said the new round of strikes raised the death toll from the 12-day offensive to 348 Palestinians, many of them civilians and nearly a fourth of them under the age of 18.
CBS News correspondent Holly Williams reports that in Gaza's Al-Susi Mosque, there was a defiant mood.
Mohammed Omar Susi, 92, has seen this conflict rage for decades - and told us if he were a young man, he'd fight the Israelis himself.
"We were weak the first time, but now we are stronger than the Jews," he said.
In Israel, a Gaza rocket killed a man near the southern city of Dimona and wounded four people, police spokesman Micky Rosenfeld said, marking the second Israeli civilian casualty from the fighting. An Israeli soldier was killed after the start of the ground operation, likely from friendly fire.
The Israeli military said during its first 24 hours on the ground in Gaza troops discovered 13 tunnels into Israel - some as deep as 30 meters (yards) - that could be used to carry out attacks. Israel says it launched the offensive to deal with that threat. On Saturday, the military said it thwarted a second infiltration attempt through just such a tunnel, killing one militant and forcing the others to return to Gaza. Two soldiers were killed by Palestinian militants in the firefight, the army said.
The military also said it has hit 2,350 targets in Gaza, including 1,100 rocket launchers, during the 12 days of fighting. Militants have fired more than 1,600 rockets since July 8.
"We have struck hard on the two main strategic assets of Hamas: the rockets and these tunnels," Israeli military spokesman Lt. Col. Peter Lerner said.
Israel says it has encountered little resistance on the ground so far, and has killed about 20 militants in sporadic gunbattles. Three soldiers were wounded in overnight fighting, one seriously, the military said.
In one case, it said troops encountered a man who appealed for medical assistance before pulling out grenades and trying to hurl them at soldiers. He was shot dead, authorities said. Troops also encountered a donkey with explosives strapped to it.
Israel launched the ground operation late Thursday after its air campaign on the Hamas-ruled territory failed to halt the unrelenting rocket fire. The rate of Palestinian casualties has risen since the ground offensive began - Gaza Health Ministry spokesman Ashraf al-Kidra said more than 90 Palestinians have since been killed.
Casualties could quickly mount further if the military moves further into urban areas.
Some 50,000 Palestinians already are staying in United Nations shelters, according to UNRWA, the U.N. refugee agency for Palestinians.
Early Saturday, Israeli tank fire killed at least five members of the Al Zawaydi family at their home in Beit Lahiya, including two children. In a separate incident, tank shell fire killed three members of the Hamooda family in their home, among them two children.
In Gaza City, two boys and a 1-year-old infant neighbor were killed Friday evening following the break of the Ramadan fast. On Saturday, at least two of the bodies were carried by somber relatives during a funeral procession in Gaza City.
A neighbor described the damage to the home as a "world turned upside down."
"The blood is filling the place everywhere. Small kids, it's a shame, they're kids," Amer al-Jumaasi said.
An Egyptian truce proposal was rejected by Hamas, which has ruled Gaza since 2007 and has demanded the lifting of an Israeli and Egyptian blockade as part of any cease-fire agreement.
Egyptian Foreign Minister Sameh Shukri on Saturday repeated a call for the two sides to adopt its cease-fire initiative, saying it is the only offer on the table, despite efforts from Hamas backers Turkey and Qatar to broker a deal.
"This initiative still presents the chance for the two sides to cease fire, ending the bloodshed," he said. "It meets the needs of both sides. We will continue to propose it. We hope both sides accept it."
In a fresh effort to broker a truce, U.N. chief Ban Ki-moon was to leave Saturday for the Middle East to help mediate the Gaza conflict. Diplomatic sources told CBS News foreign affairs analyst Pamela Falk that Ban was expected to arrive in the Middle East Sunday night to visit Israel, the Palestinian territories and Egypt.
Ban will begin in Doha, Qatar, Sunday and then travel to Kuwait City, Cairo, Jerusalem, Ramallah in the West Bank and Amman, Jordan.
"Qatar's role on the secretary-general's trip will be key in trying to bring Hamas into a cease-fire agreement," Falk said.
A cease-fire is "indispensable" for urgently needed humanitarian efforts to succeed, the undersecretary-general for political affairs Jeffrey Feltman told an emergency meeting of the Security Council on Friday.
Israeli officials have said the offensive could last up to two weeks. The military reported making steady progress but said dozens of tunnels remain and would not give a time frame for its operation.
Israel's military chief, Lt. Gen. Benny Gantz, visited troops on the Gaza border early Saturday and said "a strategic national patience is necessary" to complete the mission.
"Hamas and other terror organizations have been hit hard, painfully and extensively," he added.
But Gaza militants have remained defiant despite the heavy death toll.
"The Palestinian people in the Gaza Strip will not surrender to the enemy and will not raise the white flag," Ziad Nakhala, a leader in the Islamic Jihad militant group, told a Palestinian radio station. "We are open to all possibilities as long as the enemy does not respond to the demands of the resistance."
Hamas has survived Israeli offensives in the past, including a major three-week ground operation in January 2009 and another weeklong air offensive in 2012. It now controls an arsenal of thousands of rockets, including long-range projectiles, and has built a system of underground bunkers.
But Hamas is weaker than it was during the previous two offensives, with little international or even regional support from its main allies, Turkey and Qatar. Protests against the offensive took place Friday in Turkey, Jordan and the West Bank.
Thanks for reading CBS NEWS.
Create your free account or log in
for more features.