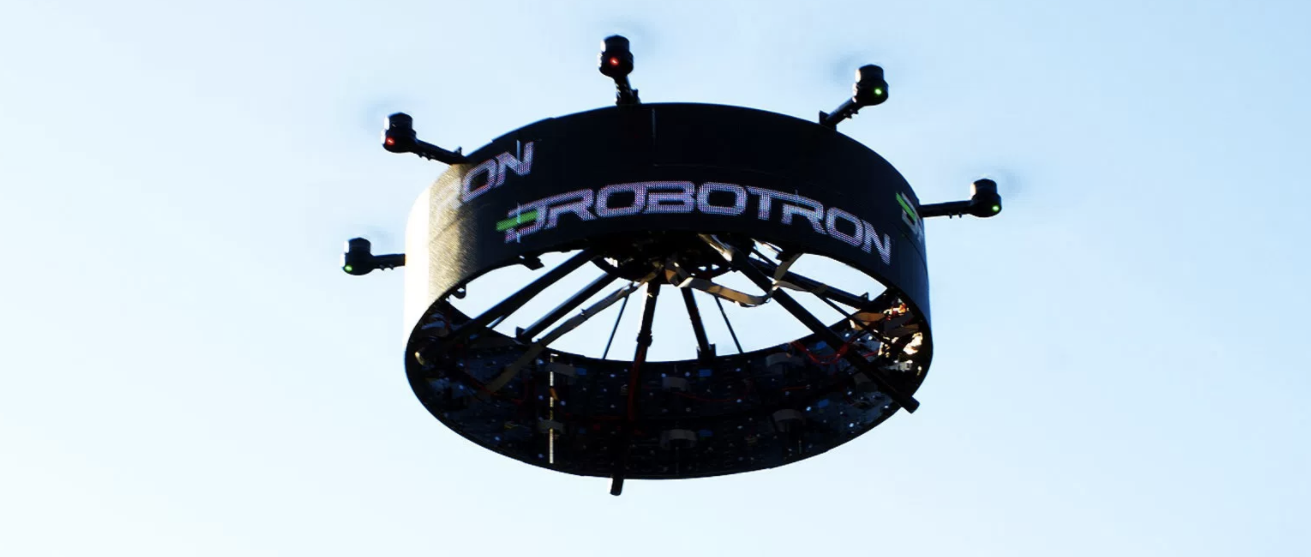 This might be the first drone billboard
ORLANDO, Fla. — Drivers may have noticed a first-of-its-kind sight hovering in the skies over Orlando this week, CBS Orlando station WKMG reported.
It's called the Drobotron. A 360-degree LED video screen mounted on a drone displayed videos of the Parc Corniche Hotel, as well as advertisements promoting pizza and margaritas at the resort's restaurant.
"Our patent revolves around a flying TV," Drobotron inventor Bobby Watts told the station. "The first time I saw it fly I thought, 'Wow, this is a game-changer.'"
Watts, who has built and flown model aircraft for years, was inspired to create Drobotron by watching spectators' reactions to drones buzzing by.
"No matter where I go and fly a drone, everyone looks up at it. We've even been to the Cape filming rockets, and people will turn around from the rocket and look at our drones," Watts said. "So I just figured, why not capitalize? Why not put your advertising, put your content on the drone itself?"
Watts, who is licensed by the Federal Aviation Administration to fly drones commercially, attached a 40-by-10-inch video display to an unmanned aerial vehicle. Video clips, still photos, and text can be uploaded to Drobotron before the radio-controlled aircraft takes flight.
To ensure safety, the 30-pound drone cannot be flown over people. But Drobotron's video screens can easily be seen as it flies a safe distance from crowds.
"Even on a bright sunny Florida day, you can see the screen for hundreds of feet," Watts said.
A promotional video for Drobotron shows the drone displaying the words "Grand Opening" over a new business and informing passersby that a home is "For Sale."
The aerial billboard could have other uses, such as displaying emergency messages during search and rescue operations, participating in fireworks and theme park shows, or serving as a scoreboard during surfing competitions, according to Watts.
His invention has already been used by a customer who wanted an extremely unique marriage proposal.
"Luckily, she said 'yes,'" Watts said.
Chris Demko, vice president of the Parc Corniche Hotel, hired Watts to fly advertisements for the resort.
"It's going to catch everyone's attention, help them stop in to get a room for a night, or have a meal or [a] couple drinks at our restaurant," Demko said.
Although Drobotron might bring to mind the ominous flying billboards featured in the 1982 science fiction movie "Blade Runner," Watts does not expect the skies to be cluttered with drone advertisements.
"In no way do we think this will replace a banner plane or the guy twirling the sign," Watts said. "It's just another medium for advertisers to use."
For $200 per hour, Watts's company will fly Drobotron over a customer's event or business. He has also begun taking preorders from licensed drone operators who are eager to purchase one of the $20,000 flying billboards.
"This is our first aircraft. We're working on bigger ones and bigger ones," Watts said. "So this is only the beginning."
Thanks for reading CBS NEWS.
Create your free account or log in
for more features.