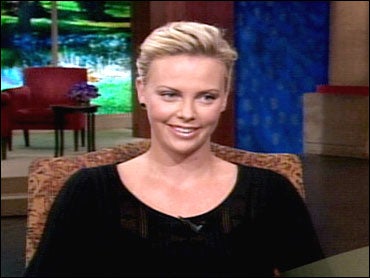 Theron Mines 'North Country'
Charlize Theron is often called one of the most beautiful and talented women in Hollywood. She can easily segue from the glamour of "The Italian Job" to the drama of her Academy Award-winning role in "Monster."
In her latest film, "North Country," she plays Josey Aimes, a single mother fighting sexual harassment in the iron mine where she works.
"The mine was kind of this very mysterious thing for all of the women," Theron told The Early Show co-anchor Hannah Storm. "In there, they realized pretty quickly that they were taking jobs where there weren't jobs to be taken. And that these guys were going to try and break them down so that they would just leave."
Inspired by a true story, the film follows Josey's journey on a road that will lead her to the nation's first-ever class action lawsuit for sexual harassment.
"The thing that's great about this story is it's not just about the first class action sexual harassment case," Theron said. "It's really also about this community and about people just trying to survive."
To prepare for her role, Theron actually worked a shift in the mines for 12 hours and met a few of the women who work there.
"I think the most important thing that I got from them was when I got to be with their families and with their children," Theron said. "These were just people trying to make ends meet and trying to put food on the table. I think that was the part that moved me the most.
"Then they started telling me stories about how this abuse didn't just affect them. It affected their children when they went to school, when they went to go play hockey. It wasn't just something that happened at work and then it was done. It really bled into the community and there was just this constant fight."
In the movie, her character goes to her boss about the harassment, but he doesn't do much about it — something women who work in male dominated fields may relate to.
"I was a little mad at myself because I feel very fortunate," Theron said. "I feel like I work in an environment where I've never had to face anything like that. I'm young and I think part of me is like the feminist movement happened in the '60s and everything is fine.
"When I read this script, I really did think it was a typo. I really couldn't believe it just happened. Then when I jumped on the Internet and realized this case is only finally settled in '98, I thought we have come a long way but still have a lot to do.
"I can't sit back and be complacent thinking because I'm fortunate that everyone else has the same working conditions. The thing that I realized when we went back, to be there with this community, is that you can change over laws, but you don't, overnight, change how people think. It takes a long time to get that across.
"And like Josey in the film, she starts with her children. She doesn't want her son or her daughter to be the next generation to carry that on. And I think it's going to take some time."
The film also stars Academy Award-winner Frances McDormand as Josey's old friend Glory; Academy Award-winner Sissy Spacek and Richard Jenkins from "Six Feet Under" as her parents; and Academy Award-nominee Woody Harrelson as a hometown lawyer.
About Charlize Theron:

Born in Benoni, South Africa, on Aug. 7, 1975
She grew up on a family farm and began studying ballet at the age of 6. She danced professionally in Johannesburg. In 1991, at age 16, won an Italian modeling agency contest. She moved to Milan and traveled across Europe modeling for the next year.

Then she moved to New York City, taking modeling jobs to pay the rent; studied with the Joffrey Ballet for eight months before a knee injury curtailed her dance career. She then moved to Miami and, in 1994, settled in Los Angeles.

In 1995, worked as an extra on "Children of the Corn III"
In 1996, made her feature film debut in John Herzfeld's "2 Days in the Valley;" also had a featured role in Tom Hanks' directorial debut, "That Thing You Do!"
In 1997, Theron won praise for her performance as Keanu Reeves' neglected wife in "The Devil's Advocate."
In 1998, she had a featured role as an oversexed supermodel in Woody Allen's "Celebrity" and starred opposite Bill Paxton in the Disney remake of "Mighty Joe Young."
The following year, she played the title role in the thriller "The Astronaut's Wife."
In 1999, Theron offered a strong turn as a woman torn between two loves in "The Cider House Rules."
In 2000, she co-starred with Ben Affleck in "Reindeer Games," a thriller directed by John Frankenheimer. She portrayed Faye Dunaway's daughter in "The Yards."

Also acted with Robert De Niro and Cuba Gooding Jr. in "Men of Honor," the true story of the U.S. Navy's first African-American salvage-and-retrieval diver.

And she starred with Matt Damon and Will Smith in Robert Redford's "The Legend of Bagger Vance."

In 2001, she re-teamed with Keanu Reeves for the remake of "Sweet November." And reunited with Woody Allen for a role in "The Curse of the Jade Scorpion."
In 2002, she starred in the drama "Trapped" with Kevin Bacon as parents whose daughter is kidnapped. She also starred in the comedy "Waking Up in Reno" with Billy Bob Thornton. She was also cast as former-Bond girl Britt Ekland in the HBO bio-pic "The Life and Times of Peter Sellers."
In 2003, she was seen opposite Mark Wahlberg in F. Gary Gray's remake of the 1969 heist drama "The Italian Job" playing second-generation safecracker Stella Bridger. She then took the role of convicted murderer Aileen Wuornos, one of America's first known female serial killers in writer-director Patty Jenkins' "Monster." For this portrayal she received her first Academy Award for Best Actress and took home the year's Golden Globe for Best Actress in a Drama, as well as the Independent Spirit Award and Screen Actors Guild Award.
In 2004, she was seen in the low-profile wartime melodrama "Head in the Clouds."
Theron recently finished filming the action adventure "Aeon Flux" for director Karyn Kusama, based on the MTV animated series.
Thanks for reading CBS NEWS.
Create your free account or log in
for more features.