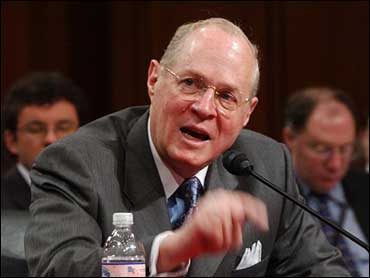 Charlize Theron's 'Italian Job'
In the contemporary update of the classic British film, "The Italian Job," Charlize Theron plays a nerves-of-steel safecracker, who with the help Mark Wahlberg, sets out to avenge her father's death after a gold heist gone bad.
"I am not really a con-artist," says Theron to The Early Show co-anchor Rene Syler about her role. "I actually work with the FBI, and you know, I'm very clean, and my father did the thief thing. So I, God forbid, I get involved in it. So that's how I get dragged - kind of like virgin ground for me."
Directed by F. Gary Gray, "The Italian Job" is a contemporary update of Paramount's 1969 classic and it includes a cast of solid actors: Mark Wahlberg, Edward Norton, Seth Green, Jason Statham, Mos Def, Franky G. and Donald Sutherland. Theron says everybody got along, noting that she and Wahlberg already knew one another.
"Everybody kind of knew each other somehow, and there wasn't a moment that we didn't laugh constantly. I mean we had such an amazing time making this film," Theron says.
The film also features the ever-popular MINI coupe in state-of-the-art chase scenes down Hollywood's Walk of Fame through the Metro Rail tunnels and down narrow escape routes only MINI can go.
Theron proved to be one of the more proficient drivers of the MINI off screen and on. With a big smile she said, "Well, give myself a little smack on the shoulder there."
And why not, even Wahlberg said she was the best driver of the bunch.
Theron says, funny he said that. "They told us right up front that they wanted us to do as much of the stunt work that we felt comfortable doing. So we all went to driving school and I was told that I had to go for two extra weeks just because I was the girl. And I was, like, 'Wait a second.' And then we showed up, and I think it's just this generalization that, you know, you're blonde, you're pretty, you don't know how to drive a car."
So she says there was a competition among the actors in which Wahlberg ended up not having the stomach for it. He admits getting sick at one point.
Theron says, "We were on an actual race track that we were practicing on. And we had, with me, in one car and Mark in a car and Jason in a car and we all would do different exercises. And one of the exercises was to just basically forcing the car to go as fast as it would in a circle. So you're basically just driving around in a circle constantly all day. And I just remember like an hour of practicing coming back and Jason and I were like, 'Where's Mark?' And everybody was trying to cover up for him. 'Oh, he had a meeting.' And I was like, 'Wait a second. Something's not right,'" she says with a laugh.
But not all went so smoothly for Theron, she broke a camera when she crashed her car. "It's not as bad as it sounds. Because, I've been told that a lot of things can go wrong when you make movies like this. And then I was told that we actually did really well. I crashed, not big crash, like I kind of bumped the car twice," she said sounding like a 16-year-old coming back from a date.
Theron adds, "The funny thing is you forget that you're on a set, and I don't know, I've only been in one car accident, it wasn't bad, thank God. But the first thing that goes through your head is like, 'Insurance, and for the next month my life is going to be just complete hell.' And when I did it that was instantly what happens. 'Insurance, license, I'm a foreigner. Oh, no, I'm on a movie set. It's OK.'"
She was headed back to Pris for more fiilming of her current movie, "Head In The Clouds" with Penelope Cruz.Her next film coming out the next of the year is "Monster."
About Charlize Theron:

Born in Benoni, South Africa, on Aug. 7, 1975
She grew up on a family's farm and began studying ballet at the age of 6. She danced professionally in Johanesberg. In 1991, at age 16, won an Italian modeling agency contest. So she moved to Milan and for the next year traveled all over Europe modeling.

Then she relocated to New York City, taking modeling jobs to pay the rent; studied with the Joffrey Ballet for eight months before a knee injury curtailed dance career. Moved then to Miami and in 1994, settled in Los Angeles.

In 1995, worked as an extra on "Children of the Corn III".
In 1996, made her feature film debut in John Herzfeld's "2 Days in the Valley;" also had a featured role in Tom Hanks' directorial debut, "That Thing You Do!"
In 1997, Theron won praise for her performance as Keanu Reeves' neglected wife in "The Devil's Advocate."
In 1998, she had featured role as an oversexed supermodel in Woody Allen's "Celebrity" and starred opposite Bill Paxton in the Disney remake of "Mighty Joe Young."
The following year, she played the title role in the thriller "The Astronaut's Wife."
In 1999, Theron offered a strong turn as a woman torn between two loves in "The Cider House Rules."
In 2000, she co-starred with Ben Affleck in "Reindeer Games," a thriller directed by John Frankenheimer. She portrayed Faye Dunaway's daughter in "The Yards."

Also acted with Robert De Niro and Cuba Gooding Jr. in "Men of Honor", the true story of the US Navy's first African-American salvage-and-retrieval diver.

And she starred with Matt Damon and Will Smith in Robert Redford's "The Legend of Bagger Vance."

In 2001, she re-teamed with Keanu Reeves for the remake of "Sweet November." And reunited with Woody Allen for a role in "The Curse of the Jade Scorpion."
In 2002, she starred in the drama "Trapped" with Kevin Bacon as parents whose daughter is kidnapped. She also starred in the comedy "Waking Up in Reno" with Billy Bob Thorton. And was cast as blonde bombshell and former Bond girl Britt Ekland in the HBO bio-pic "The Life and Times of Peter Sellers."
Thanks for reading CBS NEWS.
Create your free account or log in
for more features.