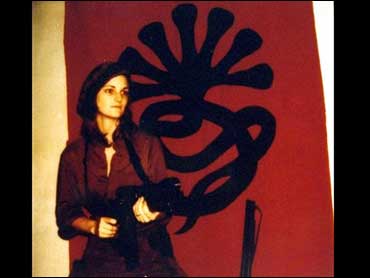 Correspondent Jerry Bowen reports for CBS News Sunday Morning.
It was absolutely stunning news back in 1974: The kidnapping of 19-year-old Patty Hearst by a mysterious gang of radicals who called themselves the Symbionese Liberation Army. The SLA.
A huge story for Associated Press reporter Linda Deutsch, then and now.
She recalls, "They just rocketed into the headlines, and it's hard to explain to people now what a huge story that was. To have snatched her out of her apartment in Berkeley, carried her off in the night and then started making demands."
Those included a demand that the Hearsts feed San Francisco's poor. So they did, spending millions of dollars on food giveaways. But Patty was not returned. Quite the contrary.
Recalls Deutsch, "The surprising part was that Patty Hearst became one of them, that she sent messages from the underground saying that she had become Tania."
On tape, Patty Hearst was heard saying, "I have chosen to stay and fight. I am a soldier in the people's army."
And who was this army? Mostly white middle-class college-educated -- no more than a dozen people in all, led by a black ex-convict who called himself Field Marshall Cinque. Even by the standards of the radical left, it was a bizarre group.
"I think they were idiots. I think they were ruthless killers," says Todd Gitlin, New York University professor of culture, journalism and sociology. "I think, outside small circles of political romantics, they were seen as incomprehensible lunatics, speaking a sort of made-up mumbo-jumbo language, performing actions that seemed appalling and unfounded, unfathomable."
It started with the 1973 murder of Oakland's popular black school superintendent. Then the SLA grabbed the world's attention with Patty Hearst. And Patty became their star.
Recalls Deutsch, "Patty Hearst was photographed in a bank, and she was with a machine gun, threatening people, robbing the bank."
The gang soon headed south to Los Angeles, where Hearst shot up a sporting goods store during a robbery to help SLA members Bill and Emily Harris escape. Then police found the house where the rest of the gang was hiding.
"Two tear-gas projectiles were fired," recalls retired Los Angeles police captain Merv King, who was in command at the SLA shootout. "That immediately brought automatic gunfire coming back at the officers from inside the house. At that time, the shooting was on."
Even as the house began to burn down around them, Cinque and the others continued firing. The inferno was broadcast live on nationwide TV.
All six SLA shooters perished. Hearst and the Harrises watched it all on TV in their motel hideout across from Disneyland. And then, they fled, not to be found until the next year when they were arrested in San Francisco -- back where it all began.
Patty Hearst claimed she'd been brainwashed.
"It was well known that her mother and father had devised that defense with a psychiatrist before she was ever captured," says journalist Deutsch. "There was an awful lot of evidence that seemed to weigh against that. Her attorney, F. Lee Bailey, put her on the witness stand, and she took the Fifth Amendment more than 40 times."
Patty Hearst was convicted for robbing the bank, where she was seen holding the gun. After serving two years, her sentence was commuted by President Carter. Later, she was pardoned by President Clinton.
The Harrises went to prison for kidnapping Patty and were released after serving eight years. They divorced and went their separate ways.
And that likely would have been the end of the story, except for a couple of pieces of unfinished business: the unsuccessful effort to bomb L.A. police cars following the SLA shootout, and a later bank robbery/murder in Carmichael, Calif., just outside Sacramento. Both were linked to a little-known SLA member who had been hiding in plain sight for more than a quarter of a century.
Sara Jane Olson was captured 2 1/2 years ago, a St. Paul, Minn., mother of three, married to a doctor, active in charity work. But as Kathleen Soliah back in 1975, she was an SLA sympathizer. She disappeared after Hearst and the Harrises were arrested. This past January, she was sentenced to 20 years to life for her role in the police car pipe bombs.
And now, Sara Jane Olson, Bill and Emily Harris, and two other former SLA members are being charged with murder in that other unresolved case, the 1975 Carmichael bank robbery in which Myrna Opsahl, a mother of four, was shot and killed as she deposited her church receipts.
"Now we're at the end game. This is the final SLA case," says Stuart Hanlon, the lawyer who defended the Harrises in the '70s. He represents Emily Harris this time. Prosecutors say there is new evidence from forensic techniques not available in 1975. But Hanlon believes that filing charges after 27 years have passed is unfair:
"We're not saying murder is excused," he says. "We're saying there's a case that's 99 percent the same evidence but because the political climate has changed, now the case is brought. That, to me, was unfair."
Patty Hearst may be the government's star witness, because she links the others to the crime and alleges Emily Harris was the shooter. Hanlon was upset by Hearst's recent televised interview with Larry King. Here is part of what she said:
"Everything they did was considered a capital crime, because they had declared war against the United States. And you know, when you look at that, it really was their own little jihad that they had going. And it just wasn't taken very seriously then."
Hanlon's reaction: "You don't use those words post September 11th – evil… terrorist, jihad, jihad, terrorism -- without it having an effect on the general population… What that does is deny these people a right to a fair trial, 'cause they're no longer seen as people charged with murder. They're seen as evil terrorists."
Before their arrests for Myrna Opsahl's murder, all the old radicals had been living routine middle-class lives. Bill Harris was a private investigator with a new wife and two kids, and ex-wife Emily, a computer consultant after working at the Disney Channel. Even Patty Hearst is a Connecticut matron with two daughters of her own.
Says Linda Deutsch, "Patty Hearst became the parents she repudiated. Now she's as far from the urban guerrilla as you could imagine. So, in the end, everyone became what they thought they would not."
Says attorney Hanlon, "You have families, you grow older, you get more mature, and you have a lot. There's no more black and whites; the grays take over in life. And that happened to them. It happened to Emily. It happened to Bill. You know, it happens to all of us."
And what of the old SLA? It changed some lives forever, some in terrible ways. But it never became the instrument of lasting change that its few, radical believers envisioned.
According to sociologist Todd Gitlin: "Marx wrote that, 'History repeats itself, first as tragedy, then as farce.' The tragedy was the demise of the 'new left' into a collection of political sects who made no sense. The farce was that here was this small cult mouthing the words, like lip syncing revolutionary rhetoric."
A reporter once asked Bill Harris: "What did you accomplish?"
"Nothing," he replied. "Mainly, what we accomplished is, we got ourselves into jail."
And now the stage is being set again…for the last act.

Thanks for reading CBS NEWS.
Create your free account or log in
for more features.