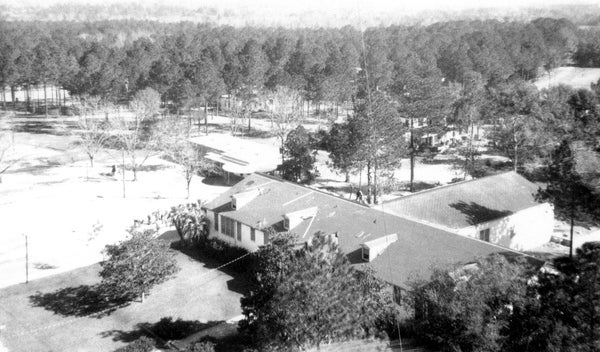 The Search for the Dead: Former inmates at shuttered Dozier juvenile detention facility detail alleged abuse
Editor's note: This story is the second in a four-part Web series about the former Dozier School for Boys, a shuttered Florida juvenile detention facility that garnered a lasting reputation for brutality. 96 boys died while incarcerated there, and at least 45 are believed to be buried at the site. As reported by the CBS Evening News, Florida officials voted this week to begin exhumations there. Read the entire Web series, "The Search for the Dead."
A TAINTED HISTORY
(CBS) MARIANNA, Fla. -- Nearly from the date of its opening in January 1900 to its eventual close in 2011, the boys' school was plagued by scandal. Investigators discovered boys in shackles at the facility in 1903. In 1914, six boys died trapped inside a burning dormitory while school administrators were in town on a "pleasure bent." And in the 1920s boys from the reform school were being rented out by the school to work with state convicts.
PICTURES: Historic Photographs: Dozier School for Boys
One thing state investigators who came calling in Marianna always seemed to find was evidence of physical abuse against the students. Reports of beatings with a leather strap attached to a wooden handle were legendary at the school. So was a little building off to the side of the dining hall where all the beatings allegedly took place -- a small stucco building that would come to be known as the White House.
Multiple accounts describe the White House as a 20 by 10 foot building with two rooms: one for weigh in and the other for the beatings. The latter contained only a cot. Boys were told to lie face down on the mattress and grab the head rail to keep from moving. Other boys waited outside in line for their beatings.
Donald Stratton was 13 years old when he was sent to Marianna in 1958. He described that cot in a sworn affidavit in 2010. "I was made to lie on a cot with my face in a pillow. The pillow was covered with vomit, blood and bits of tongue."
William A. Haynes, 14, arrived the same year as Stratton. Years later, he described the effects of the 45 licks with a leather strap he received on his first trip to the White House. "As I left, my buttocks had become numb, but I could feel blood running down my legs. I was taken back to the cottage and allowed to shower. My back side was black and bloody and pieces of my undershorts were embedded in my skin."
Haynes, who would later be employed by the Alabama Department of Corrections for thirty years, received 100 licks the next time he wound up in the White House.
Some staff members became concerned about the abuse. On March 4, 1958, a psychologist named Dr. Eugene Byrd who worked at the Florida School for Boys for a year gave testimony during a U.S. Congressional hearing.
Byrd had received so many complaints about what was happening in the White House, he asked permission to witness one of the beatings.
"The blows are very severe," he said in recorded testimony. "They are dealt with a great deal of force with a full arm swing over his head and down, with a strap, a leather strap approximately a half inch thick and about 10 inches long with a wooden formed handle. Each boy received a minimum of 15."
He later added, "In my personal opinion it is brutality."
Marvin Floyd worked as a cottage father, overseeing the living quarters of 60 boys at the school from 1961 to 1963. He told CBS News, "It was standard everyday. Everyday, someone was going to the White House."
Floyd never witnessed one of the punishments -- cottage fathers were not allowed. But he does remember more than one boy coming back from a visit to the White House needing to have his pajama bottoms removed from the flesh of his backside.
Andrew Gavin attended the school for two and half years starting in 1961. He was 9 years old when he was admitted. He made five trips to the White House during his stay at the reform school. In a sworn affidavit in 2010, Gavin recalled one time when his abuser curiously stopped beating him. "I turned around and saw that his pants were around his ankles and he was masturbating," he wrote.
In 1968, corporal punishment was outlawed in state-run institutions. That same year, then Florida Governor Claude Kirk visited the school, now renamed the Arthur G. Dozier School for Boys.
Upon touring the school, Kirk said, "If one of your kids were kept in such circumstances, you'd be up here with rifles."
But the Dozier School remained open and the allegations of abuse continued.
In 2007, the father of Justin Caldwell wrote to the FBI about the abuse his son suffered at the reform school.
"My son has been "choked out, " which means choked from behind until he loses consciousness so many times he does not remember," he wrote in a letter. "He has witnessed the abuse of other juveniles as well, and approx three weeks ago he had his head banged repeatedly on a concrete floor on two different occasions, the second of which he had to go to Jackson County Hospital for a CAT scan because he lost consciousness."
Some of his alleged abuse was caught on camera, and later put on YouTube.
The U.S. Department of Justice Civil Rights Division decided to investigate the school. In December 2011, they released their findings. The official report states, "The youth confined at Dozier and at JJOC were subjected to conditions that placed them at serious risk of avoidable harm in violation of their rights protected by the Constitution of the United States. During our investigation, we received credible reports of misconduct by staff members to youth within their custody. The allegations revealed systemic, egregious, and dangerous practices exacerbated by a lack of accountability and controls."
The Arthur G. Dozier School for Boys was shuttered on June 30, 2011, shortly before that report was released. State officials cited budgetary reasons for the closure of the $14.3-million-a-year program, but those involved think heat on the school had grown a little too intense thanks to an unlikely band of former inmates known as the White House Boys.
Read the next installment in the four-part Web series:
The Search for the Dead, Part 3: Victims of alleged abuse at shuttered Dozier juvenile detention facility push for justice
Thanks for reading CBS NEWS.
Create your free account or log in
for more features.