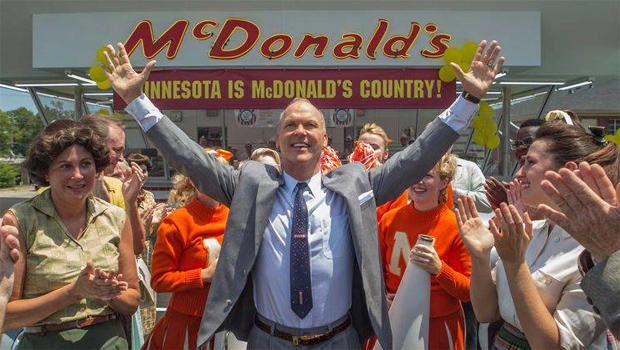 When it comes to burgers, we're a long way from claiming billions and billions served. For that, you have to go to the fast food landmark Ben Tracy's dropped in on:
At a busy intersection in Downey, California, there's a relic from the founding of our fast food nation: The oldest McDonalds in the world.
Jason McDonald French is the grandson of Dick McDonald, who along with his brother Mac started selling burgers, fries and shakes in San Bernardino, California in 1948. The Downey location was the third one they built, and the oldest still standing.
Tracy asked, "What was it like growing up with this particular family history?"
"As children we weren't allowed to talk about it," French replied. "Our parents didn't want us going around saying that we were the grandson of Richard McDonald. It's always kind of been that family secret that no one talked about. We never really advertised it."
That could be because the McDonalds empire we know today, with nearly 37,000 stores in more than 100 countries, exists largely because of a man whose last name is not McDonald.
"Did your grandfather ever mention Ray Kroc to you?"
"Not really. Ray Kroc was kind of a touchy subject. He worked with Ray for years and they had a great relationship, up until the end."
It's the true story told in the new film, "The Founder." Michael Keaton plays Ray Kroc, the milk shake mixer salesman who takes the McDonald brothers' concept and franchises it across the country.

Tracy asked Keaton, "We all kind of think we know McDonald's. What did you learn that surprised you?"
"There was so much I learned," Keaton replied. "First of all, I didn't know that there were McDonald's brothers, and the more I learned about the story, it simply was just real interesting."
In 1948 the McDonald brothers debuted a new kitchen assembly line they called the "Speedee Service System." Speedee was the restaurant's mascot long before there was a Ronald McDonald. Their system was revolutionary during a time when drive-ins were still king.
"I didn't really understand completely how the McDonald brothers had created fast food as we know it today," said the film's director, John Lee Hancock. "It wasn't just a gimmick; this was world-changing.
"Because people were so used to getting food in their cars, the thought of them having to get out of their car, go up to the window, order, and then not get utensils or silverware or plates or anything like that -- people at first didn't know what to do with this information."
In 1954 Ray Kroc delivered several milk shake mixers to the McDonald brothers. He was in awe of what they had created, and convinced them to let him spread their "golden arches" from coast to coast.
Kroc opened his first franchised McDonalds in Des Plaines, Illinois in 1955, and eventually started the McDonalds Corporation.
"In terms of his work ethic and his drive and his vision, that part of Ray Kroc I really admire," Keaton said. "Now, you know, but the point where old Ray goes South in the movie, not so much! As an actor that's a great thing to play and investigate. But as a human being, not real attractive."
Kroc (Keaton): "Contracts are like hearts -- they're made to be broken."
Kroc feuded with the McDonald brothers for control, and in one of the shrewdest deals of all time, bought the business -- and the rights to their name -- out from under them in 1961 for $2.7 million. Today the company is worth more than $100 billion, and Ray Kroc is considered its founder.
Tracy said, "The title of the movie, you're being a little cheeky."
"It's intentionally misleading, I would say, yeah!" laughed Hancock. "What's your definition of a founder? Is it someone who has the idea, or someone who expands the idea?"
"Do you think by calling himself the founder, he was perpetuating a falsehood, or is that how he saw himself?"
"I think he probably would argue the latter, but I think that probably it was the former. The way I look at it is, yeah, he was just kind of, [if] nobody ever talked about the McDonald's brothers that would have been fine with him."
Jason McDonald French takes pride in what his grandfather created. He reflected on the nostalgic quality of the San Bernardino McDonald's, and what it means to him: "It's something that my grandfather over tireless years came up with."
But there's something the family rarely talked about: the handshake deal in which Ray Kroc promised the McDonald brothers a half-percent royalty on all future McDonalds proceeds.
The family says he never paid them a cent.
"I think it's worth, yeah, $100 million a year," said French. "Yeah, pretty crazy."
"Is there bitterness about that in your family?"
"No, No. My grandfather was never bitter over it. Why would we be bitter over something that my grandfather wasn't bitter over?"
"Well, there's 100 million reasons you could be!" said Tracy.
"Yeah," French smiled.
For French, seeing his family's story told on the big screen is its own form of payback.
"We were overjoyed with the fact that the story's being told the right way and that it's being historically accurate," he said. "They did create fast food. They started that from the beginning, and I don't think they get enough credit for what they actually created."

For more info:
Thanks for reading CBS NEWS.
Create your free account or log in
for more features.