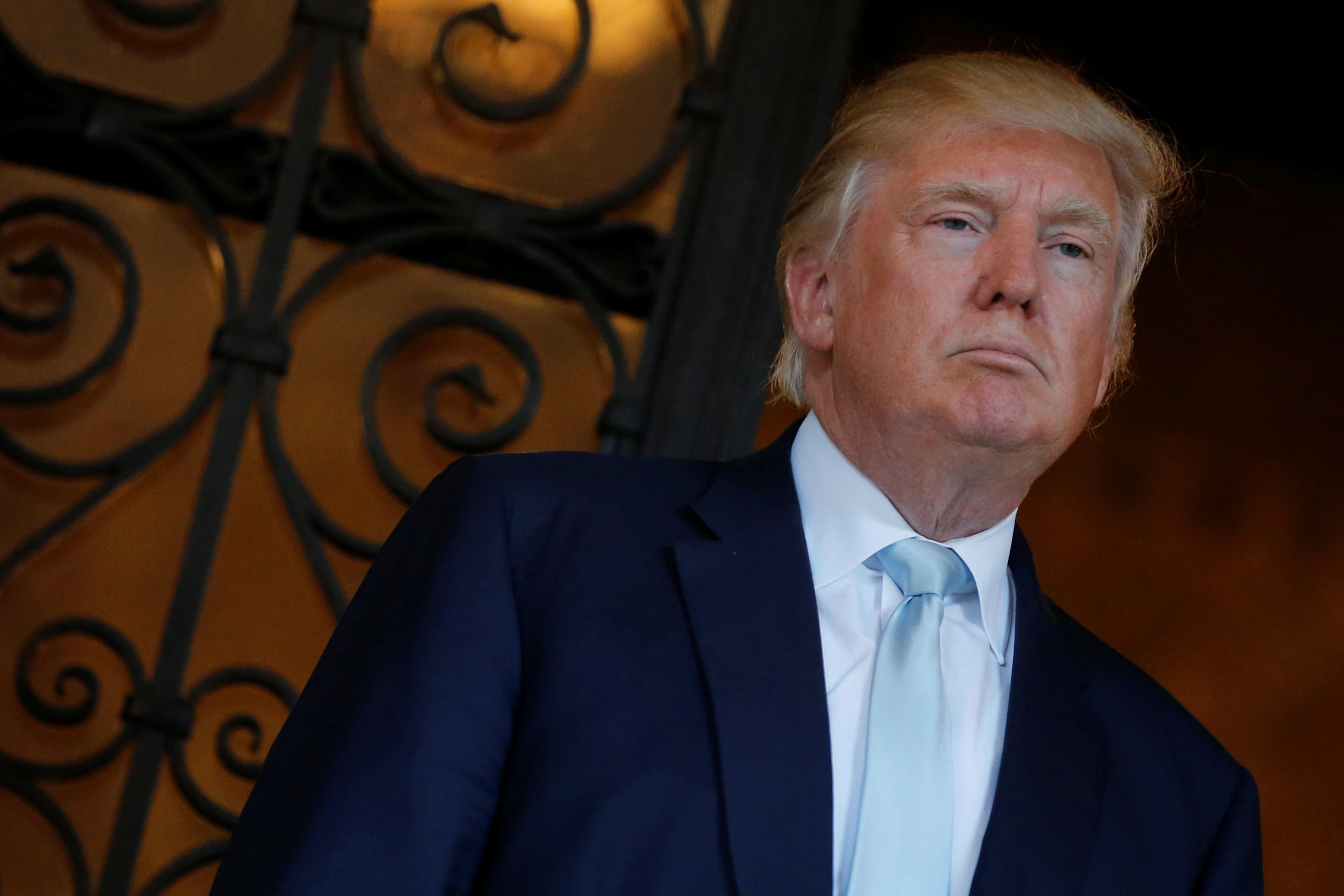 The Republicans who could cause trouble for Donald Trump's agenda
President-elect Donald Trump is less than three weeks away from being sworn in as the country's 45th president -- at which point he'll be able to begin implementing his agenda.
Unless he encounters substantial opposition, that is. Mr. Trump may have both houses of Congress under GOP control, but it's a narrow 52-to-48 majority in the Senate -- meaning even just a few rogue GOPers could keep Trump-led legislation from passing. And given his differences with traditional GOP orthodoxy on a number of issues, from trade deals to Russia, there's likely to be a point at which some congressional Republicans break with Mr. Trump.
Here are some of the people in the Republican Party who could throw a wrench in Mr. Trump's plans:
Sen. John McCain (R-Arizona)
McCain initially endorsed Mr. Trump's campaign when he became the Republican nominee, but was one of the GOP lawmakers who withdrew his endorsement after the October release of a 2005 Access Hollywood tape of Mr. Trump's lewd comments about women.
Since the campaign ended he's continued his criticism of Mr. Trump, especially when it comes to Mr. Trump's statements and actions on foreign policy issues. In November, he went after Mr. Trump's comments on torture, saying: "I don't give a damn what the president of the United States wants to do. We will not waterboard."
He's also broken with Mr. Trump on the issue of Russian election interference, calling for a select committee in Congress to investigate the effects of Russian hacking as Mr. Trump praises Russian President Vladimir Putin. McCain, one of the foremost hawks in the GOP, also of Mr. Trump's nominee for secretary of state, ExxonMobil CEO Rex Tillerson, that his ties to Russia are a "matter of concern."
Sen. Rand Paul (R-Kentucky)
Like McCain, Paul supported Mr. Trump once he won the GOP nomination, as he had pledged to do while he was a 2016 hopeful. However, he's always been a bit of an outlier in the Republican Senate -- and has also not shied away from speaking his mind, even if he's sometimes at odds with members of his party.
Paul, who sits on the Senate Foreign Relations Committee, was critical of several of Mr. Trump's prospects for secretary of state -- including Tillerson, Mr. Trump's ultimate pick for the job. On Tillerson, Paul said he would keep an "open mind," but did not say he would support his nomination. As a member of the Foreign Relations Committee, Paul will vote on Tillerson's nomination before it reaches the full Senate.
Paul also has a noteworthy libertarian streak, which could easily put him at odds with Mr. Trump on everything from new trade restrictions to immigration and law enforcement.
House Speaker Paul Ryan
Since the election, Ryan has made nice with Mr. Trump -- the pair have met several times to discuss policy priorities, and Ryan has made it clear he is willing to work with Mr. Trump.
But Mr. Trump's political ideology is in many ways at odds with GOP orthodoxy -- and with the policy vision that Ryan and other congressional Republicans have put forth as their agenda heading into the new session.
It may only be a matter of time until Ryan's priorities and Trump's clash. And on entitlement reform, in particular, the two may be heading for a showdown: Ryan has long argued for substantial alterations to be made to Medicare, a program Mr. Trump has repeatedly vowed to protect.
When that happens, Ryan has the potential to cause real trouble for Mr. Trump and his agenda.
Sen. Lindsey Graham (R-South Carolina)
Graham, a former 2016 rival of Mr. Trump's, has been critical of him from the start: even during the general election, Graham warned that Mr. Trump would be unable to handle the challenges facing the next president and destroy the Republican Party in the process. Before that, Graham was one of Mr. Trump's most outspoken critics during the GOP primary, with the eventual party nominee once going so far as to publicly reveal the senator's cell phone number.
Like McCain, his harshest criticism of Mr. Trump comes on foreign policy issues. That contrast was at its starkest last week, when Graham called for the Obama administration to sanction Putin personally. But when Mr. Trump was asked both about the White House's prepared actions against Russia and about Graham's proposal, he said people "ought to get on with our lives."
Sen. Ben Sasse (R-Nebraska)
Sasse was among the strongest anti-Trump voices in the GOP during the campaign, publicly calling for a third-party candidate to challenge him last spring.
"Why shouldn't America draft an honest leader who will focus on 70-percent solutions for the next four years?" the freshman GOP senator asked. "You know...an adult?"
When it comes to Tillerson's nomination, Sasse is another member of the Senate who has expressed skepticism about how appropriate Tillerson's Russia ties are for the job. His spokesman tweeted, "Mr. Tillerson is a man of tremendous accomplishment, but U.S. policy toward Russia's Soviet-style aggression demands rigorous oversight."
Like Paul, Sasse also has major ideological differences with Mr. Trump on a wide range of issues. Should the new president try to push through policies that deviate from GOP orthodoxy, Sasse will likely help lead the Republican resistance to the White House.
Sen. Marco Rubio (R-Florida)
Unlike the previous two senators, Rubio actually endorsed Mr. Trump during the campaign -- once the primaries were over, Rubio threw his support behind his former 2016 rival. Meanwhile, Mr. Trump was an enthusiastic backer of Rubio's successful re-election bid.
But Rubio has still been critical of Mr. Trump over foreign policy issues, namely his rhetoric toward Russia. When Mr. Trump floated Tillerson as his secretary of state pick, Rubio was one of the first to express skepticism: "Being a 'friend of Vladimir' is not an attribute I am hoping for from a #SecretaryOfState," he tweeted, referring to an award Tillerson received from Russia's government.
Rubio is another member of the Senate Foreign Relations Committee, meaning he too gets to vote on Tillerson's nomination before it advances to the full Senate. Should he decide Tillerson is too close to Russia, he could make things difficult.
Ohio Gov. John Kasich
Kasich didn't turn up to the Republican convention to support Mr. Trump's nomination despite being the governor of the state in which it was held: that's how much the Ohio governor disapproved of Mr. Trump's campaign.
Things haven't really thawed much since then, with Mr. Trump trashing Kasich on the campaign trail and Kasich continuing to criticize Mr. Trump's campaign through Election Day. Kasich's top strategist, John Weaver, is also one of the most consistently anti-Trump Republican politicos on Twitter.
There's less Kasich can do to directly thwart Mr. Trump's agenda than some of the others on this list, since he's a governor and not a U.S. Senator. But he could continue to be a thorn in his side from afar.
The conservative media
It's no secret that much of the traditional conservative media, including the Weekly Standard and the National Review, were no fans of Mr. Trump during and after the campaign. Outgoing Weekly Standard editor-in-chief Bill Kristol even tried drafting an independent candidate to run against Mr. Trump. But most Republican candidates have been able to count on at least relatively consistent support from the conservative media writ large -- something Mr. Trump will likely have to do without.
That's not to say he doesn't have his corners within conservative media: outlets like Breitbart and the Drudge Report were enthusiastic boosters of Mr. Trump's candidacy and remain so now that he's the president-elect.
Still, even at Breitbart, Mr. Trump could see some trouble if he doesn't keep his campaign promises. After Mr. Trump said he did not intend to pursue criminal charges against Democratic nominee Hillary Clinton, Breitbart ran a story on the issue calling it a "broken promise" from Mr Trump. The website has also been critical of some of Mr. Trump's cabinet nominations, such as his pick to be secretary of labor, Andy Puzder, whom Breitbart accused of wanting to "import foreign workers to fill U.S. jobs."
Should Mr. Trump renege on some high-profile campaign promises -- a real possibility, particularly with regard to the U.S.-Mexico border wall or a full repeal of the Affordable Care Act -- he could face pushback from the friendly news outlets who speak directly to his base.
Thanks for reading CBS NEWS.
Create your free account or log in
for more features.