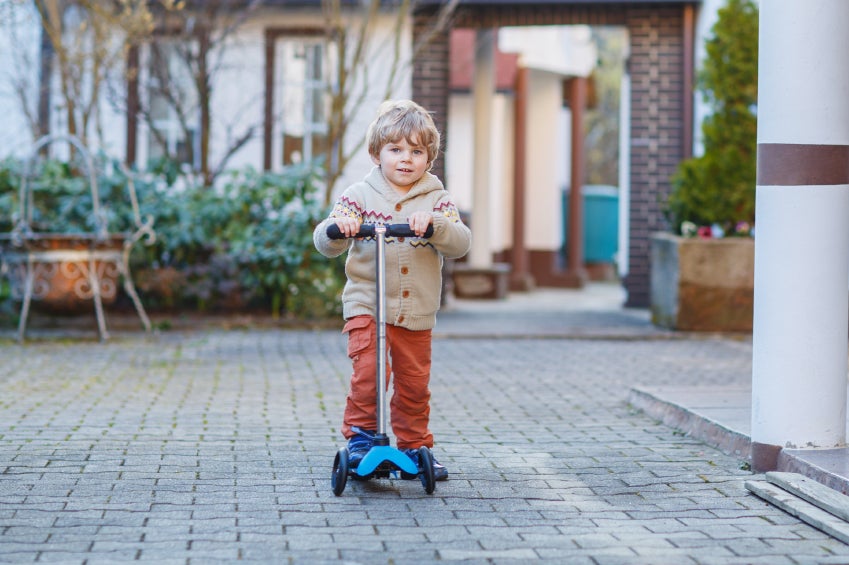 The most dangerous types of toys for kids
'Tis the season for alarming reports on the health risks associated with your child's favorite toys. According to a new study out Monday, every hour approximately 18 children in the U.S. suffer toy-related injuries serious enough to send them to the emergency room. That's one child hurt every three minutes.
The biggest culprit for those ER visits? Riding toys, especially scooters.
The study, published Monday in the journal Clinical Pediatrics, found ride-on-toys -- including scooters, wagons, tricycles and motor-powered kiddie vehicles such as Barbie Jeeps -- are responsible for a growing number of children's injuries and emergency room visits. Between 1990 to 2011, ride-on toys accounted for 35 percent of injuries and 43 percent of hospital admissions among kids younger than 18. (The researchers excluded bicycles from the study because they are categorized as vehicles by the industry.)
"The type of toy that seemed to be driving the increase were foot-powered scooters," Dr. Gary Smith, director of the Center for Injury Research and Policy at Nationwide Children's Hospital in Columbus, Ohio, and coauthor of the study, told CBS News. "Starting in 1999, when the new style of scooter was introduced, they became more popular and injuries became more common."
"Toys are becoming more dangerous," CBS News medical contributor Dr. Holly Phillips told "CBS This Morning." "I was very surprised to find that out."
For the study, Smith and his colleagues looked at more than two decades worth of data from the U.S. Consumer Product Safety Commission's National Electronic Injury Surveillance database. Their analysis is the first to use a nationally representative dataset to assess trends in toy-related injuries.
Between 1990 and 2011, an estimated 3,278,073 children under age 18 were treated in U.S. emergency departments for toy-related injuries. The annual number of injuries rose dramatically during that period. Between 1990 and 2001, there was a 61 percent increase in toy-related injuries -- from 121,249 to 195,363 a year.
More than 80 percent of injuries happen at home.
The largest share of toy-related injuries -- 46 percent -- came as a result of serious falls, while 22 percent of injuries were from collisions.
Smith said scooter riding without the right safety precautions can result in a number of serious injuries, such as broken bones, cuts requiring stitches, or even concussions.
"I tell parents if there were three things you could do to prevent an injury to a child riding a scooter they would be 'wear a helmet, wear a helmet, wear a helmet,'" said Smith. "It is very important that children wear helmets; an injury to the brain can be life-long and devastating, which is why it's important to prevent that injury in the first place."
As for other types of toy dangers, Smith and his colleagues found injuries related to choking on small parts were a serious concern for younger children. "For children under the age of two, the biggest issue is choking, ingestion and asphyxiation," Phillips said. These types of injuries accounted for 11 percent of cases overall.
Smith urges parents to read packages carefully to ensure a toy is age-appropriate. He also says the toy industry must take measures to improve U.S safety standards, toy design, consumer education and recall effectiveness. While many companies market their products via Twitter and Facebook, most do not use social media to educate parents or spread the word when a toy is deemed unsafe or defective, he said.
"This isn't about guilt, blame and fault. We're not pointing fingers," said Smith. "A child's occupation is play and toys are their tools. These toys can be used safely but parents need to be aware of the precautions that should be taken for certain toys to help prevent an injury."
Thanks for reading CBS NEWS.
Create your free account or log in
for more features.