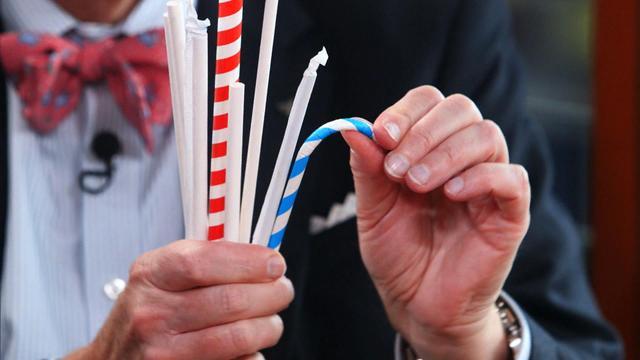 You don't think much about a straw, until it fails you. Sucking a milkshake through an inadequate straw could mean a lot of work, with little reward.
In Seattle, Bob Donegan and his team at Ivar's and Kidd Valley Restaurants have spent hundreds of hours testing straws. "We have paper straws, we have plastic straws from plants," Donegan said.
All this, because millions of plastic straws end up as litter, often in the oceans – which is why this past summer Seattle became the largest city in America to address this problem by banning plastic straws in restaurants, and replacing them with compostable or paper options.
"The tourists are amused by this," said Donegan. "They think this is a great adventure. 'What is this about? How come I can't suck your milkshake through this straw?' Well, the straws that work aren't compostable, so that's why. It becomes an education opportunity."
And if you ask environmental advocate Dune Ives, the straw is only the beginning.
"It's a symbol of our consumption," she told correspondent Tony Dokoupil. "It's a symbol of our relationship to single-use plastic that has no end of life. You cannot recycle straws."
Ives is the executive director of Lonely Whale, an organization that, through social media campaigns like #StopSucking, has helped portray the plastic straw as something we can do without.
Dokoupil asked, "Isn't there something to be said on behalf of convenience?"
"As a mom of a four-and-a-half-year-old, I will have to say yes, there is something to be said for convenience. So, the question has to become then, how much are we willing to forsake our planet for the sake of a cup of a coffee in a to-go container?"
The truth is, the plastic straw is just part of the throwaway packaging involved in eating on the go.
Lynn Dyer has been tracking the anti-straw movement as president of the Foodservice Packaging Institute. Her argument against an outright ban of straws is that, "You're not taking into account any of the considerations for your consumers or your customers. For example, what are the alternatives? Are there alternatives?"
It's a question on the minds of more and more Americans: Paper, or plastic, or metal?
Metal is also a straw of choice for Dune Ives. She said that shaking out her straw after using it is no big deal.
But what she really prefers is not using a straw at all. That, of course, might be hard for some folks to swallow.
Dokoupil asked, "Are you taking money from the mop industry, 'cause I'm imagining quite a lot of spills!"
"Paper napkin industry, definitely, yeah," she laughed.

For more info:

Story produced by Anthony Laudato.
Thanks for reading CBS NEWS.
Create your free account or log in
for more features.