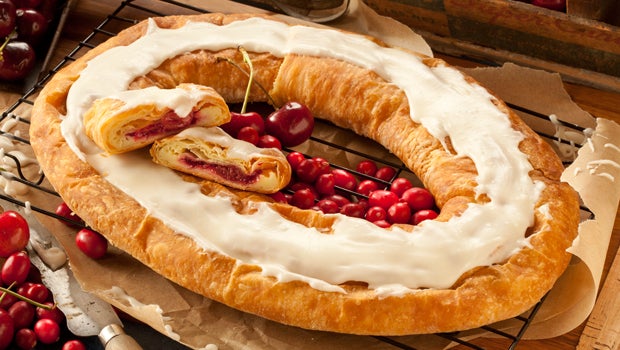 ​The Kringle: A sweet Wisconsin favorite
They're called kringles, the pride of Racine, Wisconsin. If you're unfamiliar with these tasty treats, don't worry: Vinita Nair has a tale that's short and sweet:
"When you come into Racine," said Eric Olesen, "one of the first things people ask you is, 'Have you had a kringle yet?'"
In Racine, rthge holidays are all about the kringles. There's a certain skill involved in making Wisconsin's state pastry.
It takes lots of butter to make the dough flaky, then you have to layer it -- again, and again, and again -- to make the 36 layers.
For four generations, Bendtsen's Bakery, in Racine, Wisconsin, has been mastering the technique.
"Does everybody do this much by hand?" asked Nair.
"As far as I know now, nobody at all does," replied Ben Bendtsen. "I think we're the last ones."
When the Bendtsen family opened its bakery 81 years ago, they followed the Danish tradition of a pretzel-shaped pastry. Its popularity quickly earned Racine the nickname Kringleville, complete with a Kringle Queen and a kringle-inspired polka.
Originally, the pastry had an almond filling with raisins. Now, Ben Jr., and his son, Ben III, make close to 30 flavors, including almond, apple, apricot, blueberry, cherry, raspberry and pecan.
To save time, the pretzel shape became an oval, but everything else has stayed the same.
"My grandpa until he died would come here and he'd say, 'You just keep the quality, you'll be here forever,'" said Ben Jr. "And, well, I'm still here"
Not far from Bendtsen's is O & H Danish Bakery, family-run since 1949.
Owner Eric Olesen took Nair on a tour of his 39,000-square-foot facility, where machines have mastered the delicate layers and folds. Daily, they make 5,000-7,000 kringles. And during the holidays, they've shipped up to 20,000 in one day.
In the late 1950s, said Olesen, "some of the bakers started shipping kringles as gifts. And that became very popular. So the word kind of spread."
At Larsen's Bakery, they've combined techniques, rolling the dough by machine, then filling and forming their vegan kringles by hand.
Don Hutchinson's father bought the bakery in 1969, and Hutchinson says a kringle from anywhere else just isn't the same.
"It's kind of, like, going to New York and having a New York bagel," he said. "You know, you can't get a New York bagel anywhere else because they put the time into it and the labor into making it right."
"You must feel some sense of pride," said Nair.
"Absolutely," Hutchinson said. "There's not a lot of bakers anymore. So to do this and to carry on the tradition of making kringles here in Racine is something that I enjoy."
Regardless of how they're made -- by hand, with help from a machine, or a little bit of both -- you can taste the craftsmanship in every bite.
Nair said, "It seems like all the bakers here are friends."
"You know, it's friendly competition," said Olesen. "We want to make the best quality product, one that everybody can be proud of, because we're all representing Racine."

For more info:
Thanks for reading CBS NEWS.
Create your free account or log in
for more features.