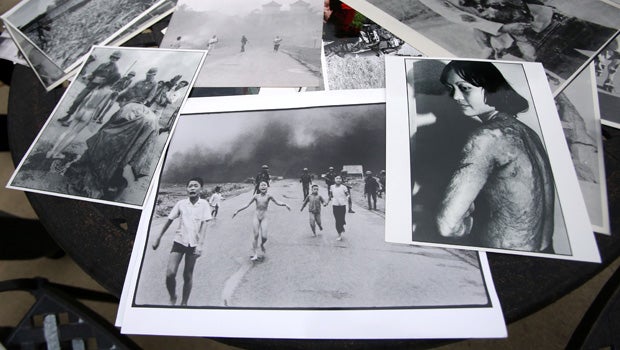 Anyone who who lived through the Vietnam War period remembers the girl in the picture. The picture captures a terrible moment, while also raising a poignant question -- a question Jane Pauley sets out to answer in our Cover Story:
A little girl screaming in pain, trying to outrun the napalm burning her body.
It's an image seared into our consciousness still -- the horrors of war visited upon an innocent child.
Did you ever wonder, what happened to that little girl?
Kim Phuc is now 52. It was 43 years ago that she got burned. It was the day that defined the rest of her life.
Twenty-one-year-old Nick Ut was there that day, a Vietnamese photographer on assignment for the Associated Press.
"I look in my camera viewfinder, I saw the girl naked running," he told Pauley.
He took the picture that would win the Pulitzer Prize.
"When she passed by my camera, I saw her body burned so badly. I said, '"My God, I need to help her,'" said Ut.
"So they tried to help me," said Kim Phuc. "But after they pouring water over my body, seems like I pass out. I didn't remember anything else."
He wrapped her in a soldier's rain poncho.
"I don't want to see the picture of her naked," he said. "I had covered her. She keep screaming, say 'I'm dying! I'm dying!' all the time."
He took her to the hospital, where the doctors thought she was dying, too. "They placed me to the morgue because they give up hope," she said. "And they consider I have no way to survive."
"They decided, 'This one isn't gonna make it,' you were written off?" asked Pauley.
"Yes."
Her family found her still alive, but barely. After 14 months and 17 operations, she did make it. "I said, 'Wow, God not finished with me yet!'" Kim Phuc laughed.
At the time, Kim did not feel like part of God's plan. Only a little girl so horribly disfigured, who would ever marry her?
"At nine years old, I remember I thought, 'Oh my goodness, I got burned and I became ugly. And people will see me different way,'" she said.
So she dreamed of becoming a doctor, and at 19 started medical school. But the picture caught up with her.
The Vietnamese government found a national treasure -- and a propaganda tool.
"So they started to take me out to do a lot of interviews," Kim said.
CBS News correspondent Bob Simon talked to her in 1985: "She has glandular problems, headaches, and loss of memory," he reported then. "She wanted to study medicine, but had to give it up because of her health."
"I didn't know what's going on, but I know that I couldn't go to school. I can tell you it was a low point in my life. I became another kind of victim again, and it filled me up with hatred, bitterness and anger."
When she could, she escaped to the library, to read. "I just want simply to find a purpose for my life, why I was still alive."
And at the library, she found an answer: "Among the book I read is the Bible, New Testament: That is amazing turning point in my life. When I became Christian. I have so much peace in my heart. I trust that God will open the door for me."
By luck, she was introduced to Prime Minister Pham Van Dong, and she told him that because of all those interviews, she couldn't study any more. "When I met him for the first time I told him all my story. And he said, 'Why they did that to you? I will help you.'"
And he did. She was sent to the University of Havana, with other Vietnamese students. And there, the girl who thought she was too ugly to be loved found the husband she thought she'd never have.
His name is Toan. "She call me sometimes Perfect," he told Pauley. "My name means 'perfect,' but I'm not perfect!"
They married in Havana, and honeymooned in Moscow.
But on the flight back to Cuba, her journey took yet another amazing turn. Kim told her new husband she had a different destination in mind. At a refueling stop in Newfoundland, Canada, she plotted to get off the plane and not get back on it. "How did you tell your husband what the plan was?" Pauley asked.
"I just explained so simple -- I need, and I really seeking for freedom," Kim said.
"I said, 'No,'" recalled Toan. "I was in shock. I said, 'Kim, it's impossible for me to stay."
But her mind was made up.
"She said, 'Toan, I really need you. So, if I stay alone, I don't know if I can survive.' I said, 'Okay, whatever you want, I do.'"
They got off the plane, and didn't get back on.
In Canada, she was free to start a family and live a nearly-normal life. But once again, the picture caught up with her -- only this time, she embraced it.
"I realize that that picture is a powerful gift for me," she said.
A gift that led to a foundation to help children of war. She now travels the world as a UNESCO Goodwill Ambassador.
"I share with them, with the people, how horrible war is, how much people suffer, and I was the one of them," she said.
When serious burns heal, the scarring isn't merely disfiguring; it can cause lifelong agony. Kim has suffered a lot of pain almost every day for the past 43 years.
So how does she deal with the pain?
"Wow, I pray," she replied. "I set my mind that I never, never concentrate on my pain. When the pain comes to me, I try to distract my mind by doing something, go out for a walk or talk on the phone or sing a song."
She turns to her faith, but still, sometimes, she despairs.
"I cannot wait to go to heaven to enjoy that no scar, no pain in heaven," she told Pauley.
By chance, she learned there might be a way to live a life without pain.
"I share my story at the church, talking about that, and one gentleman came to me, and he say, 'Kim, I want to share with you the idea that I have.'" His daughter-in-law, Dr. Jill Waibel, has pioneered a promising new treatment for burns.
And last month, Kim Phuc went to Miami for the first in a series of laser treatments.
"What we know about scars is they're all wrong; it's just chaotic healing," said Dr. Waibel. "So we're going to take out pieces, teeny pieces of skin with this fractional laser and then allow the body to heal it almost to normal."
Even with pain medication, the treatment can be difficult. Toan was there to hold Kim's hand. And AP photographer Nick Ut, her lifelong friend, was there this day, too, to document the first chapter in a new life for "the girl in the picture."

For more info:
Thanks for reading CBS NEWS.
Create your free account or log in
for more features.