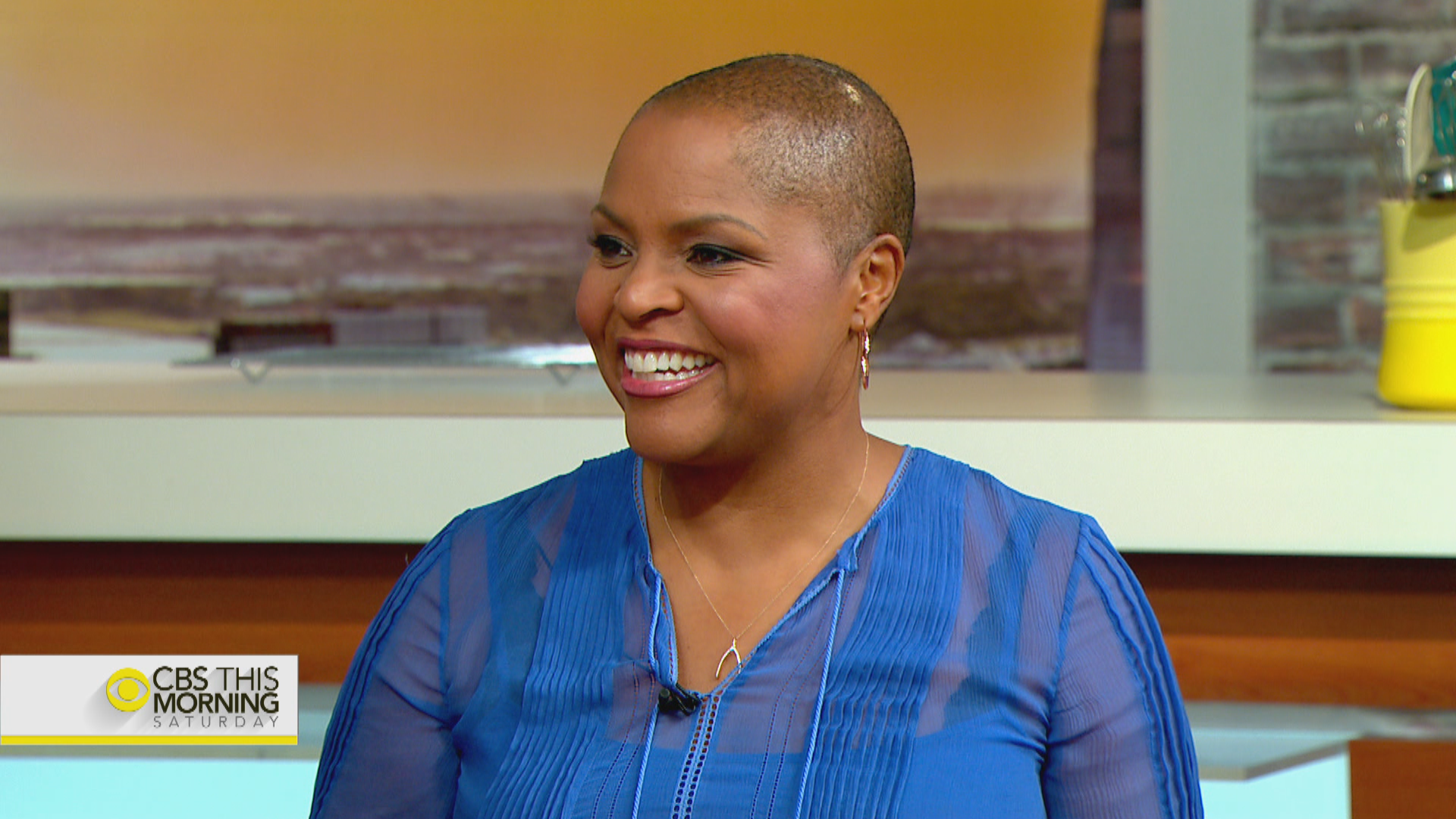 Chef Tanya Holland has a degree in Russian language and literature, but after college, she joined the restaurant business. Her interest in cooking began at a young age, when her parents organized a cooking and dining club with other couples. After earning a Grand Diploma in France and training with some top-ranked chefs, she returned to the U.S.
She now has her own restaurant, "Brown Sugar Kitchen" in West Oakland, California, along with numerous awards and honors for her updated, soulful cooking style.
Here are some of Holland's signature dishes.
B-side mustard BBQ pulled pork
Serves 10 to 12
Ingredients
1 bone-in pork shoulder roast (5-7 pounds)
Kosher salt ground pepper
BBQ sauce
1 tablespoon butter
1 large white onion chopped
1 tablespoon minced garlic
3/4 cup cider vinegar
3/4 cup water
2 teaspoons dry mustard
1 tablespoon yellow mutard seeds
1/4 teaspoon cayenne
1 1/2 teaspoons Worcestershire sauce
2 tablespoons lemon juice
1 1/2 teaspoons honey
1 1/2 teaspoons crushed red chili flakes
1/4 teaspoon turmeric
1/4 teaspoon garlic powder
1 teaspoon kosher salt
1/2 teaspoon ground pepper
Directions
1. Before heating grill, bring pork roast to room temperature. Generously season with salt and pepper.
2. Prepare grill for cooking over indirect heat with medium-hot charcoal (moderate heat for gas). Oil the grill grates with a vegetable oil-soaked paper towel held with a long pair of tongs. Set pork roast in the center of the cooking grate and cook, covered, until it reaches an internal temperature of 150°F, about 2½ hours. Turn meat over several times during cooking.
3. While pork roast is cooking, prepare the sauce. Melt butter in a medium saucepan. Add onions and garlic, and sauté over medium heat until translucent, about 5 minutes.
4. Add remaining ingredients, bring to a boil, and simmer over low heat for about 45 minutes.
6. Preheat oven to 350°F. Allow cooked pork roast to rest for 15 minutes, then pull it apart with two forks, discarding fat and skin.
7. Transfer pork to a large oven-proof dish and combine with sauce. Cover with foil and bake until shredded pork is hot, about 30 minutes.
8. Serve on hamburger buns, topped with spicy cole slaw.
Baked sweet potato wedges
Serves 6 to 8
Ingredients
3 lb/ 1.4 kg red-skinned sweet potatoes, scrubbed and unpeeled
Kosher salt
2 tbsp olive oil, plus more if needed
2 tsp Creole spice mix (spice mix recipe)
Directions
1. Preheat the oven to 350°F/180°C. Line a baking sheet with parchment paper.
2. Prick each sweet potato several times with a fork and put on the prepared baking sheet. Bake until tender when pierced with a fork, about 30 minutes. Remove from the oven and let cool slightly.
3. Cut each sweet potato lengthwise into 1-in /2.5-cm wedges. Arrange wedges on one layer on the baking sheet and season with salt, the olive oil, and the Creole Spice Mix.
4. Bake an additional 5 minutes, then flip the wedges and bake another 5 to 7 minutes, until crisp and slightly browned.
5. Arrange the wedges on a serving platter and serve immediately
Macaroni & cheese
Serves 6
Ingredients
8 oz 225 G elbow macaroni
5 tbsp 70 G unsalted butter, plus more for the pan
2 tbsp all-purpose flour
1/2 tsp kosher salt
1/2 tsp Worcestershire sauce
1/2 tsp chopped garlic
1/8 tsp grated fresh ginger
3/4 cup 180 M L heavy cream
3/4 cup 180 M L whole milk
8 oz 225 G sharp cheddar, grated
Pinch of ground white pepper
Dash of tabasco sauce
1 cup 55 G fresh bread crumbs
Directions
1. Preheat the oven to 350°F/180°C. Butter a 2-qt/2-L baking dish.
2. In a large pot of boiling salted water, cook the macaroni until tender, 10 to 12 minutes. Drain.
3. In a large heavy-bottomed saucepan, melt 2 tbsp of the butter over medium heat. Stir in the flour, salt, Worcestershire sauce, garlic, and ginger until blended. Cook for 1 minute, without browning.
4. Gradually pour in the cream and milk and whisk until combined. Cook, whisking constantly, until the sauce thickens slightly, about 10 minutes.
5. Remove saucepan from heat and stir in the Cheddar until melted. Stir in the white pepper and Tabasco sauce. Add the cooked macaroni and toss to coat. Transfer to the prepared baking dish.
6. In a small frying pan, melt the remaining 3 tbsp butter over medium heat. Add the bread crumbs and toss to coat. Sprinkle the bread crumbs over the macaroni.
7. Bake until the sauce is bubbly and the crumbs are browned, about 25 minutes. Let rest for 10 minutes before serving.
BSK confetti cornbread
Makes 8 servings
Ingredients
1 egg
1 1/2 cups buttermilk
1 cup all-purpose flour
1 cup stone ground cornmeal
4 teaspoons baking powder
1/2 teaspoon baking soda
2 teaspoons coarse salt
1 tablespoon sugar
4 ounces unsalted butter
3/4 cup cooked corn kernels
1 3/4 tablespoons chopped hot green chiles
1 red bell pepper diced
3 green onions, chopped
Directions
1. Place cast iron skillet or corn stick mold in an oven heated to 425°. In a mixing bowl, whisk together egg and buttermilk.
2. In a separate bowl, mix together flour, cornmeal, baking powder, baking soda, salt and sugar. Add dry ingredients to buttermilk mixture and mix with a wooden spoon; do not over mix.
3. In a small skillet, melt butter and add chiles, red pepper and onions. Cook for 10 minutes until vegetables are soft.
4. Fold corn and pepper mixture into the cornbread batter. Remove skillet from oven and grease with vegetable spray or brush with melted butter.
5. Add batter and bake for 10 to 15 minutes for sticks and 20 to 25 minutes for skillet.
Peach & nectarine cobbler
Serves 6 to 8
Ingredients
2 cups 225 G all-purpose flour
1 tbsp baking powder
1/2 tsp kosher salt
1/2 cup 115 G unsalted butter, cut into cubes and chilled
3/4 cup 150 G sugar
1 cup 240 M L heavy cream
3 peaches
3 nectarines
2 tbsp cornstarch
1/2 tsp ground cinnamon
Pinch of grated nutmeg
Directions
1. Preheat the oven to 375°F/190°C. Butter a 13-by-9-in/33-by23-cm glass or ceramic baking dish.
2. In a food processor, combine the flour, baking powder, and salt. Scatter the chilled butter cubes over the flour mixture and pulse until the mixture resembles coarse crumbs. Do not over process.
3. Transfer the flour mixture to a large bowl and add ½ cup/100 g of the sugar and the cream, mixing with a wooden spoon just until the dough comes together. Cover the bowl with a kitchen towel and let rest while preparing the filling.
4. Bring a large pot of water to a boil. Using a paring knife, cut a small "X" into the skin of the peaches and nectarines.
5. Drop the peaches and nectarines into boiling water. As soon as the "X" curls away from the fruits, about 40 seconds, remove them from the water with tongs or a slotted spoon.
6. When cool enough to handle, pull the skin away from the flesh and cut the peaches and nectarines into ½-in-/12-mm-thick slices.
7. In a large bowl, toss the peach and nectarine slices with the cornstarch, the remaining 1/4 cup/50 g sugar, cinnamon, and nutmeg. Spoon the fruit into the prepared baking dish. Cover the fruit with heaping tablespoons of the cobbler dough.
8. Bake for 35 minutes, until the cobbler is lightly browned and the fruit is bubbling. Let rest for 10 minutes before serving warm.
Spicy green coleslaw
Serves 4 to 6
Ingredients for vinaigrette
1/4 cup 60 M L red wine vinegar
1 red onion, cut into rough chunks
3 garlic cloves, peeled
2 jalapeno chiles, coarsely chopped
1 1/2 cups 360 M L canola oil
1/2 tsp kosher salt
1 small green cabbage, cut into 1/8-in/4-mm shreds
1 red onion, cut into 1/8-in/4-mm slices
2 tbsp chopped fresh cilantro
12 tsp celery seeds
1/4 tsp kosher salt
1/4 tsp freshly ground pepper
Directions for vinaigrette
1. In a blender or food processor, combine the vinegar, onion, garlic, jalapeño, oil, and salt and process until smooth. (To make ahead, refrigerate in an airtight container for up to 3 days.)
Directions for salad
1. In a large salad bowl, combine the cabbage, onion, and cilantro. Sprinkle with the celery seeds, salt, and pepper and mix thoroughly.
2. Add the vinaigrette and toss to thoroughly coat. Serve immediately.
Note: (To make ahead, refrigerate the salad for up to 2 days. Bring to room temperature before serving.)
The B-side
Serves 1
Ingredients
1 ½ OZ/45 ML bourbon, such as Buffalo Trace
½ OZ/15 ML mezcal
¾ OZ/22.5 M L fresh lemon juice
¼ OZ/7.5 M L Gran Classico Bitter
2 dashes of Angostura aromatic bitters
2 dashes of Burlesque bitters
¾ OZ/22.5 M L Vanilla Simple Syrup (below) Ice cubes
Directions
1. Combine the bourbon, mezcal, lemon juice, all three bitters, simple syrup, and ice in a cocktail shaker. Shake until the ingredients are well chilled, about 30 seconds. Strain into a martini glass and serve immediately.
Vanilla simple syrup
Makes about 1 1/2 cups/360 ML
Ingredients for vanilla simple syrup
1 cup/240 M L water
1 cup/200 G sugar
1 vanilla bean
1. In a small heavy-bottomed saucepan, combine the water and sugar.
2. Split the vanilla bean lengthwise, scrape the seeds into the pan, and then add the pod.
3. Bring to a boil and cook, stirring occasionally, until the sugar has completely dissolved, about 2 minutes. Let cool completely and remove and discard pod before using, about 2 hours.
Thanks for reading CBS NEWS.
Create your free account or log in
for more features.