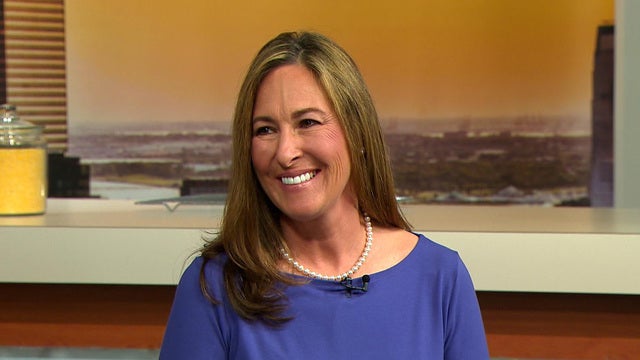 The Dish: Memphis Barbecue Co.'s Melissa Cookston
Pitmaster Melissa Cookston developed a passion for "cue" growing up around pit-fire grills and Southern Delta cooking in Mississippi. But it was while attending a BBQ contest in the late '90s that she re-discovered her first love and has been cooking up win after win in the male-dominated barbecue contest circuit ever since. Today she is the only female barbecue world champion.
After years on the competition junket, she returned home opening her Memphis Barbecue Co. restaurant, now with three locations across the Southeast.
Her latest cookbook, "Smokin' Hot in the South: New Grilling Recipes from the Winningest Woman in Barbecue," is due out in May.
Here's how to make some of her signature dishes: Rotisserie southwest spiced flank steak with chimichurri and grilled lime-cilantro slaw, grilled fruit salad, bacon wrapped asparagus with pink peppercorn vinaigrette, mini sage biscuits with sage butter, coconut cake and spiked sweet tea lemonade.
Rotisserie Southwest Spiced Flank Steak with Chimichurri and Grilled Lime-Cilantro Slaw
Serves 4 to 6
1 (2-pound) piece flank steak, 1 inch thick if possible
2 tablespoons Southwest Spice Blend (recipe below)
Chimichurri Sauce (recipe below)
Directions
1. Tenderize the flank steak on both sides using a meat maximizer. Season each side with the spice blend, applying the spice thickly and then patting the spices into the meat. Cover with a paper towel and set aside for 15 to 20 minutes while you heat the grill.
2. Preheat a grill to cook at 500°F, using a back burner for rotisseries if possible. Thread the flank steak over the spit by rounding the flank steak and piercing it twice with the spit, secure with spit holders, and turn on the rotisserie. Place on the grill and roast for 15 to 18 minutes (depending on thickness) for medium-rare and 20 to 23 minutes for medium. I have seen a lot of inconsistency in the size and thickness of flank steak, so adjust the times depending on the size you get.
3. Test the meat with an instant-read thermometer in the thickest part. Remove from the spit, cover loosely with aluminum foil, and let rest for 5 to 10 minutes. Thinly slice against the grain approximately ¼ inch thick.
4. Plate 2 to 3 slices (depending on length) per person and spoon some chimichurri sauce over the middle. Serve with more chimichurri on the side and grilled lime-cilantro slaw (recipe below).
Southwest Spice Blend
Makes about 1½ cups
Ingredients
2 tablespoons ground coriander
2 tablespoons ground cinnamon
2 tablespoons chipotle chile powder
2 tablespoons ground cumin
2 tablespoons ground ginger
2 tablespoons granulated garlic
2 tablespoons granulated onion
2 tablespoons kosher salt
2 tablespoons coarsely ground black pepper
1 tablespoon cayenne
1 tablespoon ground allspice
1 tablespoon ground fennel seeds
1 tablespoon ground cloves
Directions
Combine all the ingredients in a small mixing bowl and stir by hand until well incorporated. Store in an airtight container for up to 2 months.
Note: You'll get absolutely the best results by using lightly toasted whole cumin, fennel, allspice, and cloves and grinding in a spice grinder, but pre-ground is plenty good as well.
Chimichurri Sauce
Makes about 3 cups
Ingredients
¼ cup minced sweet onion
4 cloves garlic
1 cup fresh flat-leaf parsley
1 cup fresh cilantro leaves
1 tablespoon fresh oregano leaves
½ cup red wine vinegar
½ teaspoon kosher salt, or to taste
¼ teaspoon coarsely ground black pepper
½ cup extra virgin olive oil
1 tablespoon diced fresh jalapeno chile
½ red bell pepper, roasted, seeded, and finely chopped
Directions
1. In a food processor, pulse the onion, garlic, parsley, cilantro, and oregano to puree. Scrape down the sides of the work bowl and add the vinegar, salt, and pepper. Pulse again.
2. With the processor running, slowly pour in the olive oil. Remove from the processor and stir in the jalapeno and red bell pepper, then taste to adjust the salt and pepper. Let sit for at least an hour to let the flavors meld and then whisk again before serving. Bring to room temperature before serving.
Grilled Lime-Cilantro Slaw
Serves 4 to 6
Ingredients for the vinaigrette
¼ cup fresh lime juice
1 tablespoon cider vinegar
1 tablespoon honey
1 tablespoon minced garlic
½ teaspoon kosher salt
¼ teaspoon freshly ground black pepper
1 tablespoon chopped fresh cilantro
⅓ cup olive oil
Ingredients for the slaw
1 small to medium head green cabbage
¼ cup olive oil
½ cup shredded carrot
1 cup fresh cilantro leaves
Salt and freshly ground black pepper to taste
Directions
1. To make the vinaigrette, whisk all the ingredients except the olive oil in a mixing bowl. While whisking, slowly drizzle in the olive oil to form an emulsion. Set aside.
2. Remove the tough outer leaves of the cabbage head, then quarter, leaving the core. Brush each cut side of the cabbage with olive oil, then place on a hot grill. Grill for 3 to 4 minutes per cut side, or until you get a nice grill mark. Remove from the grill and let cool.
3. Cut out the core and slice down the cut side into very thin strips. Place in a large bowl with the carrot and cilantro. Whisk the dressing one more time and then pour over the slaw and toss to coat evenly.
---
Grilled Fruit Salad
Serves 4 to 6
Ingredients
1 whole fresh pineapple, peeled, cored, and cut into rings
1 Fuji apple, cored and sliced into wedges
2 peaches, peeled, pitted, and cut into wedges
1 teaspoon olive oil
1 teaspoon fresh lemon juice
1 cup seedless green grapes, sliced in half
1½ tablespoons honey
½ teaspoon red wine vinegar
4 or 5 fresh basil leaves, cut into slivers
Directions
1. Prepare a medium grill. Place the pineapple, apple, and peaches in a mixing bowl with the olive oil and lemon juice. Toss gently to coat all the fruit with the oil.
2. Place the fruit on the grill to cook until it begins to caramelize, about 3 minutes. Then flip and cook for an additional 2 minutes. Pull the fruit from the grill and cut into about 1-inch pieces.
3. Place in a serving bowl with the grapes, add the honey and vinegar, and stir. Top with the basil slivers and place in the fridge for at least 30 minutes before serving. Stir again right before serving.
---
Bacon Wrapped Asparagus with Pink Peppercorn Vinaigrette
Serves 4
Ingredients for pink peppercorn vinaigrette
1 teaspoon minced shallot
1 teaspoon honey
1 teaspoon dijon mustard
2 tablespoons white balsamic vinegar
½ teaspoon kosher salt
¼ cup extra virgin olive oil
1½ teaspoons pink peppercorns, lightly cracked with a mortar
Ingredients for bacon-wrapped asparagus
16 fresh asparagus spears, trimmed
8 slices thin-cut bacon, cut in half
1 teaspoon basic Memphis-style bbq rub (see below)
Directions
1. To make the vinaigrette, in a small mixing bowl, whisk the shallots, honey, mustard, balsamic, and salt and whisk to combine. Slowly drizzle in the olive oil while whisking to emulsify. Whisk in the peppercorns. Allow the mixture to sit for 30 minutes for the flavors to combine, then lightly whisk again before serving.
2. To make the asparagus, wash and dry each spear, then wrap each one with a half-slice of bacon, using a toothpick on each end to secure. Place on a sheet pan when done, then lightly sprinkle them with the bbq rub.
3. On a medium-hot grill, place asparagus perpendicular to the grill grates and grill for 4 to 5 minutes per side, until the bacon is crispy. Place on plates and drizzle with the pink peppercorn vinaigrette.
Memphis-Style BBQ Rub
Makes about 2 3/4 cups
Ingredients
1 cup turbinado sugar
½ cup granulated sugar
½ cup kosher salt
1 tablespoon onion powder
2 tablespoons granulated garlic
1½ teaspoons cayenne
1 teaspoon finely ground black pepper
2 teaspoons dry mustard
¼ cup mild chili powder
1 teaspoon ground cumin
¼ cup plus 2 tablespoons paprika
Directions
Place the turbinado sugar in a coffee grinder and pulse until lightly powdered. Transfer to a small mixing bowl and add the remaining ingredients. Stir until well incorporated. Store in an airtight container for up to 2 months.
---
Mini Sage Biscuits with Sage Butter
Makes about 15 small biscuits
Ingredients
2 cups all-purpose flour, plus more for kneading
1 tablespoon baking powder
¼ teaspoon baking soda
1 tablespoon minced fresh sage
¾ teaspoon salt
1/3 Cup cold butter, plus 1 tablespoon melted butter, divided
¾ cup buttermilk
Flaked sea salt, for sprinkling
Ingredients for sage butter
¼ cup butter
1 teaspoon minced fresh sage
Kosher salt
Directions
1. Preheat a grill (preferably a ceramic grill like the big green egg) to 450°F, using the indirect method and a baking stone.
2. In a large mixing bowl, stir together the flour, baking powder, baking soda, sage, and salt until well blended. Using a fork, cut the 1/3 cup of cold butter into the flour. (It should look like coarse crumbs when fully mixed.) Make a well in the middle and add the buttermilk, then stir until the flour is incorporated.
3. Lightly flour a cutting board, transfer the dough from the bowl to the board, and lightly knead the dough until it looks almost smooth. Roll out the dough to a ½-inch thickness.
4. Using a 1½-inch biscuit cutter, cut the biscuits out and put them on a greased baking sheet (or directly on the baking stone for a slightly crispier bottom).
5. Place the baking sheet on the baking stone on the grill for 10 to 12 minutes, until the biscuits are golden brown, then remove and brush the biscuit tops with the remaining 1 tablespoon melted butter and lightly sprinkle with sea salt.
6. To make the butter, mix the butter and sage together in a small bowl. Taste and season with salt if needed. Will keep, refrigerated, for 1 week.
---
Coconut Cake
Serves 10 to 12
Ingredients
1 coconut
¾ cup solid white vegetable shortening
1 cup sugar, divided
4 medium eggs, separated, yolks whisked
½ teaspoon vanilla extract
2¼ cups cake flour
2¼ teaspoons baking powder
½ teaspoon salt
Ingredients for icing
1 cup sugar
⅓ cup water
⅓ teaspoon cream of tartar
2 egg whites
1½ teaspoons vanilla extract
Directions
1. Set up a grill for indirect heat to cook at 350°F, with a baking stone. It is very important that you monitor the temperature level of the baking stone. Grease 2 (9-inch) round cake pans.
2. Drain the liquid from the coconut and reserve. Remove the husk and, using a potato peeler, shave 1 cup of coconut meat. Grate the rest using a box grater.
3. In a stand mixer, cream the shortening and ½ cup of the sugar. Add the whisked egg yolks and vanilla and mix for 1 minute. Mix in ¾ cup of the grated coconut.
4. In a separate bowl, sift the cake flour, baking powder, and salt. Add a quarter of this mixture at a time, alternating with pouring in some of the ¾ cup coconut liquid from the coconut. (If you didn't get enough from the coconut, add coconut milk from a can or regular milk to make up the difference.) Mix until the wet and dry ingredients are completely integrated into the batter.
5. In a separate bowl, beat the egg whites until stiff peaks form, then gradually whisk in the remaining ½ cup of sugar and fold into the batter using a spatula. Pour the batter into the prepared cake pans, place on the baking stone on the grill, and bake for 35 to 40 minutes, until the cakes have risen and a toothpick inserted in the center comes out clean. Place on a wire rack to cool.
6. Raise the grill temperature to 400°F, place the 1 cup coconut shavings in a pie pan, taking care not to break them up, and place on the grill for 5 minutes (keep an eye on them), until the shavings are browned and toasty.
7. To prepare the icing, boil the sugar, water, and cream of tartar in a small saucepan until it reaches242°F on a candy thermometer. Cover and remove from the heat. Beat the egg whites on medium-high speed until very stiff peaks form, then slowly pour the hot syrup into the egg whites while still blending. Add the vanilla and blend until smooth.
8. To assemble, place 1 cake layer on a cake plate and ice, then sprinkle some grated smoked coconut on top of the cake. Add the second layer of cake and cover with icing. Then place the toasted shaved coconut all around and on top of the cake. The cake will keep for 3 to 4 days.
---
Spiked Sweet Tea Lemonade
Serves 8
Ingredients
1/2 cup iced tea
1/2 cup vodka
4 cups lemonade
12 fresh mint sprigs
8 lemon slices, in wheels
Directions
1. Place mint sprigs in large pitcher and muddle with wooden spoon.
2. Pour in vodka, tea, and lemonade. Add ice cubes, cover and chill.
3. Divide in glasses and garnish with lemon slices.
Thanks for reading CBS NEWS.
Create your free account or log in
for more features.