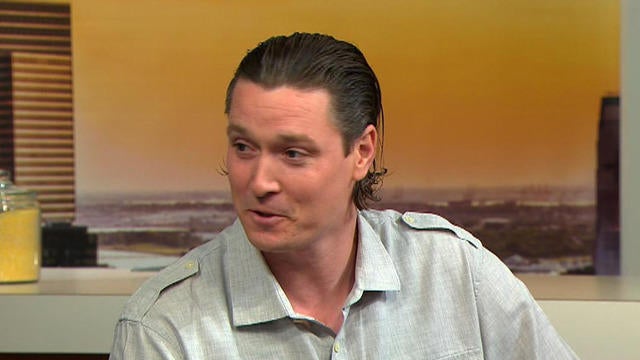 The Dish: Chef Jason Dady
Chef Jason Dady comes from deep in the heart of Texas, where his reputation is big and bright. The Texas native spent much of his early career in San Francisco, but he's been an influential figure in the San Antonio restaurant scene for 15 years now.
Dady owns an eclectic family of restaurants, ranging from the award-winning "Two Bros BBQ Market" to his flagship Italian fine dining spot, "Tre Trattoria," plus fresh seafood at the "Shuck Shack" and his brand new tapas bar, "The Bin."
Here are some of Dady's signature recipes:
Cherry glazed baby back ribs
Serves 8
Ingredients
4 lb baby back ribs
2 oz paprika
1 oz smoked paprika
1 oz ground cumin
1 oz ground fennel seed
2 oz brown sugar
1 oz ground coriander
1 oz cayenne pepper
1 oz kosher salt
8 oz cherry syrup (Italian soda style)
Directions
Start a fire in your fire pit. Smoke the ribs for four hours at 225 degrees or until tender enough to pull apart.
For the ribs - peel the back membrane off and discard. Trim any excess fat.
For the rub, mix all the dry ingredients together. Season the ribs liberally with the dry rub and smoke the ribs for three hours.
After three hours, start glazing the ribs with the cherry syrup. You should end up with a shiny, slightly sticky glaze. Glaze the ribs one last time prior to service.


Two Bros BBQ market BBQ beans
Serves 8
Ingredients
2 lb cooked pinto beans
1 each yellow onion, diced
2 cups fresh peaces, diced
1/2 lb applewood smoked bacon
1 cup brown sugar
1 cup house BBQ sauce
1/2 cup dijon mustard
1/2 cup red wine vinegar
1/4 cup black pepper
1/4 cup kosher salt
Directions
In large heavy bottom braising pot, render and cook bacon until crispy. Remove fat as it renders and reserve for another use.
Once the bacon is crispy, add onion and cook until translucent. Add beans, sugar, BBQ sauce, dijon, vinegar, and season to taste with salt and pepper. Once beans come to a simmer, add peaches and serve immediately.


BBQ stuffed jalapenos
Serves 8
Ingredients
16 each whole jalapeno, largest size preferred
1 lb cream cheese
1 lb applewood smoked bacon
Kosher salt and black pepper to taste
1 cup sour cream
1/4 cup ranch powder
1/4 cup buttermilk
Directions
Using a pairing knife, cut jalapenos in half right down the middle lengthwise. Use a spoon to remove seeds.

Using latex gloves, stuff the jalapenos with cream cheese in the entire cavity. Wrap with applewood bacon and smoke for two hours at 250 degrees or until bacon is crispy.
Serve immediately with ranch dressing.
Ranch dressing
Mix sour cream, ranch powder and buttermilk until smooth. Chill and reserve for service.

Two Bros BBQ market potato salad
Serves 8
Ingredients
1.5 lbs red potatoes
2 tbsp kosher salt
1 cup celery, diced
1 cup red onion, diced
1.5 cup real mayonnaise
1/8 cup dijon mustard
2 tbsp Colman's Mustard powder
Kosher salt and fresh cracked black pepper, to taste
Directions
In a large stockpot, cover potatoes with cold water, season the water with 2 tbsp of kosher salt and bring to a simmer. Be careful not to boil.

Once at a simmer, cook potatoes until soft. Cook until a knife can skewer all the way through the potato. It is essential not to overcook the potato. Once done, remove from water immediately and allow to cool at room temperature.
Once the potatoes are cool, using your hands, break potatoes into bite-size pieces in a large mixing bowl. Add the mayonnaise first. Toss the potatoes into the mayonnaise and mix well.
Once mayonnaise is well incorporated, add the dijon mustard and Colman's Mustard powder. Mix thoroughly.
Once mustard is added and mixed in, fold in the onion and celery.
Adjust seasoning as needed with kosher salt and fresh cracked pepper.
The potato salad is ready to serve. It can be served immediately or chilled and held for up to three days.

Bourbon pecan banana pudding
Serves 8
Ingredients
4 each large ripe bananas
16 oz vanilla pudding
4 oz mascarpone cheese
4 oz sour cream
4 oz powdered sugar
2 oz bourbon
6 oz candied pecans, chopped
16 oz Nilla Wafers
Directions
Mix together vanilla pudding, mascarpone cheese, sour cream, powdered sugar and bourbon until smooth.

In large clear bowl, layer the pudding, wafer, pecans until multiple layers are achieved. Chill for a minimum of four hours. Serve cold.

The healer
Serves 8
Ingredients
32 oz white rum
1 each ripe honeydew melon
16 each basil leaves
8 oz lime juice, fresh
8 oz simple syrup
4 oz agave
1/2 gallon green tea
8 each lime wedges
Directions
Remove skin from honeydew. Cut honeydew in half, remove seeds and dice into one-inch cubes.
In large mixing glass, using a muddler, add four pieces of honeydew and one basil leaf and muddle until crushed.
Add ice, 2 oz rum, 1 oz simple syrup, 1/2 oz agave, 4 oz green tea, 1 oz lime juice and shake for 30 seconds.
Add to rocks glass and garnish with fresh basil leaf and lime wedge.
Thanks for reading CBS NEWS.
Create your free account or log in
for more features.