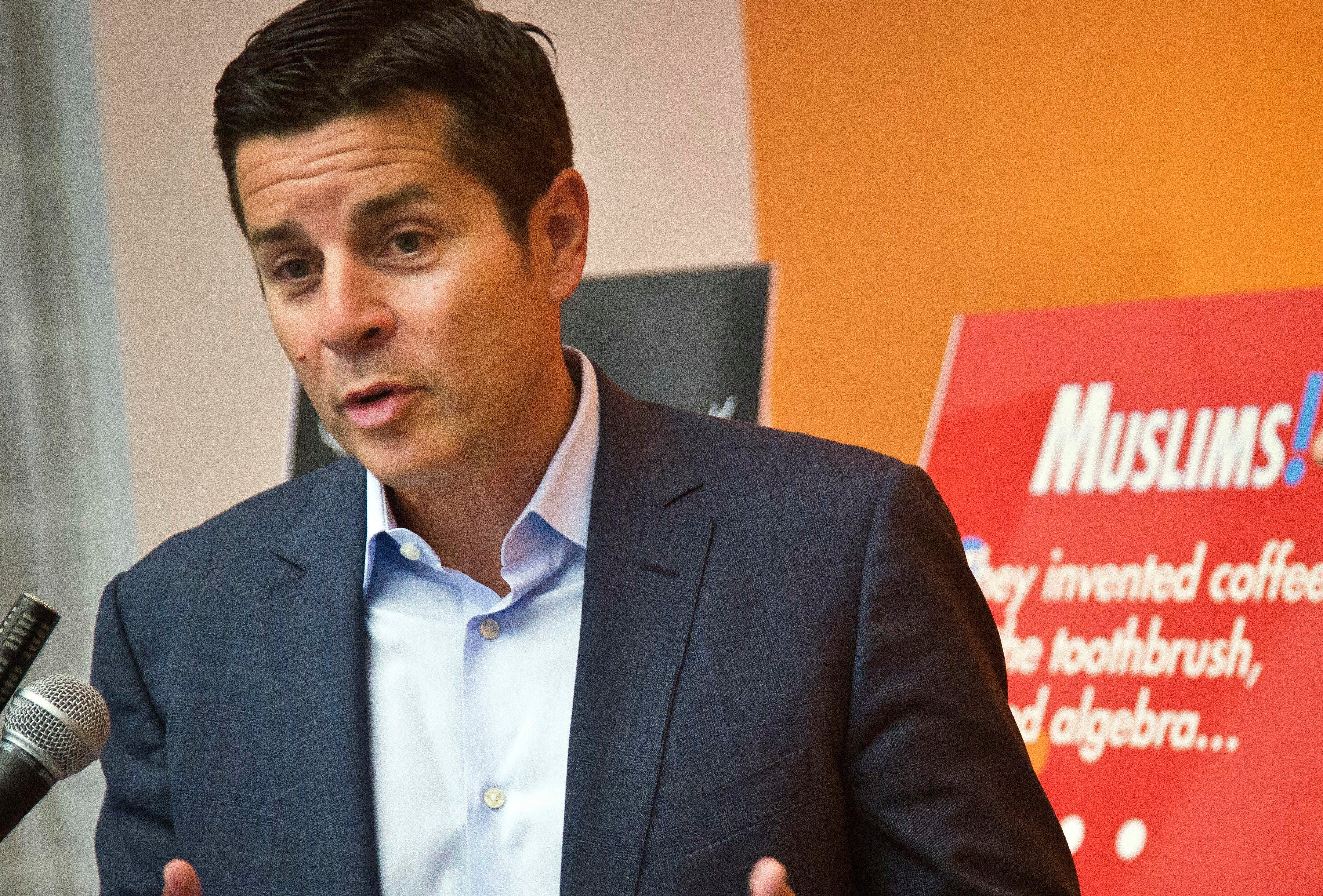 Muslim-American radio host seeks bank records in suit against publisher of neo-Nazi site
A Muslim-American radio host's lawyers are seeking a court order to get bank records for a neo-Nazi website publisher after questioning his father under oath about money donated by the site's readers.
Greg Anglin, the father of The Daily Stormer publisher Andrew Anglin, recently testified that he helped his son collect and deposit between $100,000 and $150,000 in readers' mailed donations over a five-year period, a court filing last Friday revealed.
On Oct. 31, attorneys for SiriusXM Radio show host Dean Obeidallah deposed Greg Anglin for the federal lawsuit they filed against his son last year in Columbus, Ohio.
The suit says Andrew Anglin falsely labeled Obeidallah as the "mastermind" behind the deadly May 2017 terrorist attack at an Ariana Grande concert in Manchester. Obeidallah, a comedian and Daily Beast columnist, told The Associated Press that he received death threats after the article's publication.
Obeidallah's attorneys are asking for the court's authorization to subpoena financial records from three banks that Greg Anglin used to funnel donated money to his son.
Andrew Anglin hasn't formally responded to Obeidallah's lawsuit, which says Anglin libeled him, invaded his privacy and intentionally inflicted "emotional distress."
Obeidallah's attorneys from Muslim Advocates, a national legal and educational organization based in Oakland, California, are trying to secure a default judgment against Andrew Anglin and his company, Moonbase Holdings LLC. The records for the Anglins' bank accounts are necessary for calculating "appropriate damages" if the court enters a judgment in Obeidallah's favor, his lawyers wrote.
Anglin's site takes its name from Der Stürmer, a newspaper that published Nazi propaganda. The site includes sections called "Jewish Problem" and "Race War."
One of Obeidallah's lawyers asked Greg Anglin about the content of his son's website and why he helped him get its domain name registered in 2013.
"I have a difficult time as a dad sometimes knowing what to support and what not to support. I don't take responsibility for somebody else's actions," said Greg Anglin, according to a transcript of the deposition.
Andrew Anglin has received other financial support beyond the cash and checks that readers mailed to his father's Worthington, Ohio, office and an Ohio post office box. He has solicited donations in bitcoin. He also used a crowdfunding website to raise more than $152,000 in donations to help pay for his legal expenses.
During his deposition, Greg Anglin said he collected the mailed donations from 2013 to December 2017 and usually deposited the funds into a bank account in his son's name. If the money was foreign currency, he would deposit the money in his own account at another bank and then wrote a check for the same amount and deposit it in his son's account.
Greg Anglin also said he borrowed just over $60,000 in readers' donations for a "real estate rehab" project but has paid back that entire amount to his son from a personal account at a third bank.
Obeidallah's attorneys didn't name the banks where Greg Anglin deposited readers' donations, citing the "controversial nature" of his son's site.
Greg Anglin said he knew the money was coming from The Daily Stormer's readers but didn't know how his son used it.
Andrew Anglin used his father's credit card to register the site's domain name because he didn't have his own credit card in 2013. But his father said he didn't know he would be listed as the site's registrant.
"When I realized I was the registrant, we had a very direct conversation where I told him I was very disappointed in him that he allowed that to happen, and that I wanted it removed immediately," he said.
Anglin said he spoke to his son over the phone a few days before his deposition, but he said he didn't know where his son was calling from or where he has been living in recent years.
"He's a private person, and I'm a talkative guy. And so he prefers and I prefer to not know where he is," Greg Anglin said.
The suit was filed two days after domain name registration companies Google and GoDaddy yanked the site's web address, effectively making it unreachable. The companies acted after Anglin's publication of a post mocking the 32-year-old woman killed in a deadly attack at a white nationalist rally in Virginia.
Andrew Anglin also retained lawyers to defend him against a separate lawsuit filed against him by Montana real estate agent Tanya Gersh, who says Anglin orchestrated an anti-Semitic online trolling campaign against her family. Last Wednesday, a federal judge in Montana ruled the First Amendment doesn't shield Anglin from Gersh's claims, allowing the case to proceed.
Thanks for reading CBS NEWS.
Create your free account or log in
for more features.