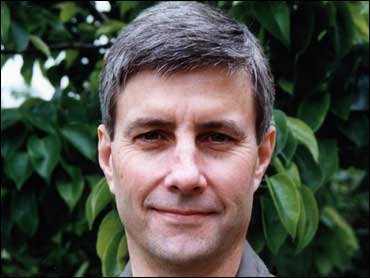 The Curious Case Of Col. Shue
This story originally aired on April 18, 2009. It was updated on Oct. 24.
In the spring of 2005, Air Force Colonel Philip Michael Shue was laid to rest at Arlington National Cemetery with full military honors.
Shue was 54 when a violent car crash took his life two years earlier. His vehicle struck some trees alongside a Texas interstate highway, not far from San Antonio.
But even as his widow, Tracy, accepted the traditional tri-folded American flag in his honor and even as she left a single white rose on his casket in his memory, she and those closest to him spoke of one final mission for truth.
"Phil, know this. That while you rest, the mission for truth will continue and it will be accomplished," his cousin, Ron Shue said at the service.
It all began 15 years before, in 1988, when Tracy, then an Air Force nurse, was assigned to Eglin Air Force Base in Florida.
"I liked him. I like him as a person. He was a great doctor… everybody loved him," Tracy tells "48 Hours Mystery" correspondent Troy Roberts.
Tracy and Phil, a psychiatrist, soon began dating. Phil was separated and was going through a difficult divorce.
"He didn't talk a lot about his first wife other than to say there was not any love in the marriage," says Tracy.
In 1993, with the divorce finalized, Phil and Tracy decided to marry. Tracy says they had a great life together.
"I don't think in my whole life I have ever met somebody who had such passion for life and just enjoyed the simple things," she tells Roberts. "He just -- he would walk into a room and he would just light it up. And people loved him. He brought nothing but joy into my life. I was very happy."
Five years later, in 1998, Phil was reassigned to Lackland Air Force Base in San Antonio, Texas. He and Tracy bought a house in nearby Boerne.
Nina Willard is Tracy's nearest neighbor, and her closest friend.
"Well, Phil had that Midwestern, very low-key, soft-spoken - mild-mannered, very laid back. And Tracy was a born and bred New Yorker, a little bit more demonstrative, I guess, you could say," she says with a laugh.
The friendship developed over the next five years of Phil and Tracy's marriage. Willard had mixed feelings in 2003, when Phil decided to retire from the Air Force. "Well, we were sad to see 'em go," she says.
Phil and Tracy had already found their dream house in Alabama -- a big place, with a pond in back.
"It was a new adventure. A new chapter in his life," Tracy says. "I mean, life was just very, very exciting at that moment."
Just one day after putting down a deposit on their new home, early on the morning of April 16, 2003, the colonel dressed in his fatigues and brought Tracy her customary first cup of coffee.
"We had coffee in bed - typical morning. [A] normal day, other than he was getting to work a little early to do some paperwork," she recalls. "We sat there and talked. We talked about the house. And he kissed me goodbye and left and said, 'I love you.' And those were the last words he said."
Two hours later, Col. Shue was dead.
"That car caved in on the driver's side and he suffered major head trauma as a result and was apparently killed instantly," explains Lieutenant Roger Anderson, who saw pretty quickly that this was more than a car crash.
"They could see that the T-shirt underneath had been ripped open from the chest to the naval. There was a 6-inch vertical gash in the man's chest and that both nipples had been removed," he says.
Anderson says there was another very unusual set of findings.
"They could see on his right wrist what appeared to be duct tape… both wrists actually were wrapped with duct tape in the similar way, both dangling ends. There was also duct tape at the top of his boots," he explains.
It would take a year of investigation, but in time, all of the agencies involved - the local and state police, even the Air Force - would come to agree that the death of Col. Philip Shue, a psychiatrist, was actually the end result of his own bizarre psychological breakdown: a deeply disturbed Shue had committed suicide.
"The case is bizarre," says Dr. Vincent Di Maio, who was the chief medical examiner of Bexar County, Texas. His office performed the autopsy.
Physical Autopsy
Read the findings of the Bexar County, Texas Medical Examiner's Office
Of any knowledge of Phil Shue's emotional state in the weeks leading up to his death, Di Maio says, "The information that was provided to the office was that he had been having some problems. He had seen some of his colleagues for depression or panic attacks."
Di Maio believes the injuries found on Shue's chest are self inflicted.
"You believe that Dr. Shue mutilated himself and went to these bizarre lengths to commit suicide?" Roberts asks.
"Well, based upon the information that was provided, that's the only conclusion," Di Maio replies.
The district attorney convened an investigative grand jury - 12 citizens sworn to secrecy - and asked them to consider the case.
"The grand jury found no evidence of any crime, and believed that the ruling of suicide should stand," says Anderson.
Tracy Shue is determined to prove her husband did not commit suicide, but, in fact, was murdered.
"I couldn't allow such an injustice to have happened not only to a wonderful person, but a person that I loved," she says.
Of the duct tape on her husband's wrists and ankles, the excised nipples and the gash in his chest, Tracy says she believes that Phil had been abducted and tortured. "What other explanation could there be?"
But if Shue had been kidnapped and then bound and tortured, and then somehow managed to escape, Di Maio wonders, why didn't he seek help?
"I mean, if you had been tortured like that, and you had broken free, where would you go? You would go to either the police or a hospital. But he was driving away from San Antonio and the hospitals. He passed three of the exits to his own town, Boerne. He had a working cell phone. I mean, this action is not consistent with someone fleeing an assailant."
"There's just no way," says the Shue's neighbor, Nina Willard. "He wouldn't have done that. He wouldn't have done it to Tracy."
Dr. Vincent Di Maio, the chief medical examiner at the time of Col. Phil Shue's death, believes the evidence strongly supports suicide, but he says you have to look for it.
Was Phil Shue a deeply psychologically troubled man?
"I would think by the actions he had to have been a troubled man," Di Maio tells Troy Roberts.
Di Maio believes the wounds were self inflicted. For example, an anesthetic called lidocaine was found in Shue's system.
"It would have to been injected in each nipple and in the middle of the chest," he explains, concluding that Shue injected himself with the drug to avoid pain.
"If you're going to torture somebody by mutilating them, are you going to give them an anesthetic to prevent them from feeling pain? That's the thing that doesn't make any sense," he says.
But Tracy Shue believes Di Maio's investigation is flawed. She doesn't believe her husband's death was a suicide.
"That's absolutely, perfectly reasonable," Di Maio says. "Her reaction is normal, and her view of the case was distorted by her love."
To take on Di Maio's findings, Tracy hired her own doctor, world-renowned pathologist Dr. Cyril Wecht.
Wecht has provided his expertise in many high-profile cases, ranging from the assassination of President John F. Kennedy to the death of Anna Nicole Smith.
On one key point, he actually agrees with Di Maio. "I have never seen a case as bizarre, as atypical as this one," he says.
But Wecht, who did his own autopsy on Tracy's husband, is highly critical of Di Maio's conclusion of suicide.
"We have no injection site identified by the pathologist in the original autopsy, none I find; no needle or syringe found. And no cutting instrument of any kind to be attributed to Col. Shue," he says.
Wecht says the lidocaine levels were not high enough for Shue to numb himself from the pain, and that there's no evidence to show Shue cut his own chest.
He believes someone else was involved in Col. Shue's death.
"There's an equally plausible scenario to such marks. And they're called torture," Wecht explains. "His fingerprints were not found on the duct tape. And no gloves were found. I would place my bet that this was a homicide."
So the question remains: Who would go to such lengths to kill Col. Phil Shue and why?
"You would have to ask the person who did it," Tracy says. "If I was going to identify a person of interest, that's where an investigation starts."
The person Tracy is cautiously referring to is Phil Shue's first wife, Nancy.
Phil and Nancy Shue's 20-year marriage ended in 1992. In a bitter settlement battle, Nancy received the right to own insurance policies on Phil's life worth $1 million.
Beginning in the late 1990s, Phil started demanding that Nancy cancel the policies. She refused, saying she couldn't afford to.
Tracy tells Roberts that her husband became fearful of Nancy after receiving a letter - an anonymous warning, saying, "you may be in danger."
The typewritten note, which also advises the colonel to "please be careful," is one of several he told Tracy he's received.
"It was an anonymous letter that said, essentially, that a person overheard a conversation between Nancy Shue and Donald Timpson, her current husband. And they were plotting to have him murdered for the insurance money," Tracy explains.
At the time of Phil Shue's death, Donald Timpson was an active duty Air Force pilot.
Shue wrote to his ex-wife, Nancy, confronting her about the warning he'd reportedly received, again insisting she "drop all life insurance coverage on me," adding , "(I) feel helpless to prevent my eventual murder if you hire good assassins."
What did Nancy say about the allegations in these notes?
"She said that she was not responsible," says Tracy.
Nancy wrote back: "This may have been someone's terribly sick idea of a game or a joke…" "…I am not any further involved, and never was."
The First Warning Letter
Analysis of a psychological autopsy performed by the Armed Forces Institute of Pathology (page 19), states: "The main evidence for homicide are the threatening letters that Shue was reported to have recieved over the three years prior to his death. However, there are questions in regard to the authenticity of the letters."
Phil Shue tried canceling the policy, but the insurance company told him he couldn't.
"They told him that she owned the policy. And therefore she had total authority over that policy. They could not cancel it," Tracy says.
Tracy says her husband feared for his life. "That fear never left him; he didn't know what to do. He felt that he tried everything - every avenue to try and address this, including his ex-wife. And it was a brick wall. He couldn't control it."
Tracy says the stress began to take its toll. "Never before had he ever, ever showed any symptoms of depression or panic or anxiety. This was a happy, healthy man who loved life. Until that first letter arrived."
Tracy believes the nature of Phil's injuries provides another lead. Court documents show that Nancy was a board-certified sex therapist who, among other things, had studied the practice of sadomasochism.
"Do you believe that your husband was tortured by someone familiar with sadomasochistic techniques?" Roberts asks.
"I believe that the injuries that he sustained are consistent with an act of sadism. And they certainly are sexual in nature," replies Tracy.
"Forgive me," Roberts continues, "but I have to ask this question. Did your husband have an interest in this fetish himself?"
"No, he did not," Tracy says. "And it's interesting that you would ask that question. Because you are actually the first person, out of the entire five-year time frame, that has ever asked me that question. And I do believe it is an appropriate question to ask."
Ex-wife Nancy Shue told Air Force investigators that on the day Phil Shue died in the Texas car crash, both she and Don Timpson could prove they were seen at work in Florida.
Nancy added that she believed Phil and Tracy might have fabricated the warning letter.
She refused to take a polygraph.
Two months after her husband died, Tracy filed a civil lawsuit with Nancy Shue as a defendant, seeking to prevent Nancy from collecting the $1 million death benefit.
Two insurance companies - USAA and Northwestern Mutual - were also named as defendants. Tracy claimed they had been warned about the threat on her husband's life, and therefore had a legal duty to cancel the policies.
As part of the lawsuit, Tracy's lawyers demanded that Nancy answer their questions, but during the deposition, she took the Fifth.
Lawyer Jason Davis: "Were you responsible for the death of Col. Philip Shue?
Nancy Shue: "On the advice of counsel, and pursuant to the Fifth Amendment of the Constitution of the United States, I assert my right against self incrimination and refuse to answer this question on the grounds that any answer might incriminate me."
Nancy Shue took the Fifth more than 20 times, refusing to answer any questions about murder or motives or torture.
Taking The Fifth
Watch an excerpt of Nancy Shue's deposition.
"Why not talk to investigators if you had absolutely nothing to do with this, why not be open and honest with investigators?" Tracy demands. "Why not sit for a deposition? Why not come into Kendall County and sit in a courtroom and say, 'I had nothing to do with this.'"
In Bosnia in 1995, American military personnel are part of a bloody, often brutal peace-keeping effort. As a psychiatrist, Air Force Col. Philip Shue was there to treat those in need.
But Phil's thoughts were never far from home. In a video he sent to his wife, Tracy, Shue seemed a picture of happiness, content with both his career and his marriage. His new life with Tracy seemed so much better than his old one with Nancy.
"He was very relieved to be out of that marriage." Tracy says, explaining that Nancy wanted "everything. And she got, pretty much got everything. He did say that she liked to spend a lot of money. He would say it that way. Money that they didn't have."
By 1999, with the divorce now seven years old, Phil and Tracy thought they had little reason to worry about Nancy. But all that changed with the arrival of that first letter, warning of the plot to have the colonel killed.
Tracy says her husband believed the threats were real, but he never called police.
"We as military members are clearly trained to first go through our chain of command. It's drummed into us from day one," she explains. "I don't know what the military did or did not do… and I don't think I'll ever be privileged to that information."
The military did issue a report - a 20-plus page document called a psychological autopsy.
It turned out to be the single most damning evidence of suicide.
Produced two years after his death, it concludes that Col. Phil Shue had become depressed, irrational, and even paranoid in the months before he died.
The report questions whether the warning letter was real, and it finds no evidence of another person being involved in Col. Shue's death.
Psychological Autopsy Read the report issued by the Armed Forces Institute Of Pathology
In a videotaped deposition, the report's principal author, Dr. Gerald Donovan, says it all adds up to suicide.
Donovan declined a request by "48 Hours Mystery" for an interview; however, Col. Shue's own doctor, the psychiatrist who was treating him at the time of his death, insists that Shue was not suicidal.
Dr. Douglas Dionne went on record with "48 Hours Mystery" that Shue was responding to therapy and getting better. But Dionne also said that six months before Shue died, he had experienced a dark and disturbing dream - a dream in which he imagined "his car went out of control on the way to work… great violence was done to him."
"Your husband did suffer from psychiatric problems," says Roberts.
"My husband suffered from what I would consider a psychological injury and that was the traumatic stress that he suffered from the threat on his life…this was something that was triggered by a specific event," says Tracy.
Nevertheless, the psychological autopsy findings clearly hurt Tracy's cause that this is a murder case.
Private investigator Joe Moura has worked cases for "48 Hours Mystery" - everything from a complex murder mystery in Chicago to a child abduction investigation in Portugal. He came to Boerne, Texas, to evaluate the Shue case.
"You have to look at all the aspects of the case, in particular, how severe were his psychological problems," he explains. "I had access to all the reports that were provided on the official record here. We also spoke to the two young men who were the eyewitnesses to the actual accident on I-10."
Moura met at length with Roger Anderson, the lead investigator on the case and found that Anderson now admits he lost control of the investigation, beginning with a jurisdictional beef with the state police at the crash site.
"We've got a dead body. We've got mutilation on that body," Anderson says. "I couldn't get their attention. Finally, I yelled and screamed at them, 'Get the hell out of my crime scene.' And that got their attention. But it also made them mad at me."
Anderson tells Moura at that point, the investigation was severely hampered.
Important evidence may have been lost and important leads may have been ignored.
"They didn't preserve the scene. They didn't preserve the vehicle. So, it wasn't handled as if it had been a crime scene or that a crime took place someplace else," Moura tells Troy Roberts. "I don't believe evidence was tampered with. What I believe is they didn't preserve the evidence."
Moura says Anderson had the experience to follow up in this investigation. And Anderson takes the blame.
"Oh, I am guilty. I was in charge of the investigation," Anderson admits. "There's a lot of fault to go around. But in the end, it's mine."
Anderson is now one of Tracy Shue's biggest supporters. Haunted by the results of the investigation, he says there are "absolutely too many unanswered questions."
"If there had been a true investigation in this case, I assure you this would never have been put down as a suicide," Moura says. "There was no investigation, and I really want a emphasize that. There was no investigation."
Joe Moura also doesn't think highly of the critical psychological autopsy prepared for the Air Force. "I got a 20-page report here from the Armed Forces Institute of Pathology. I read this once. I read it twice. I read it three times and I'm saying to myself, 'Where's the evidence?'"
During an interview with the two accident eyewitnesses, Moura learned they were never contacted by Air Force investigators.
"It's all assumptions. It's theories," Moura says of the report. "There's not one bit of scientific evidence that anyone can show me that would clearly show that Col. Shue committed suicide."
He says what little evidence there is points to money and to anger as possible motives for murder.
"People do crazy things. People do crazy things when it comes to money," Moura says. "That's not to say that Nancy Shue was involved in this. OK? All I'm saying, she had the opportunity to tell her story, to clear her name of any suspicion. She took the Fifth."
Five years after her husband's death, Tracy Shue takes some comfort in the peace and quiet of the garden she has lovingly created at their Boerne home in his memory. She has never wavered in her belief that her husband did not commit suicide.
It was a murder and should have been declared so five years ago," she says.
In June 2008, Tracy finally got her day in court. The civil lawsuit she filed was, at long last, ready for trial - but with some major changes.
Most dramatically, Nancy Shue was dropped as a defendant. So was Northwestern Mutual. Only USAA insurance remained as a defendant. In her lawsuit, Tracy insisted the company was liable for damages, because it had refused to cancel the policy.
The official finding that Col. Phil Shue committed suicide did not affect the payment of his life insurance benefits. His first wife, Nancy, received $1 million; Tracy received $1.8 million.
"I still believe, and to this day I believe, that a crime had been committed to this man prior to that traffic accident," says lead investigator Roger Anderson.
Anderson says he now has a theory on what really happened to Col. Shue.
"I think he was intercepted on the way to work. I think somebody was laying for him. They had planned to intercept him, to take him into custody, take him to some location unknown. I think they intended to terrorize the man," he says. "It would appear that Col. Shue was able to tear away the bonds that were restricting him and to get to his vehicle and attempt to escape. That's what it would appear. That's the most reasonable conclusion I can come to. I can't prove even one part of it."
"Anderson is a stand-up guy," says investigator Joe Moura. "Anderson knew from the word go and he's had to live with it, OK, that this was no suicide."
Moura says that once the crash scene was compromised, theories are about all that's left. "There's a lot more evidence to support the theory that this was a case where this man was abducted versus a case of suicide."
When asked by Troy Roberts if it is possible that Phil Shue may have staged the attack, and accidentally killed himself that day, Moura says, "Anything's possible, Troy. Could I sit here with you and tell you absolutely, unequivocally that that's not a possibility? I can't do that."
As the court case begins, the town of Boerne settles in for what's expected to be a two month trial. Whatever Tracy may lack in the way of strong evidence, she has plenty of support.
George Brown, a lifelong friend of Phil's, served as police chief in several Ohio communities. His experience as a career cop causes him to question the official findings.
"Just to arbitrarily say, 'Yeah, that's a suicide,' without doing a little investigative work, as I sit here today, I can't figure out why it would happen," he says.
But just before Brown is scheduled to testify, the trial takes a major and unexpected turn. Judge Bill Palmer dismisses the jurors and announces that the parties have reached an agreement: the judge will decide the case on his own.
"Given what Tracy had gone through, she was prepared - she's always prepared for the worst," says Tracy's lawyer, Jason Davis. "So, she was prepared for whatever came out of the judge's mouth.
Cameras were not permitted in the courtroom during the Shue trial, but later, Judge Palmer agreed to read his ruling for 48 Hours Mystery.
Judge Palmer: "A take nothing judgment is rendered in favor of USAA in this matter..."
Palmer finds insurance company USAA did nothing wrong in refusing to cancel the policy owned by Col. Shue's first wife, Nancy. But it's the judge's other ruling that shocks the courthouse.
Judge Palmer: The evidence considered by the Court substantiates a finding that Col. Philip Shue was murdered. The Court therefore finds that the April 16, 2003 death of Col. Philip Shue was a homicide.
In the ruling Tracy gets the vindication she's been fighting for.
"It's given me, finally, a sense of peace just to hear the judge actually declare this what it was. It was a murder… and the murderers need to be brought to justice."
Tracy says she's changed during this five-year journey. "I'm sure now I'm a different person in a lot of ways… and I think I'm a stronger person, having gone through it. I think I'm a more spiritual person, having gone through this. You have to be. You have to be in order to survive it."
Joe Moura does not believe the case will ever be resolved. "That's sad, isn't it? But, I tell you what. There was a judge who agrees with me. Sitting on the bench he said, "This was not suicide. This was homicide."
But in his ruling that Shue's death is a homicide, Judge Palmer did not point a finger specifically at anyone, including Nancy Shue.
48 Hours Mystery wanted to hear from Nancy Shue to get her side of the story. She declined repeated requests.
The answers may not be forthcoming, but the questions remain. No law enforcement agency has ever named Nancy Shue or her husband as a suspect or as a "person of interest" in the case.
The Kendall County Sheriff's Office has no plans to investigate.
"There is no new evidence to this point, right now, for us to say we are going to open the case," says spokesperson Lt. Louis Martinez.
And despite Judge Palmer's order to change Col. Shue's death certificate from suicide to homicide, Kendall County officials have refused to do so, questioning the judge's authority to make that determination.
"I may never know exactly what happened that morning," Tracy says. "I'm hoping that this case is opened by a federal prosecutor. It should have been at a federal level to begin with."
For Tracy, the judge's ruling is just a starting point, a new beginning. But for a moment, she needs some time to heal.
"I think right now, I'm able to start grieving. I've spent the past five years fighting. And now, I just need time to grieve and then move on with my life."
---
In June 2009, the Texas Attorney General ruled Col. Philip Shue's death certificate does not have to be changed.

The official cause of death remains suicide.
Produced by Peter Henderson
Thanks for reading CBS NEWS.
Create your free account or log in
for more features.