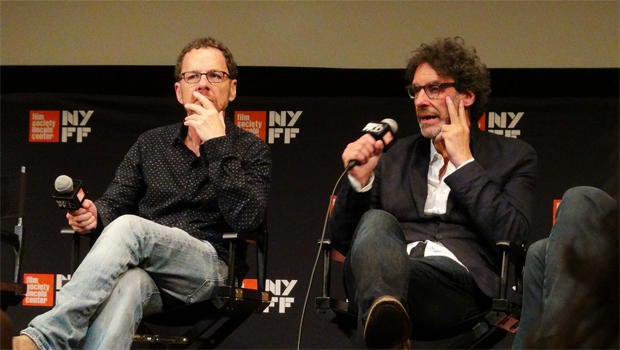 The Coen Brothers on "The Ballad of Buster Scruggs"
Leave it to Joel and Ethan Coen to defy expectations. Having in the past directed a contemporary western ("No Country for Old Men") and a classic Old West adventure ("True Grit"), they now turn their absurdist sensibilities to an anthology film that takes the spirit of storybook western tales and slightly sets it askew.
Having its North American premiere tonight at the New York Film Festival is "The Ballad of Buster Scruggs," made up of six stories set in the Old West, which have no real connective tissue, but each possesses a peculiar take on western tropes that have been handed down via Hollywood and pulp authors over the past century-plus. Filmed in the Coen Brothers' typically meticulous style, the stories are recognizably Coenesque in that fate keeps dealing a surprising hand.
The stories, which each inhabit a sort of sub-genre of westerns, were originally written a quarter-century ago, Joel Coen explained at a press conference in New York on Thursday. "They were put in a drawer, because they were short movies, and what were we going to do with them?" he said.
"We probably didn't expect to make them until maybe eight or 10 years ago, when we started thinking, 'Well, maybe we can do these.'
"They're all westerns, and they seem to relate to each other, but kind of retrospectively," he said.
"They kind of fell into an order by virtue of the way we wrote them," said Ethan, who explained that there was not much shuffling in where each story fell.
There had been rumors that with "Scruggs" the brothers had embarked on a miniseries for television, but Joel said, "That's an artifact of just what a strange animal it is. They didn't know, none of us really knew what to call it, or how to classify it."
The opening story – and the most hilariously Coenesque of them all – is "The Ballad of Buster Scruggs," a takeoff on Gene Autry singing-cowboy oaters, featuring Tim Blake Nelson as Scruggs, who is as handy with a guitar as he is with a six-shooter.
In "Near Algodones," James Franco plays a bank robber whose luck appears to run out before serendipity enters the picture. In "Meal Ticket," Liam Neeson travels the mining camps of the Old West with a peculiar entertainment attraction.
In "All Gold Canyon" (based on a Jack London story), Tom Waits plays a prospector who thinks he's all alone as he searches for a vein of gold. In "The Gal Who Got Rattled," the leader of a covered wagon train to Oregon (Bill Heck) makes a proposition to a charming young woman (Zoe Kazan) who finds herself in dire straits.
And in the final story, the Rod Serling-ish "The Mortal Remains," Tyne Daly is among the passengers of a stagecoach that is also ferrying a dead man.
Two of the six stories are not exactly winners (or at least seem incomplete), although each feels so purely western, thanks to cinematographer Bruno Delbonnel (who also shot "Inside Llewyn Davis"), production designer Jess Gonchor, and costumer Mary Zophres. They fill the frame with extraordinary images – captured in New Mexico, Colorado and Nebraska – that feel plucked from our collective imagination of what the Old West was (or should have been).
The acting, as is par for the course with the Coens' films, is excellent. Nelson as the singing cowboy is a hoot, while Franco, Waits, Kazan, Heck and Grainger Hines perfectly fit the period.
Kazan spoke Thursday of a "dream logic" she felt connected the individual stories, yet of her role in the covered wagon sequence she said, "When you see a movie that you're in, I don't know about other actors, but I have to watch it like this [covers her eyes], and I know I can watch 80 percent of this movie happily, it was wonderful!"
After screening today and Tuesday at the New York Film Festival, "The Ballad of Buster Scruggs" will be released November 16 in theatres and on the streaming service Netflix. 128 minutes. Rated R (for bloody, bloody violence in the Coen fashion).
To watch a trailer for "The Ballad of Buster Scruggs" click on the video player below:
More reviews from the New York Film Festival:

For more info:
Thanks for reading CBS NEWS.
Create your free account or log in
for more features.