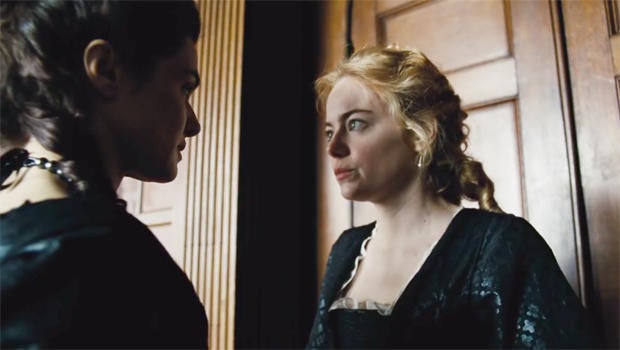 Review: Emma Stone and Rachel Weisz in "The Favourite"
The 56th New York Film Festival opened Friday night with a ravishing period piece in which three women engage in a pas de trois of ambition, betrayal and lust, in and out of corsets.
"The Favourite," the latest film from Greek director Yorgos Lanthimos, is a cruelly funny comedy that traces the bond between the English monarch Queen Anne (Olivia Colman), who in the early 18th century was overseeing yet another war with the French, and Lady Sarah Churchill, Duchess of Marlborough (Rachel Weisz), her closest confidante and enabler of royal decrees.
Sarah's power over the queen, who is of ill health and depressed from losing 17 children, means that she is at times the de facto ruler, dictating her wishes to Parliamentary officials in a complete upheaval of gender politics. The two women's lesbian relationship only makes the Duchess' powerful position appear to us rock-solid.
That is until the arrival of Sarah's cousin Abigail (Emma Stone), who owing to her father's gambling debts and unseemly death has fallen on hard times and has come to the Queen's residence in search of a job.
But a scullery maid is no place for a lady, and Abigail sets her sights on a loftier position. By taking actions that could be generous or conniving, or likely both, Abigail wins the trust of the queen and the ire of Sarah, setting the stage for a duel between vipers over who shall be the queen's favorite.
Lanthimos has in the past pursued stories with a decidedly absurdist bent. "Dogtooth" (2009), an Oscar nominee for Best Foreign Film, is a brutal and surreal tale of young people forbidden by the family patriarch from leaving their house, for their entire lives, leading to some bizarre behavioral and interpersonal skills. "The Lobster" is a hilarious fable of a society in which people who cannot find a mate are turned into animals.
Filmed at Hatfield House in Hertfordshire, where the camera's wide-angle lens captures every nook and cranny, "The Favourite" takes Lanthimos' absurdist sensibility and jams it into that time-honored vessel of the courtly period piece, where the machinations of royal power are seen under a microscope. Here, men are for the most part extraneous in this palace, except for hand-wringing cabinet officials, wary footmen, scalawags looking for a bit of crumpet, or bettors making or losing fortunes on duck races. The film instead focuses on the exercise of female power, limited as it was in that era, being deployed with blunt force.
The acting is top-notch. Olivia Colman won the Best Actress Award at the Venice Film Festival as Queen Anne – needy, fiery, and gluttonous, and whose foul humors leave her with few allies. Rachel Weisz, as the backstop for the monarch, may or may not have the best interests of state in mind, as she engages in a dominant-submissive relationship where the power dynamics are constantly challenged. Her control of emotions is threatened by Abigail, and to lose control is (for her) a fatal flaw. Weisz plays this game of marking and protecting territory spectacularly.
As Abigail, Emma Stone makes guile ever so appealing, and dances on the edge of her character's desperation to achieve and hold onto power. But be careful what you wish for: finding yourself in the queen's bed might not be the best outcome for you.
"The Favourite" (distributed by Fox Searchlight" is Rated R for language, nudity and sexual situations (not all of them mutually satisfying). 121 minutes. After playing Saturday, October 13 at the New York Film Festival, the movie opens theatrically on November 23. Happy Thanksgiving!
To view a trailer for "The Favourite" click on the video player below.

For more info:
Thanks for reading CBS NEWS.
Create your free account or log in
for more features.