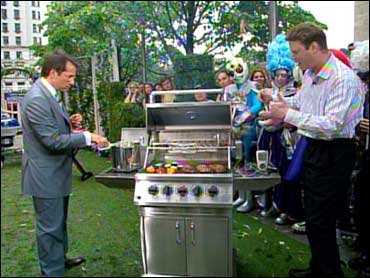 The 'Best' Grill For Your BBQ
Gas, electric, smoke or charcoal, no matter how you grill, it all comes down to one thing: Great taste!
Best Magazine senior editor David Gregg visits The Early Show to offer examples of different grills and accessories designed to sear, sizzle, and create food that will knock the socks off your guests at your next summer barbecue.
The following are the products featured on the show:
Charcoal Grilling
Weber Performer Charcoal Grill
Charcoal is still the best way to get the most flavor from your barbecue. But lighting it is always a hassle. So the Performer charcoal grill uses a gas assist to light the coals fast.
Cost: $299.99
Available at www.webergrills.com
Electric Grilling
Char Broil's Patio Bistro
Designed for those living in small places, this full-size electric grill features an award-winning design that includes a built-in cooler and cutting board that is dishwasher-safe and doubles as a lid for cooler. The "Bistro" features a 1750-watt heating element and 7-foot grounded cord with temperature control.
Cost:$345
Available at: www.charbroil.com
Portable Grilling
Coleman Road Trip Grill LXE
This compact propane powered grill folds and rolls. It has an open-flame drip-through surface (285-square-inch cooking surface area), and it offers removable "mix & match" surfaces - grill, griddle or stove (each sold separately). Grill lasts up to 1.1 hours (operates on 16.4 oz. propane cylinder-not included) with both burners on high or 4.5 hours on low on one 16.4-oz. propane cylinder. The grill can adapt to a 20-pound propane tank (purchase of tank hose and tank required). Folds to a compact size with easy-to-pull handle and wheels. Tool holders and side tables are built in for easy use. Includes a removable grease management tray and two grill grates.
Cost: $188
Available at: www.coleman.com
Smoked Not Grilled
Orion Cooker/Smoker
It is an outdoor convection cooker that uses three cooking processes simultaneously: convection, steam and smoke. It is constructed out of stainless steel and comes standard with three cooking grates, a poultry stand and lifting handle as well as three rib hangers.
Cost:$149
Available at: www.orioncooker.com
Gas Grilling
Ducane Stainless Steel 3 Burner Grill
It has 624 square inches of cooking space. Three long-wearing stainless steel primary burners rated at 36,000 BTUs let you cook by the direct or indirect grilling method. This grill comes decked out with a 12,000-BTU side burner and a rotisserie.
Cost: $699
Available exclusively at Home Depot, go to www.homedepot.com
Best Accessories
Grillmat Flexible Non-Stick Silicone Grilling Mat
The first and only non-stick cooking sheet designed for the outdoor grill. Use with Indirect heat to grill delicate fish and small foods including sliced fruits, vegetables and shellfish. It is recommended to use only with indirect heat, using with direct heat may damage GrillMat (11 3/4 inches by 15 3/4 inches).
Cost:$17.99
Available at: www.laprimashops.com
Brookstone Grill Alert Talking Remote Meat Thermometer
This wireless belt-clip monitor tells you when your entree is ready from up to 300' away. Just insert the stainless steel transmitter probe into the center of the meat, select the type of meat, choose how you want it cooked and then the voice prompt alerts you when your entree is "Almost ready" and "Ready." It is great for use inside with your oven or stovetop, as well as outdoors on the grill.
Cost:$75.
Available at: www.brookstone.com
The Ultimate Gas Grill
Cal Spas Gourmet 3000 Sports Bar & Grill Barbecue Island
Features include an audio/video system complete with three 17-inch flatscreen TV's, a DVD/CD player with stereo/surround sound marine-grade speakers; Integrated Waterfall; a Five-burner grill; Heat-resistant knobs that also feature a child-safety locking system; Four automated retractable awnings provide coverage to everyone around the bar; Refrigerator; Seating for six; and Stainless-Steel storage drawers with double-door storage space.
Cost: $27,000 (prices start at $15,000 for similar models).
Available at: www.calspas.com
Thanks for reading CBS NEWS.
Create your free account or log in
for more features.