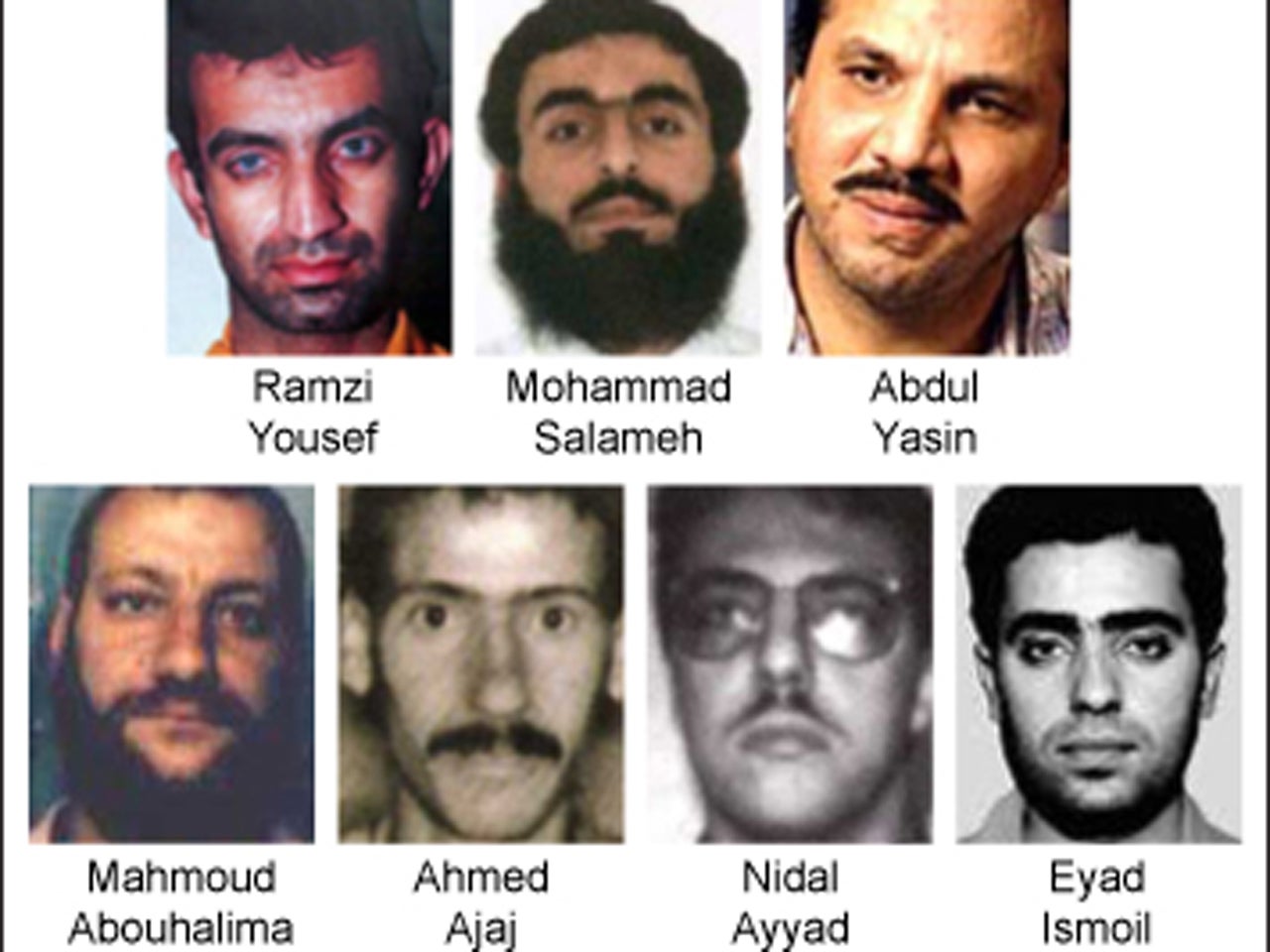 The 1993 World Trade Center bombers: Where are they now?
On Feb. 26, 1993, an ugly new phase of terrorism was ushered in when Jordanian Eyad Ismoil drove Kuwaiti Ramzi Yousef and a 1,300-pound nitrate-hydrogen gas enhanced bomb also stuffed with cyanide into the parking garage below the World Trade Center in Manhattan.
Yousef lit a 20-foot fuse, and the two fled quickly enough to evade immediate capture by authorities. The bomb killed six people and injured more than 1,000 that day.
When the bomb went off, their goal of bringing down the Twin Towers failed, but the event was the first in a continuing string of indiscriminate attacks on civilians by terrorists designed solely to kill as many as possible.
By 1997, seven men had been convicted for the attack: Yousef, Ismoil, Egyptian Mahmud Abouhalima, Palestinian Mohammad Salameh, Kuwaiti Nidal A. Ayyad, Iraqi Abdul Rahman Yasin and Palestinian Ahmad Ajaj. Only six of them, however, had been caught.
The one thing that bound them all was a radical Egyptian cleric, Omar Abdel Rahman, a blind sheik who had once set up shop in Jersey City, New Jersey. Rahman was ultimately convicted of masterminding several attacks -- some carried out, some not -- on American interests.
Rounding out the circle of plotters is the infamous Khalid Sheikh Mohammed, who is not only Yousef's uncle, but also later claimed to be the mastermind of the 9/11 attacks which ultimately brought the Twin Towers down. Mohammed gave Yousef advice, tips, and cash in the run up to the 1993 bombing.
Five of the seven main bombers are serving life sentences in the federal Supermax prison in Florence, Colo.
Yousef is currently suing for more human contact after 15 years in prison. According to the Los Angeles Times, he wrote to the warden: "I request an immediate end to my solitary confinement and ask to be in a unit in an open prison environment where inmates are allowed outside their cells for no less than 14 hours a day."
Nidal Ayyad, an alleged Rutgers University graduate, is apparently serving his life sentence in a federal penitentiary in Terre Haute, Ind.
Abdul Yasin was tracked down by "60 Minutes" in May of 2002 in an Iraqi facility outside of Baghdad. He had successfully fled the U.S. after the 1993 bombing and remained high on the most-wanted list the entire time.
Yasin, 40 at the time, expressed regret to Leslie Stahl about the bombing and claimed he was talked into it by his fellow bombers, whom he met for the first time while living in Jersey City.
"[Yousef and Salameh] used to tell me how Arabs suffered a great deal and that we have to send a message that this is not right ... to revenge for my Palestinian brothers and my brothers in Saudi Arabia," Yasin told Stahl. He added that they also prodded him about being an Iraqi who should avenge the defeat of Iraq in the Gulf War.
The "60 Minutes" interview is likely the last time any Westerner officially spoke to Yasin, who by all accounts remains on the lam to this day.
Khaled Sheikh Mohammed is currently on trial in Guantanamo Bay for his role in the 9/11 attacks. Mohammed is kept under such heavy security that his lawyers can't even reveal routine conversations with their client. Prosecutors are seeking the death penalty.
The true "celebrity" of the attacks, for lack of a better term, is the so-called "Blind Sheik," Omar Abdel Rahman. His name and his teachings are repeatedly invoked by jihadists and conservative Muslims the world over as inspiration.
In September 2003, he was transferred from the federal Supermax prison in Colorado to a medical prison in Springfield, Mo., after officials said Rahman might lose his limbs to diabetes.
Militants who attacked the Ain Amenas gas field in the Sahara in January of this year had offered to release two of the three Americans eventually killed in the attack in exchange for the freedom of Rahman and Aafia Siddiqui, a Pakistani scientist convicted of shooting at two U.S. soldiers in Afghanistan. The Obama administration rejected the offer outright.
Al Qaeda's current leader, Ayman Al-Zawahri, has repeatedly invoked Rahman as a reason for kidnapping and killing Westerners. In an undated two-hour videotape posted last October on militant forums, he said that abducting nationals of "countries waging wars on Muslims" is the only way to free "our captives, and Sheik Omar Abdel Rahman."
Even more moderate Muslims appear to revere the Blind Sheik. In his first public speech last June addressing tens of thousands of mostly Islamist supporters, Egypt's then-president-elect Mohammed Morsi vowed to free Rahman.
The U.S. has not budged in its refusal to consider freeing Rahman in any negotiations so far, so it is highly unlikely Morsi will succeed.
Thanks for reading CBS NEWS.
Create your free account or log in
for more features.