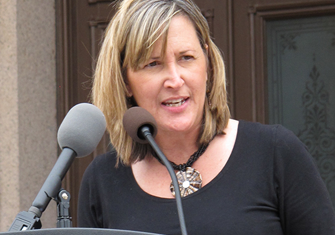 New Texas bill would force school to out gay students to their parents, critics say
A Texas state lawmaker has proposed a law that critics say would force schools to out gay students against their will to their parents.
State Rep. Konni Burton filed Senate Bill 242 just days after Donald Trump was elected president, amid increasing reports of harassment and violence against minorities across the country.
Elliott Griffin, Burton's chief of staff, told the Houston Chronicle the bill was "written in response to the Fort Worth school district issuing new guidelines about transgender students."
The guidelines required schools to recognize students based on their gender of choice while allowing them to use the bathroom of their choice. Griffin said those guidelines also limit parents' access to information about their children.
In an op-ed about the Forth Worth guidelines, Burton said: "Our schools are a place of learning; they are not replacements for the support and love of the family."
Burton's proposed bill would entitle parents to all written records held by the school district regarding their child's "general physical, psychological or emotional well-being," the Chronicle reports, with the exception of any information related to child abuse.
School employees concealing, or encouraging a child go withhold, information would be subject to discipline.
The proposal has roused opposition from LGBTQ advocates.
"Until kids are not kicked out of their house for being gay or transgender, and until kids are not being beaten by parents for being gay or transgender, we owe it to kids to protect them," Steven M. Rudman, chairman of Equality Texas, said in a statement. "We believe Sen. Burton's legislation would essentially destroy protected communications between a student and an educator."
The New Civil Rights Movement writes about the case: "If passed, SB 242 would place LGBT youth in the conservative state at risk for abuse, neglect or suicide if their parents aren't accepting. It could even expose them to the dangerous, discredited practice of 'reparative therapy,' which happens to be endorsed in the Texas GOP platform."
Griffin denied the bill would force kids into reparative therapy, calling that an "unfortunate interpretation," according to the Chronicle.
"I have no idea why they would draw that conclusion."
Burton was elected as a tea party Republican and Sen. Ted Cruz ally to the Texas State Senate in 2014, representing an area just outside Fort Worth, replacing the famous firebrand liberal Wendy Davis, who stepped down in a failed bid for governor.
The bill will be considered in Texas' next legislative session, which begins Jan. 10.
Thanks for reading CBS NEWS.
Create your free account or log in
for more features.