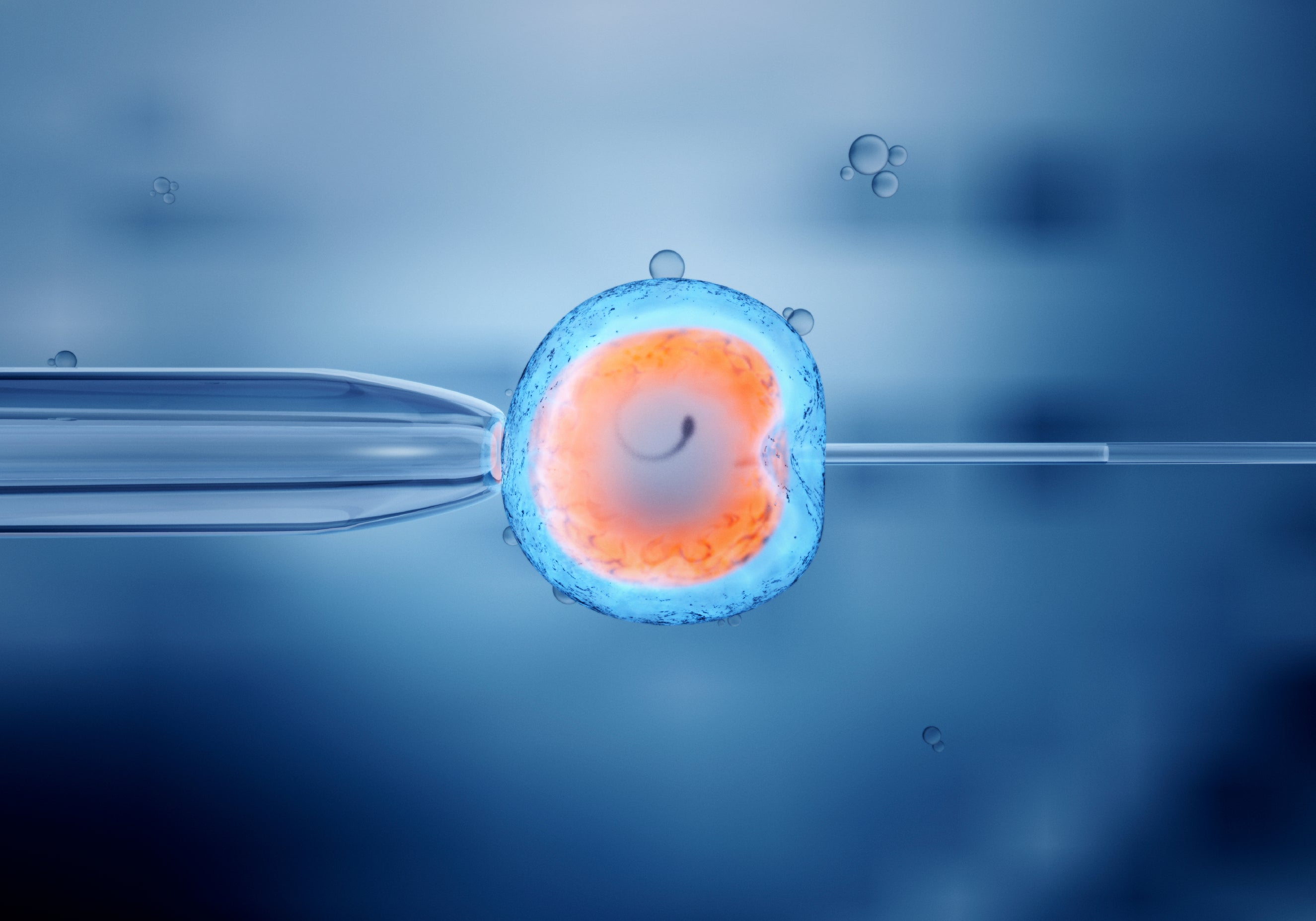 At tech companies, egg freezing benefits are all the rage
When Leslie Kennedy landed a job at Facebook and moved from New York to California, she hadn't given much thought to having a family. She was 30, single and focused on her career.
"I always knew that if I were to have a family, there were options -- whether it be adoption or egg freezing or being one rock-star aunt," Kennedy says. "I knew I had a very fulfilling life ahead of me, so it felt like I didn't have that pressure."
After a couple of years at Facebook, Kennedy learned the social network was expanding its family-planning benefits to offer everything from adoption assistance to paid surrogacy to egg freezing. That's unusual. Most U.S. companies don't even offer paid maternity leave, much less egg freezing. Those types of benefits are expensive.
Egg freezing costs at least $10,000 a shot. It involves a surgical procedure in which a doctor retrieves eggs from a woman's ovaries and then freezes them for use at a later date. While conceiving naturally can be difficult for women in their late 30s and 40s, research suggests they can carry a baby to term well into their 50s.
Although Kennedy wasn't really thinking of getting her eggs frozen, she began to hear lots of buzz around the office as colleagues took advantage of the benefit.
"It just came up if you were above 30 and single," Kennedy says.
So at 33 and just beginning a new relationship, she decided to take the plunge.
Facebook was the first tech company to announce it would pay for egg freezing -- both for female staff and the spouses of its employees. That was in 2014. Soon after, Apple started offering it as a benefit too.
Today, at least a dozen tech companies have jumped on board -- from Google to Uber to Yahoo.
"In 2016 we introduced a cryopreservation benefit that covers the freezing, storage and thawing of oocytes [egg cells], sperm and embryos," says Carolyn Clark, Yahoo's head of global internal communications. "Cryopreservation is part of a suite of family benefits that Yahoo offers, including generous parental leave program, infertility benefits, adoption assistance and more."
Tech companies are known for offering impressive perks -- like gourmet food, massages and dry cleaning -- to attract employees. They're also under pressure to attract more female employees to their mostly male workforces. Those two issues have put egg freezing and other fertility benefits on the vanguard of what tech companies are offering to entice and hold onto employees.
"I'm seeing big reasons why this policy has come to the front," says Dan Bernstein, senior consultant at human resources consulting firm Mercer. "The first and foremost is the significant war for talent among high-tech companies, including the real need to attract and retain the best and brightest women."
Trending
Tucked away on the second floor of a downtown San Francisco building is Spring Fertility, a high-tech clinic and lab that caters to people who work in Silicon Valley. Women who work at Google, Facebook and Yahoo go in and out of the center's sleek white waiting room. And its client base is growing.
"What percent are from tech companies? A lot," says Dr. Peter Klatsky, co-founder and director of fertility preservation at the clinic. "We understand the millennial and tech demographic."
Klatsky says Spring Fertility does about 90 procedures a month, including in vitro fertilization and egg freezing. He says it's important to understand his patients are busy, so Spring works with their schedules.
"They're an optimistic group who are trying to schedule this between a wine tasting and a business meeting," Klatsky says.
Many of Spring's patients come by way of a fertility benefits company called Progyny. Essentially the middleman between tech companies and fertility clinics, Progyny is a kind of concierge service that gives women advice and helps them find the right fertility center.
"There's no question that the most innovative coverage and the early adopters of our Progyny program were, in fact, the tech companies," says Karin Ajmani, president of health care services for Progyny. "And then other industries took notice."
Ajmani says roughly half of the employers Progyny now works with aren't in tech. That's notable given that, before 2013, egg freezing was considered an experimental procedure by the American Society of Reproductive Medicine. Now, about 5 percent of all U.S. companies with 500 or more employees cover egg freezing, according to Mercer's 2016 survey of employer-sponsored health plans.
Besides Facebook, Apple, Google, Uber and Yahoo, several other top tech companies also confirmed they're offering egg freezing as a benefit to both their female staff and the spouses of employees. This includes Netflix, Snapchat, Intel, eBay, Time Warner, Salesforce, LinkedIn and Spotify.
#LetsChill
Shortly after Facebook and Apple announced the new egg freezing benefit, two invitations started regularly floating around the San Francisco corporate world.
One was for #LetsChill egg freezing cocktail parties, hosted by Progyny's sister company EggBanxx. The other was for a "girls' night out" with the fertility specialist, also known as the "egg whisperer," Dr. Aimee Eyvazzadeh. Both parties, which still go on, aim to inform women about their fertility and remove any stigma about egg freezing.
"What Facebook and Apple have done is make this part of a dinner-time conversation," Eyvazzadeh says. "It's almost like they legitimized the process for women."
Not everyone is thrilled with the benefit, however.
Critics say egg freezing implies women should focus on their careers and delay having children. They also say tech companies should concentrate on a better work-life balance and provide more child care, rather than ways to delay it. When new details about Apple's 175-acre campus were released last week, many commented that it doesn't have onsite day care.
"There's an interesting dynamic with tech companies turning to this new fertility technology," says Rene Almeling, a sociologist at Yale and author of "Sex Cells: The Medical Market for Eggs and Sperm."
"They think technology can solve lots of problems, including women's biological clocks."
Women freeze their eggs for a variety of reasons. Some put their careers first, others have illnesses like cancer that affect their fertility, and some don't have anyone in their lives to start a family with.
A 2013 survey by the American Society for Reproductive Medicine found that 80 percent of women who froze their eggs did so because they didn't have a partner, while 19 percent said, "workplace inflexibility contributed to their reproductive dilemma."
Kennedy says it's about choice.
"If I want to have kids on my own, I have an option," she says. "And if there are issues with me having children, I have a backup."
---
Solving for XX: The industry seeks to overcome outdated ideas about "women in tech."
CNET Magazine: Check out a sample of the stories in CNET's newsstand edition.
This article originally appeared on CNET.
Thanks for reading CBS NEWS.
Create your free account or log in
for more features.