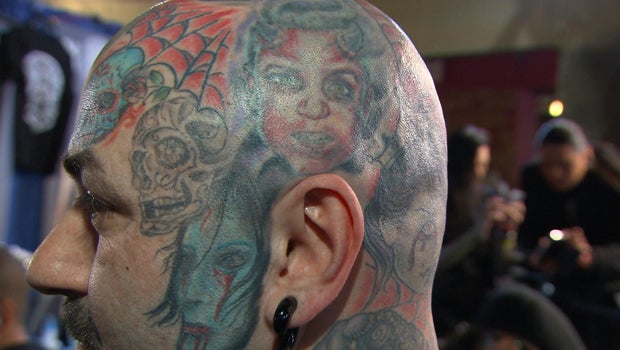 ​Tattoos: Fine art for the masses
Artists have been using ink for thousands of years. But as Faith Salie now tells us, only a particular type of artist can lay claim to having created a true body of work:
When it comes to body art, beauty really IS skin deep.
Erin showed off her floral tattoo: "This is my wedding bouquet. It was a really important part of life, and it just reminds me of it every day."

"It's really a couple hours of pain, but it's worth it," said Frankie.
It is, he said, art.
Art that has made its way into galleries, museums, fashion shows, even the cover of the New Yorker.
Eric Schwartz made a film, "Tattoo Nation," about this very old -- and very new -- phenomenon: "It started off as a photographic project. I just really found it fascinating. The sincerity of the people, how the imagery had nothing to do with what I thought."
It's no wonder people seeking such personal and permanent art want to place their bodies in the hands of classically-trained fine artists.
In 2009, Friday Jones - who draws, paints with oil, uses charcoal, "the whole gamut" -- opened Tattoo Couture, located on New York City's 5th Avenue.
"I had seen a lot of my friends graduating college and they still wanted to get tattooed, but I had to take 'em to a kind of an exposed street shop. I thought that they deserved a serene environment and a place where they felt safe to talk about spirituality, about pain."
Salie asked, "You've been doing this for 22 years -- what's the evolution you've seen in the tattoo industry?"
"My clients are so much more fearless than they've ever been," Jones replied. "Now people are [coming] up with all sorts of envelope-pushing ideas."
Ideas like 3D tattoos, watercolor tattoos, even glow-in-the-dark tattoos . . . ideas that have helped the industry generate more than $2 billion a year in revenue.
But tattoos have been around for centuries. One of the oldest was discovered in the Italian Alps, on a 5,300-year-old mummy.
"His tattoos are all over places in his body that had evidence of things like arthritis, so they were healing tattoos," said tattoo historian Anna Friedman.
She says tattoo art often reflects what's going on in broader culture, which is why for much of the 20th century, it was soldiers and sailors exercising their right to bear arms.
"Anytime we have a war, we get this desire of people to show their patriotism in a deep way," said Friedman.
A turning point for tattoos came with women's liberation.
"Certainly women were getting tattooed in the '60s and '70s as a way of breaking out of this mold of the woman who gets told what to do," said Friedman.
And one man who capitalized on the revolution is 83-year-old tattoo artist Lyle Tuttle, often called the father of modern tattooing.
"I was in more panties than gynecologists," he said, "because a favorite spot for ladies to get tattooed was inside the bikini line.
"It was not my great artistic talent that got me where I'm at today. But I was in everybody's favorite city."
As hippies swayed to psychedelic rock in the '60s, tattooing enjoyed a renaissance -- and Tuttle emerged as San Francisco's master tattooist, inking the likes of Joan Baez, the Allman Brothers and Janis Joplin.
"You had a tattoo, you belonged to sort of an elite club," he said.
It was Joplin's very visible tattoos that help thrust the art into the spotlight. As tattoos made their way into the mainstream, so did Tuttle . . . landing on the pages of Rolling Stone, Life magazine and the Bible of American business: "The Wall Street Journal did a profile of me, on the front page, about a man that markets the improbable product," he said. "All of a sudden the business world said, 'Oh, tattoos are cool!'"
Today, tattoos are a ubiquitous product. Like Scott Eureka (whose tattoo symbolizes the two most important things in his life: faith and family), more than 45 million Americans have gone under the gun.
And while tattoos have become a kind of fine art for the masses, they still come at a price -- about $400 an hour at Friday Jones' studio.
Salie asked, "What do you people expect from a tattoo artist today?"
"They expect works of art on their skin," said Eric Schwartz.
Jones continued: "And then Grandma's like, 'Oh, it looks just like Mimi,' or it looks just like the grandfather that's passed. And that's the most touching, when you build a bridge. And isn't that what art is supposed to do?"

For more info:
Thanks for reading CBS NEWS.
Create your free account or log in
for more features.