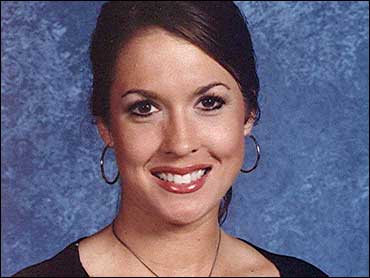 Tara Grinstead missing: Ex-student used hands to kill teacher in home, warrant says
OCILLA, Ga. -- Teacher and former beauty queen Tara Grinstead vanished from her south Georgia home in 2005, leaving a mystery that had stumped investigators for nearly 12 years - until a tip led to an unexpected arrest.
The Georgia Bureau of Investigation announced Thursday that a former student at Irwin County High School, where Grinstead taught history, has been charged with her murder.
The suspect, 33-year-old Ryan Alexander Duke, was being held at the Irwin County jail in Ocilla, about 165 miles southeast of Atlanta.
"We always believed that it would be solved," Connie Grinstead, the missing woman's stepmother, told reporters at a courthouse news conference Thursday in which the GBI announced the arrest. "We just did not know when."
CBS News' "48 Hours" investigated the case in the episode "Stolen Beauty."
The arrest provides some answers for a small farming community that has long grappled with Grinstead's strange disappearance.
"When I heard, I just broke down in tears of relief, of anger, of sadness and frustration," said Wendy McFarland, a fellow teacher and friend of Grinstead's. "Everything that had been carried for the last 11 years and four months just bubbled to the surface."
Duke burglarized the teacher's home, and used his hands to kill her inside the residence, according to warrants that were read at a late Thursday court hearing, area news outlets reported. He then removed her body from the home with the intent of concealing her death, the warrants state.
During an arraignment soon after the announcement, Duke was charged with murder, aggravated assault and burglary, reports CBS affiliate WGCL. He was appointed an attorney by the court and waived his right to a preliminary hearing.
Connie Grinstead held her husband's hand during the court hearing.
"Our wounds are deep, and our hearts are broken," she later told reporters.
As he was led out of the courthouse, Duke said nothing as reporters peppered him with questions about whether he killed the woman, and if so, why. Police have so far not released a motive.
GBI agent J.T. Ricketson, the lead investigator, declined to discuss Grinstead's relationship to the suspect and left open the possibility that others were involved. He wouldn't comment on what happened to the body and later released a statement saying "the search for Grinstead's remains continues."
Ricketson told reporters a tip days ago led investigators to make the arrest.
Duke had been a student at Irwin County High School, where Grinstead taught history, about three years before the teacher vanished, Ricketson added.
He didn't elaborate but noted that after hundreds of leads in the case that included interviewing numerous people, Duke had never been among them.
"This gentleman never came up on our radar," Ricketson said.
McFarland said she was shocked authorities were accusing Duke, saying she remembered him as a polite high school athlete who played on the tennis team.
"My recollection of him is that he was a very bright young man," McFarland said. "He was very nice."
McFarland said she did not know whether Grinstead had taught Duke.
It wasn't immediately known if Duke had an attorney.
Grinstead was 30 when she was last seen Oct. 22, 2005. The former Miss Georgia contestant, who in 1999 won the title Miss Tifton in a nearby city, spent the day helping contestants in a Miss Sweet Potato pageant and then attended a cookout. She was reported missing two days later after failing to report to work.
Her house was found locked, her car parked in the driveway. Her dog and cat were home, but Grinstead's purse and keys were gone. A latex glove - the type worn by police officers and medical workers - was found in her yard.
"I did have kind of a gut feeling that something was wrong," Ocilla police chief Billy Hancock told "48 Hours" in 2008.
Ricketson said police suspected foul play from the beginning, but found little physical evidence. Technically she remained classified as a missing person.
Grinstead's 2005 disappearance sparked an outpouring of support in Ocilla, a farm community of about 3,300 people, and surrounding Irwin County.
Volunteers helped search on foot, while a Tara Command Center was set up with a telephone tip line and a website, http://www.findtara.com. Rewards of $100,000 were offered for Grinstead's safe return or for information leading to an arrest and conviction if she was harmed.
"Right after it happened, there were people on everything from ATVs to horses looking for her over the whole entire county," said the Rev. Joey Whitley, a Baptist minister and the elected chairman of Irwin County.
The GBI interviewed an ex-boyfriend who had dated Grinstead for six years as well as other male friends she had, but no one was charged. Her family appeared on "48 Hours" begging anyone with information to come forward.
"I believe there is a piece of the puzzle that is missing," Connie Grinstead told "48 Hours" in 2008. "And when that piece of information comes in, it will lead us to the answers of what happened to Tara."
For 11 years and four months, the search for answers never stopped entirely. As the GBI announced Duke's arrest, a sign asking "Where's Tara?" still hung outside the sheriff's office.
A local probate judge declared Grinstead dead at her father's request in 2010. But some Irwin County residents kept hope alive. Whitely said one of them was a woman in his office.
He said she told him: "You know I was still hoping. I still had that hope that they would find her alive somewhere."
Thanks for reading CBS NEWS.
Create your free account or log in
for more features.