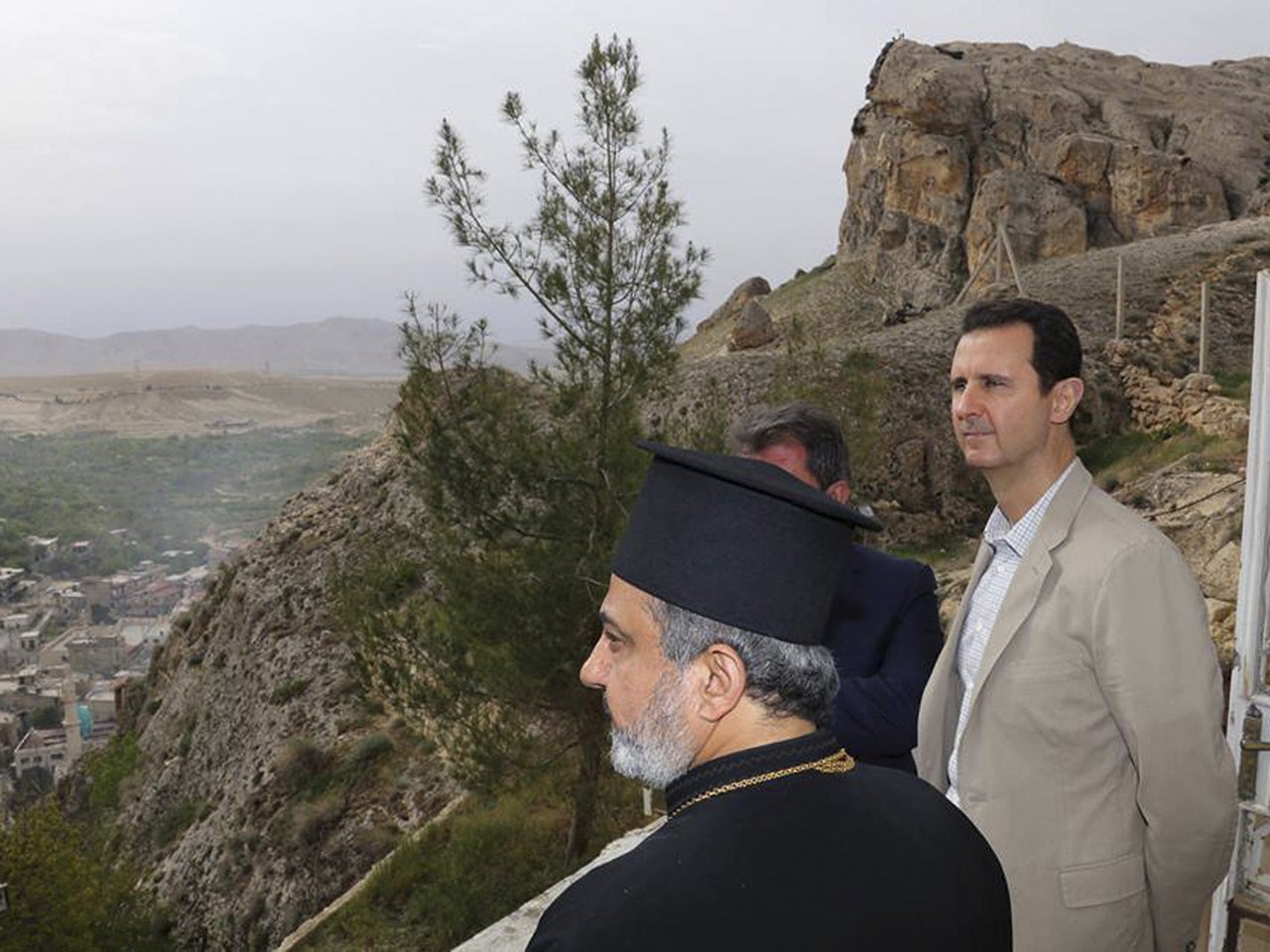 Syria's Bashar Assad visits recaptured Christian village on Easter
BEIRUT - Syria's embattled president marked Easter with a tour Sunday of an ancient Christian village recently recaptured by his forces, an important symbolic prize for his government ahead of coming presidential elections he appears poised to contest.
President Bashar Assad's visit to Maaloula, some 40 miles northeast of Damascus, serves a propaganda victory for his government in its quest to be seen as protector of religious minorities as its civil war grinds on.
Meanwhile, questions continue to swirl about allegations of recent poison gas attacks in the country, with French officials saying Sunday there were indications that Assad's forces were behind them.
Rebels, including fighters from the al Qaeda-affiliated Nusra Front, seized Maaloula several times late last year, most recently in December. Government troops swept through the village on Monday, sending rebel fighters fleeing to nearby hills.
Despite damage to holy sites in the village, Assad told Syrian state television: "Maaloula will remain steadfast in the face of barbarism of all those who are targeting the homeland."
"Nobody, regardless of the extent of their terror, can erase our cultural and human history," the state news agency quoted Assad as saying as he surveyed damage to the Mar Takla Greek Orthodox monastery in the village.
Assad promised to defend Christians - who make up about 10 percent of Syria's prewar population of 23 million - and protect churches that he said were part of the country's cultural heritage. Syria's civil war has seen Islamic extremists and radical foreign fighters join the fight and target Christians and their houses of worship.
Many of Syria's patchwork of minority Christian and Muslim faiths support Assad or have remained neutral, fearing for their fate should hard-line rebel groups seize power.
Assad's visit, while highlighting the recent gains his forces have made around the capital and along the Lebanese border, also took on the air of a campaign-style event. On Monday, Syria's parliament will open registration for presidential candidates in its upcoming election, scheduled to be held this summer.
Assad has not publicly said he will run, but is widely expected to win another seven-year term. That's despite the war entering its fourth year, scattering a third of the population and killing more than 150,000 people, according to activists.
Syria's conflict started in March 2011 as largely peaceful protests against Assad's rule. It gradually turned into a civil war after some opposition supporters took up arms to fight a brutal government crackdown on dissent.
The war has seen chemical weapons attacks, including one near the capital, Damascus, that killed hundreds of people. The U.S. and its allies blamed the Syrian government for that attack, which crossed a "red line" that President Barack Obama had said would bring harsh consequences.
The attack nearly sparked Western airstrikes before a negotiated diplomatic settlement saw Assad's government agree to give up its chemical weapons. Damascus denied the charges and blamed rebels of staging the incident.
On April 11, both Assad's government and rebels reported a poison gas attack in Kfar Zeita, an opposition-held village in Hama province some 125 miles north of Damascus. Both sides blamed each other for the attack, though details remain murky and Western governments and the United Nations have yet to confirm what happened.
Sunday, French President Francois Hollande told Europe 1 radio station that he has "several elements" suggesting recent use of chemical weapons in Syria, but no definitive proof. Foreign Minister Laurent Fabius, asked in a Europe 1 interview about ongoing use of chemical weapons in Syria, said there were "indications" of potential chemical weapons attacks that need to be verified.
The claims come days ahead of an April 27 deadline for Assad's government to have handed over Syria's chemical weapons stockpiles for destruction. On Saturday, the head of the international mission to destroy Syria's chemical weapons said the government had removed or destroyed around 80 percent of its chemical weapons material.
Also Sunday, four French journalists kidnapped and held for 10 months in Syria returned home. Edouard Elias, Didier Francois, Nicolas Henin and Pierre Torres arrived on a special flight that brought them to Paris from a town near the Turkish border where the journalists had been released.
Syria is considered the world's most dangerous assignment for journalists. The New York-based Committee to Protect Journalists said in April that 61 journalists were kidnapped in Syria in 2013, while more than 60 have been killed since the conflict began in 2011.
Thanks for reading CBS NEWS.
Create your free account or log in
for more features.