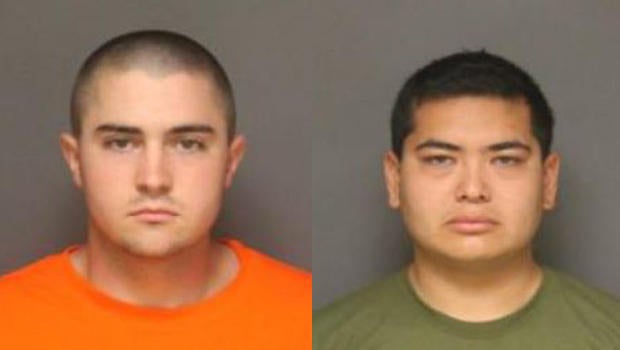 Suspects, victims in SoCal triple slaying were animal costume "furries"
FULLERTON, Calif. -- Two men arrested in the killings of a California couple were friends with the victims' teenage daughter and all attended "furry" events where some participants dress up in colorful animal costumes, according to friends and their social media pages.
Jennifer Yost, 39, and her husband, Christopher Yost, 34, were found dead in their Fullerton home along with family friend Arthur "Billy" Boucher, 28.
Police were summoned to the home Saturday morning by the couple's 6-year-old daughter. She was not harmed, nor was her 9-year-old sister.
Melinda Giles said she became friends with Jennifer Yost after meeting her and her 17-year-old daughter, Katlynn Goodwill Yost, last year at a gathering of "furries."
She said she also saw Frank Felix, 25, and Joshua Acosta, 21 -- who have been arrested for investigation of the murders -- at furry events, and had met Felix at the Yost family home.
The home sits on a block of single-family residences in a largely middle-class community, CBS Los Angeles reported.
Giles said Jennifer Yost told her several weeks ago that she had forbidden Felix from seeing her daughter.
"To protect her daughter, Chris and Jenn were like, 'We don't want you to be friends with our daughter anymore,'" Giles said Monday, adding that the couple was warm, generous and recently helped her move into her new home. "It is really sad because they didn't deserve that. Those little girls didn't deserve to wake up to dead parents."
Goodwill Yost initially was reported missing after her parents' bodies were found. On Sunday, when police announced the arrests of Felix and Acosta, they also said a 17-year-old girl was in custody and Goodwill Yost had been located and was safe.
They did not say if she is the girl suspected of involvement in the killings, citing state law forbidding the release of juveniles' names.
Police have not disclosed how the victims were killed.
The killings shocked the modest neighborhood, and friends left candles and condolence notes for the victims at the home.
Chris Yost was recalled as a quiet, friendly family man who loved tinkering with cars and also worked a day job designing trophies. Jennifer was a doting stay-at-home mom with a creative flair who designed jewelry and stuffed animals.
"The furries? That was a new thing they kind of got into," said Stacy Businger, Chris' cousin. "He was a really kind person. He would do anything for anyone. Literally he would give the shirt off his back to a perfect stranger if he needed it."
Goodwill Yost is a high school senior and member of the Junior Reserve Officers' Training Corp. Her social media pages show she was active in the furry community, where she was known as "Daydreamer," and many photos are posted.
She is seen wearing her military uniform in one, and others show a gray fox-wolf costume that resembles the smiling icon she has on her page at furaffinity.net.
Furries are people who enjoy taking on animal personas. Many like dressing up in costumes and attending gatherings. The annual Anthrocon convention in Pittsburgh draws thousands.
Ray Arechiga, a 23-year-old college student, said Jennifer Yost, her daughter and Felix were part of the community. He said Jennifer helped other furries cope with problems.
"She really is a loveable member of the community," he said.
Relatives are trying to raise money to cover funeral costs and help support the two young girls, who are seen smiling in a photo posted online, their arms slung around each other and each wearing a T-shirt decorated with green four leaf clovers.
It was not immediately possible to reach Felix or Acosta, who were being held at the Orange County Men's Central Jail on $1 million bail.
Felix's father said via telephone that he did not know whether his son had an attorney but was a "good kid" who worked different jobs and lived at his family's home in Sun Valley, California.
Acosta is from Fort Irwin, California. Contact information for his family was not immediately available.
Thanks for reading CBS NEWS.
Create your free account or log in
for more features.