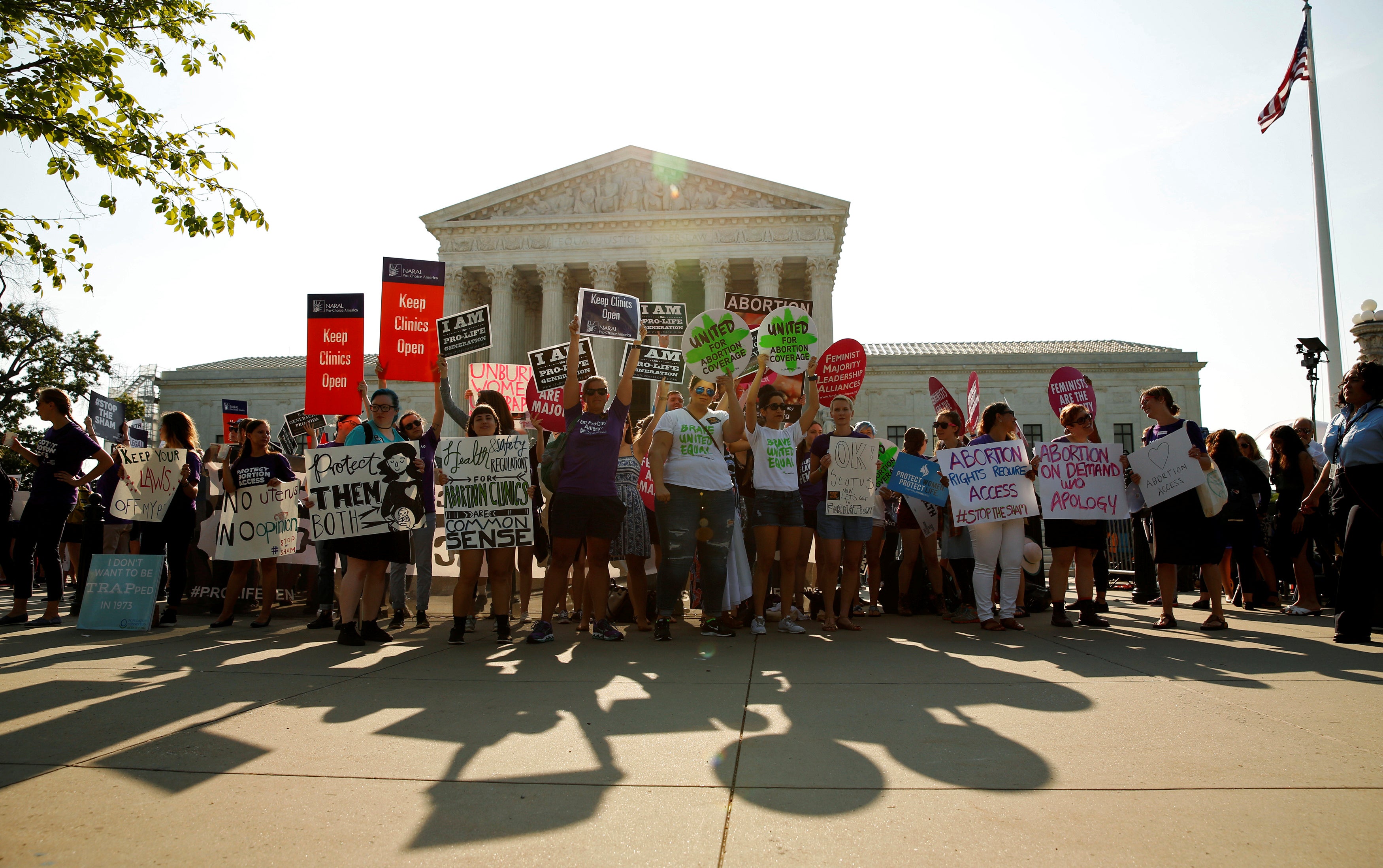 The Supreme Court decisions: Inside the courtroom for abortion ruling
Editor's note: CBS News Associate Producer Jillian Hughes was in the Supreme Court Monday, when final opinions for the term were read -- including Texas' abortion clinic law.
On the last decision day of the term, we know what to expect -- Voisine v. United States, McDonnell v. United States, and the abortion clinic case,Whole Woman's Health v. Hellerstedt. Demonstrators from both pro-choice and pro-life groups are out in force on the Supreme Court plaza.
Inside, the public section is full this morning, presumably with individuals who have a strong interest in the abortion clinic case. Two of them, Amy Hagstrom Miller, Founder and CEO of Whole Woman's Health and Nancy Northup, President and CEO of the Center for Reproductive Rights are in the Court today.
Acting Solicitor General Ian Gershengorn, whose new title just went into effect Saturday, is back up front, in the first chair for his office.
In the VIP section is retired Justice John Paul Stevens, wearing his signature bowtie, Justice Breyer's wife Joanna and Chief Justice Roberts' wife, Jane.
At 10 a.m., the eight justices enter the courtroom and take the bench. Justice Ginsburg has on a few adornments today. She's wearing a blue and white striped jabot around her neck and a loopy silver bow in her ponytail. A few in the press section wonder aloud what significance the blue jabot might have.
Justice Kagan has the first opinion in Voisine v. United States, the case in which two men were charged with violating federal law prohibiting possession of a firearm after being convicted of a domestic violence misdemeanor. Kagan reads the majority opinion in under four minutes. She then announces that Justice Thomas has filed a dissenting opinion, in which Justice Sotomayor joins in part. A few eyebrows raise in the room at that unlikely pairing.
At 10:04 a.m., Chief Justice Roberts announces that next is the opinion in Whole Woman's Health v. Hellerstedt. There's an audible stir as people shuffle in their seats, as if to signal -- this is the one we're waiting for. Amy Hagstrom Miller bows her head and looks at the floor. It's unclear if she's silently praying, or just cannot bear to watch the bench.
One minute into Justice Breyer's opinion, comes the line Miller is waiting for -- "We find that they are not consistent," Breyer starts, and before he can get out the full sentence, Miller knows the decision is in her favor. She beams, and mouths the word, "Yes!" in the direction of the ceiling, or maybe, the heavens.
Breyer then spends time explaining whether the majority believes res judicata, also known as claim preclusion, applies in this case. It is the legal principle that a matter may not be relitigated once it has been judged on the merits. "You only get one bite at the same apple," Breyer explains, and says that in this particular case, "we conclude that it is not the same apple." With res judicata out of the way, he goes on to explain the two provisions in question, one requiring those that perform abortions to have "admitting privileges" at a local hospital and the other requiring abortion clinics to be similar to outpatient surgical facilities.
Breyer first declares that the admitting-privilege requirement "burden(s) a woman's right to choose" and then speaking of the surgical requirement, says "we conclude that this provision, too, poses an undue burden."
He then makes the point that the surgical-center requirement, provides few, if any, health benefits for women, and says abortions performed in abortion facilities are already safe--safer, Breyer says, than other procedures that happen outside hospitals and that are not required by Texas to be performed in surgical centers. The total number of deaths in Texas from abortions was five in the period from 2001 to 2012, he notes. In comparison, a colonoscopy, typically performed outside a surgical setting, has a mortality rate 10 times higher than an abortion. He also noted the mortality rate for liposuction, another outpatient procedure, is 28 times higher.
Breyer then says for the reasons stated, the Court holds that the two provisions of the Texas law in question "are unconstitutional." At 10:20, after 15 minutes of the Breyer opinion, Justice Alito begins to read his dissenting bench statement. He starts by saying there is no justification for treating an abortion case differently than any other.
"With respect," he says, "that is what the Court has done in this case." He then takes his own turn discussing res judicata, calling it a "dry legal doctrine," but an important one. If the opinion of the majority on res judicata in this case were to be applied in the future he says, it would be as if saying "If at first you don't succeed, sue, sue again."
At that, the press gallery chuckles. The term predates the founding of this country, Alito emphasizes. "That's why it's in Latin," he says.
Moving to the Texas law at hand, Alito takes issue with throwing it out entirely. "These regulations are voluminous, here's a printout of them," he says as he holds up papers. He reads a few that he considers "innocuous," respect for the patient, for instance, and a requirement that fire alarms be installed. Throwing out the whole thing, he says, "is an abuse of our authority."
Justice Kagan, sitting next to Alito, scratches an itch behind her ear. And with that, "I respectfully dissent," Alito ends, after a 10 minute bench statement. At 10:30, Chief Justice Roberts announces he has the opinion in McDonnell v. United States, the last opinion of the term.
"There's no doubt the facts of this case are tawdry," Roberts begins, mentioning the Rolex, designer clothing and borrowed Ferrari all provided to the McDonnells by Jonnie R. Williams. "This case, however, is not about the propriety of those loans and gifts."
Roberts explains that although the word "decision," and the word "action," could be read expansively in this case to support the government's position, a 1999 Supreme Court opinion, United States v. Sun-Diamond Growers of California, rejects that interpretation. Roberts noted that that opinion was authored by "our late colleague" Justice Scalia.
Given the 1999 interpretation, Roberts said the Court concluded the jury instructions in the McDonnell trial were erroneous, and "we must vacate Governor McDonnell's convictions."
But Roberts, one last time, felt he needed to express disapproval of the details.
"There is no doubt that this case is distasteful," he said, "it may be worse than that."
With that, he announced the decision was unanimous, and before the court adjourned, Roberts recognized the retirement of three Supreme Court employees.
Thanks for reading CBS NEWS.
Create your free account or log in
for more features.