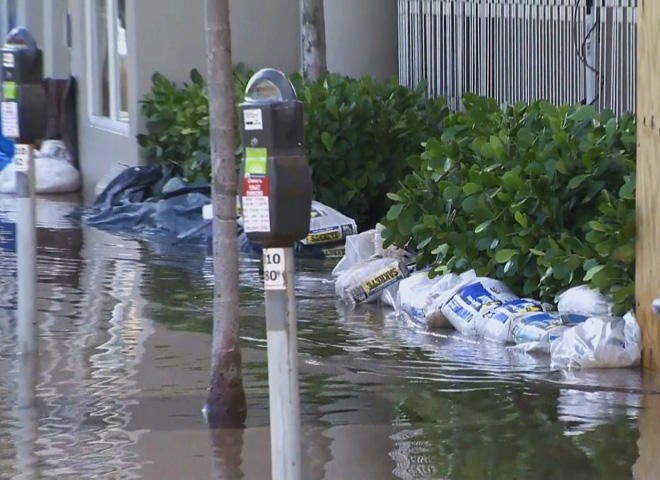 Supermoon elevates flooding risk in South Florida
The extra-bright "supermoon" has been lighting up the sky all over the world. The full moon is currently the closest it has been to Earth since 1948, and will reach the peak of its full phase at 8:52 a.m. Eastern.
But the supermoon's stronger gravitational pull is amplifying the seasonal "king tide," and creating heightened flood risks in places like South Florida.
In Fort Lauderdale, king tides happen once or twice a year, bringing seawater into low-lying neighborhoods. While the supermoon is making this tide more extreme, flooding has become a persistent problem throughout South Florida, leading to aggressive and expensive solutions.
On South Bayshore Lane in Coconut Grove, the bay came ashore at high tide Sunday night, with six inches of water in the street.
"By 2030, we expect up to another six inches of sea level rise to occur," Dr. Tiffany Troxler, director of Florida International University's Sea Level Solutions Center, told correspondent David Begnaud. "We might see another six inches on top of this."
With rising sea levels, seasonal king tides are swamping storefronts and submerging city streets. But scientists say this month's flooding is expected to be even worse, thanks to the so-called supermoon -- when the moon is closer to the Earth than normal.
"That additional gravitational pull has caused our high tides to be a little bit higher than they would have been without that supermoon," Dr. Troxler said.
Infrastructure director Ray Coley, who manages the waterway and sewer systems in Miami Beach, said, "We're at the point that the waters are rising high enough that it's interfering with public safety."
Scientists say flooding incidents in Miami Beach have increased at least 400 percent in the last 10 years.
"A year ago, we were having to close the road twice a day because the water was about a foot taller than the ground," said Coley. "If we have to close this road, that affects our police, our fire, our ambulance service."
If Miami Beach's sea level were to rise just two feet, the area would undergo a radical transformation.
Desperate times lead to desperate measures: The city is spending at least $400 million trying to keep the tourist mecca higher and drier.
Fifty temporary pump stations have been installed, and more permanent ones are on the way, similar to those in New Orleans. And Miami Beach is actually raising the city streets and elevating flood walls.
Dr. Troxler says this has gone beyond a debate over climate change.
"What's happening is that we have sea level rising in our neighborhoods and we need to do something about it now," she told Begnaud.
Most people in Fort Lauderdale live about five feet above sea level. According to one study, South Florida could see a six-inch increase in sea level by 2030 -- four years before the next supermoon.
Thanks for reading CBS NEWS.
Create your free account or log in
for more features.