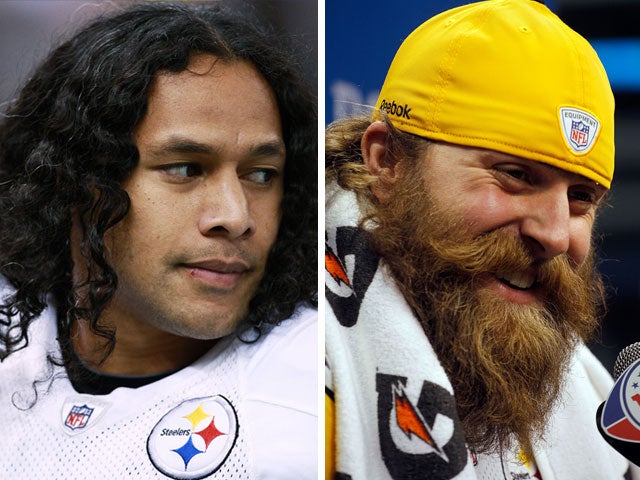 Super Bowl's Mane Men: Who Has The Best Hair?
Earlier this week, Pittsburgh safety Troy Polamalu won the defensive player of the year award over Green Bay linebacker Clay Matthews - by a hair.
Now teammates - and football fans everywhere - want to know who will take the crown for MVH - Most Valuable Hair.
Indeed, this Super Bowl already has more hair story lines than Shear Genius. On Tuesday, a throng of giddy Steelers donned a Polamalu wig to make the case that his mountain of curls - insured for $1 million by Head and Shoulders - are clearly a cut above Matthews' flowing mane.
Meanwhile the blond-haired Matthews, who recently landed an endorsement deal with Suave, was more effusive when talking about his wash and rinse strategy than his Super Bowl game plan.
"You need shampoo, obviously, to keep it clean. You can't have it greasy and nasty out there on game day, especially when you're putting the helmet on,'' Matthews said. `"But the conditioner really seals the deal. If you can use a little conditioner, help lock in the moisture, keep the fly boys down, that's really going to help you out."
But these two star defenders don't have a lock on Super Bowl MVH.
There's also Steelers Pro Bowl defensive end Brett Keisel, who has Facebook pages dedicated to his forest-like beard.
"There's not much maintenance," Keisel said. "I just comb it out every once in a while, brush the birds and squirrels out."
Then there are some long shots for MVH, including Packers linebacker A.J. Hawk (who started growing his long locks to honor the late Pat Tillman) and special teams player Brett Swain (who hasn't cut his hair in almost three years).
Swain, who has already endured injuries and roster cuts in his brief career, says he made a vow to stay away from the barber for as long as he could keep his job in the NFL. But he also acknowledged a practical purpose for the hair.
"Have you ever been to Green Bay?" Swain said. "Well, you know we have negative-degree weather. It's tough to deal with that. If you grow your hair a little bit longer, it helps warm you up a bit."
Thanks for reading CBS NEWS.
Create your free account or log in
for more features.