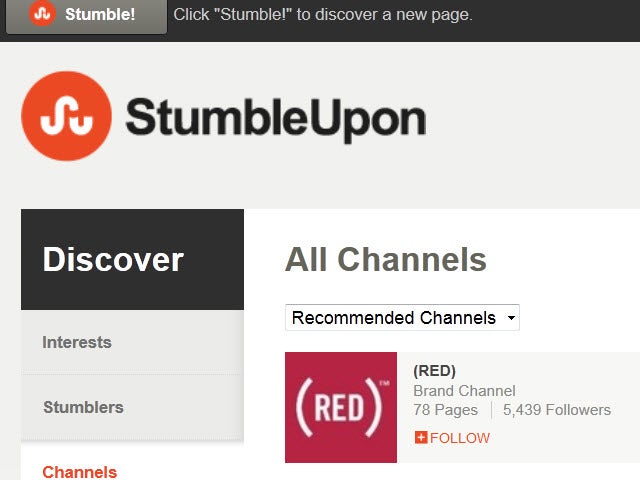 Stumbleupon's redesign falls flat [Update]
(MoneyWatch) In December, media social-sharing site Stumbleupon rebranded itself and launched a new feature: channels. That was supposed to help companies, media properties, and celebrities make it easy for consumers to follow them online.

It may have sounded like a good idea at the time, but the idea doesn't appear to have panned out as planned. CBS MoneyWatch has learned that Stumbleupon has put a halt to the channel beta program and further development six months after it was initially announced. That may have to do with the relatively low number of followers that channels for high-profile celebrities and companies have drawn.

CBS MoneyWatch was trying to establish a Stumbleupon channel of its own and contacted the site in March. After months of delays that a company representative said had been caused by a "a couple of product updates from our end that keep getting delayed," word about the change in direction came this week:
Over the past few days, we've decided to close our Channels Beta program and are no longer creating new Channels or currently developing or promoting the product.

We're working on some other site enhancements that we believe will further engage our users and improve the quality of the StumbleUpon experience. We want to ensure that the Channels product is the best it can be for both our partners and users, and we've decided not to add more Channels until we have assessed how to integrate the product more deeply into the user experience.
Looking at the Stumbleupon roster of close to 390 channels, by MoneyWatch's count, many had few followers compared to what the people or organizations might expect on other social media platforms. For example, music star Rihanna has about 20.6 million followers on Twitter. Her Facebook fan page has nearly 57.4 million likes. But the Rihanna Stumbleupon channel has only 3,067 followers.
The Food Network channel has one of the strongest followings on Stumbleupon at 14,000. But 1.2 million follow the channel's Twitter feed and its Facebook page has 2.9 million "likes." As the screenshot below shows, there are even blank channels listed with no followers.
Unless Stumbleupon can find a way to help drive far more activity than it is seeing, the hiatus for the channels feature could be a long one.
[Update: Stumbleupon sent the following statement:
Since updating the product in late 2011, we have been gathering feedback from our users and partners. Overall, the response has been positive as both users and partners have found the redesign an easier way to discover and share great content. But because we want to make the experience even better, we've decided to close the Channels beta and focus on enhancing the program. During this time, users can continue following existing Channels and receive new Channel content from partners in their Stumble streams. We're looking forward to making a better Channel experience available to both partners and users in the future.
No word on when or how things will change in the future.]
Thanks for reading CBS NEWS.
Create your free account or log in
for more features.