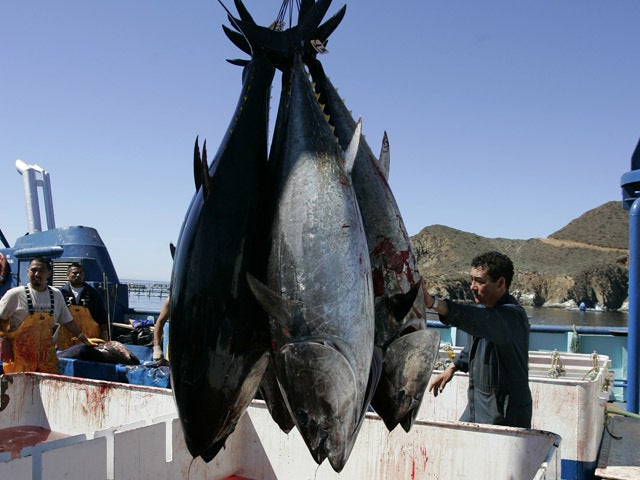 Study finds unsafe mercury levels in 84 percent of all fish
(CBS News) A new study from the Biodiversity Research Institute in Maine found that 84 percent of fish have unsafe levels of mercury. That poses a health risk for humans, exceeding the guidelines for eating certain kinds of fish more than once a month.
Reducing mercury pollution is on the agenda of the United Nations conference this week in Geneva, where delegations are expected to put the finishing touches on a treaty backed by the United States.
Richard Gelfond always considered himself athletic, until one day, something went very wrong.
"I went running, and it felt like I was going to fall over," said Gelfond, adding it had something to do with his balance.
Gelfond, who is the CEO of the movie company IMAX, consulted doctors on both coasts. They had no answers. He was worried.
"It got to the point where I really couldn't cross the street. I had to hold my wife's hand," Gelfond said.
Many tests later, a neurologist asked Gelfond if he ate a lot of fish. He did, twice a day. The diagnosis was mercury poisoning.
"I thought I was doing something really good for my body, and it turned out I was doing something really bad for my body," Gelfond said.
Eating fish is the principal way people get mercury poisoning. Tuna and swordfish contain the most mercury, which can permanently damage the brain and kidneys. Because mercury pollution is global, no country alone can rid its food supply of contamination.
Bluefin tuna sells for record $1.76M in Tokyo
Mass extinction threat "significant" in oceans
"Seventy-five percent of the fish we eat in the United States is imported," said Linda Greer with the National Resources Defense Council.
Greer's environmental group supports the U.N. treaty to reduce worldwide emissions of mercury
"Many of the tuna fish we eat, for example, swim in the South China Sea, and that's mercury pollution that comes into cans and into our pantries every day," Greer said.
The proposed U.N. treaty calls for: filtering mercury emissions out of burning coal; cutting mercury use in gold mining; reducing its use in manufacturing of electronic switches and batteries.
"I am still probably only 75 percent of what I was before," Gelfond said. "I can't run, for example. I assume I am never going to be able to do the things I did before."
Gelfond has endowed a university research facility to study the effects of mercury on human health, effects which for him may be permanent.
Thanks for reading CBS NEWS.
Create your free account or log in
for more features.