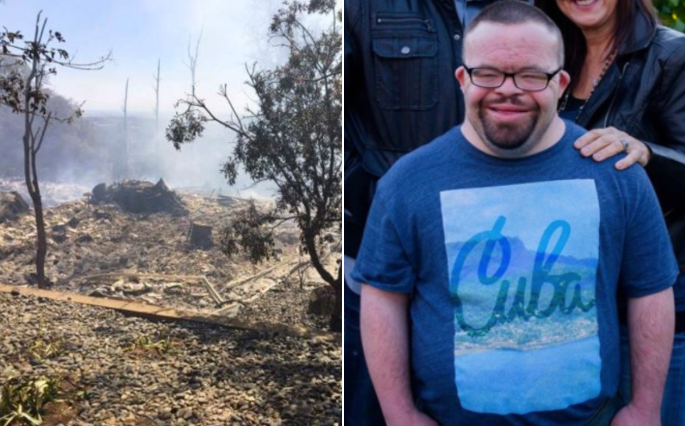 Strangers step up after man with Down syndrome loses home, movie collection
As a raging wildfire closed in on their Oroville, California, home on Saturday, Steve and Vicki Orsillo knew they only had about 20 minutes to evacuate.
They quickly gathered their valuables — photographs, important documents and a small suitcase full of clothes. But Mark Orsillo, their 34-year-old son with Down syndrome, was only concerned about saving one thing: his movie collection.
Mark's sister, Danielle Devine, grabbed two garbage bags and began stuffing them full of movies. She only ended up saving about 20 DVDs out of his collection of about 300.
"He has all the movies from the '90s. He's been collecting them for years," Devine told CBS News. "That's Mark's life. He's a movie guy."
One Monday, Devine broke the news to Mark that the wildfire burned down around 100 buildings in their neighborhood. When she explained that their childhood home was "incinerated" and nothing was salvageable — not even a single movie — Mark began to cry.
"He was really struggling," Devine explained. "He's usually so happy all the time. I felt bad I didn't grab more."
So, Devine took to Facebook, where she asked friends and family members if they would consider donating a movie or two. Within hours, her post went viral with more than 1,300 shares and 200 comments.
"I have a box of close to 500 DVDs in my basement," one Facebook user replied. "I'll try and look through for these tonight."
"Little Mermaid, Madagascar 2 and Spy Kids 2 coming your way! They will be shipped from Amazon," another added.
Twenty-four hours later, Devine received about 400 videos addressed to her brother.
"He's probably going to have more movies than he had before," Devine joked.
On Tuesday, Devine told her brother what strangers from across the country had done for him, and he couldn't help but smile.
"Are you kidding me? Are you serious?" Mark repeated.
But the generosity doesn't end there.
Dozens of people have also chipped in, raising $10,000 to help the family rebuild their house.
"[My parents] are not going to be able to build a house for 6 to 7 months. They're rebuilding on that same lot," Devine explained. "After all, it's Mark's forever home."
Thanks for reading CBS NEWS.
Create your free account or log in
for more features.