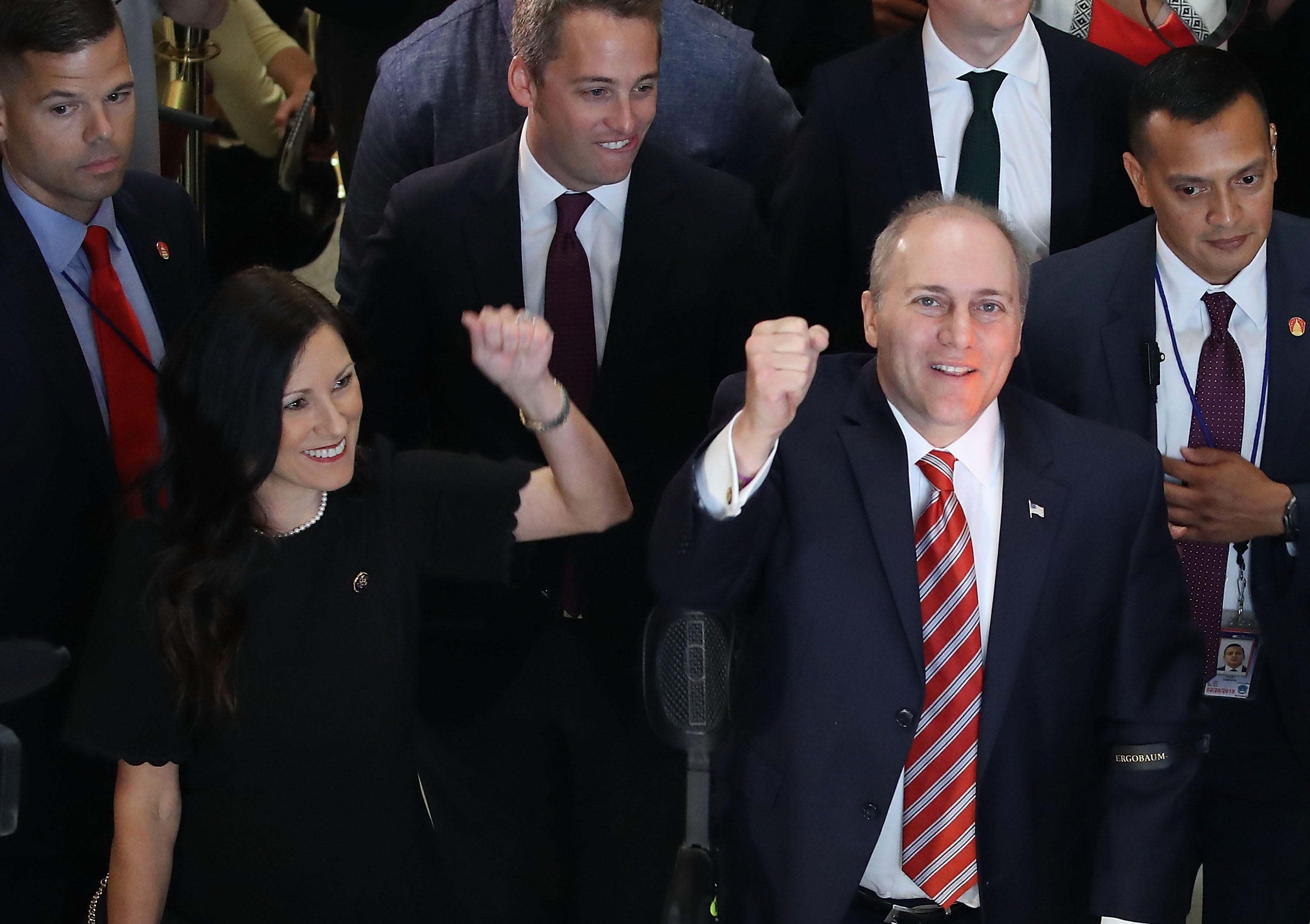 Steve Scalise returns to Capitol
House Majority Whip Steve Scalise returned to the Capitol Thursday morning for the first time since he was shot and gravely wounded as he practiced with the GOP congressional baseball team in June.
In statement released by Scalise's office, this will reportedly be the Whip's only public appearance today and for the remainder of the week.
Scalise was welcomed by a round of loud applause and cheers in the House chamber by his colleagues on Thursday, with Rep. Kevin McCarthy, R-California, and Rep. Kevin Brady, R-Texas, embracing the Congressman and handing out high-fives to the Republican.
A standing ovation for the Congressman lasted several minutes before Speaker Paul Ryan gaveled the House into order.
As Ryan introduced Scalise to take the floor, appearing to break down with emotion, he said, "Our prayers have been answered." He added, "His bravery and family's strength have been such an inspiration."
Scalise laughed when asked what his purpose was on the floor, in accordance with parliamentarian rules. Ryan then allowed the Republican to speak for however long he wanted.
"As you can imagine these last three and a half months have been pretty challenging times for me and my family," said Scalise, thanking his colleagues for the outpouring of love and warmth.
The congressman credited the power of prayer for surviving the shooting over the Sumer, saying "It's something you just can't underestimate" and adding that he was "definitely a living example that miracles really do happen."
Scalise recounted the moments of the shooting, telling lawmakers he could recall the shooter's movements that morning and took a moment on the floor to acknowledge the heroism of the U.S. Capitol Police who were assigned to the Whip's security detail, saying they saved his life.
The Whip thanked both his Republican and Democratic colleagues for coming together in the spirit of his recovery.
"It really does show the warm side of Congress that very few people get to see, you don't know how much it meant to me and when I come back into this chamber today, just seeing your faces, it means more than you can imagine," said Scalise.
He said the event only strengthened his faith in God and said he was able to see the goodness in people in the wake of the shooting.
"All I remember are the thousands of acts of kindness and love and warmth that came out of us and kept me going," he added.
He also said he was moved by the outpouring of support from the international community, saying world leaders "cared about my well-being, but more than that, they saw this as an attack on all of us."
Scalise told the chamber that "As we're fighting through the issues of the day, let's just keep in mind that we rise above the challenges of the day and understand it's not just us or our constituents," adding, "it's the people all around the world that believe in freedom that are counting on us."
Whip Scalise will be resuming his work at the Capitol, while also completing an extended period of out-patient rehabilitation over the coming months.
Shortly after Scalise's remarks, Speaker Ryan told reporters at his weekly conference that "there's a lot to be thankful for" and highlighted the spirit of bipartisanship that followed in the wake of the shooting.
"We have differences, let's keep them in check, but out of these tragedies good things can come from it," Ryan added.
The Louisiana congressman was in critical condition and in imminent risk of death after the shooting. The bullet that struck him entered his left hip and caused injuries to numerous internal organs. Scalise was released from the hospital in late July after several surgeries and went through intensive inpatient rehabilitation afterwards.
Thursday morning, he tweeted a photo of himself standing at the Capitol with the simple message, "I'm back."
He spoke to CBS News' Norah O'Donnell in his first interview since the shooting, and talked about the extent of his injuries.
"I found out later just how much damage was done internally," Scalise said. You know, I mean, my femur was shattered. The hip and pelvis had serious damage where the bullet went through and, you know, did some damage to areas that had to be shored up with steel plates and then they did a phenomenal job of rebuilding, you know, kind of the, rebuilding' Humpty Dumpty. I mean, there were, there was a lot of damage inside that-- that had to get fixed."
In a series of tweets Thursday morning, O'Donnell shared photos of Scalise meeting with his colleague Speaker Paul Ryan an emotional embrace.
Scalise even had his voting card at the ready when he sat down with O'Donnell before casting his first vote in over three and a half months.
His interview with O'Donnell will be broadcast on "60 Minutes," Sunday, Oct. 1 at 7:30 p.m. ET and 7 p.m. PT.
Thanks for reading CBS NEWS.
Create your free account or log in
for more features.