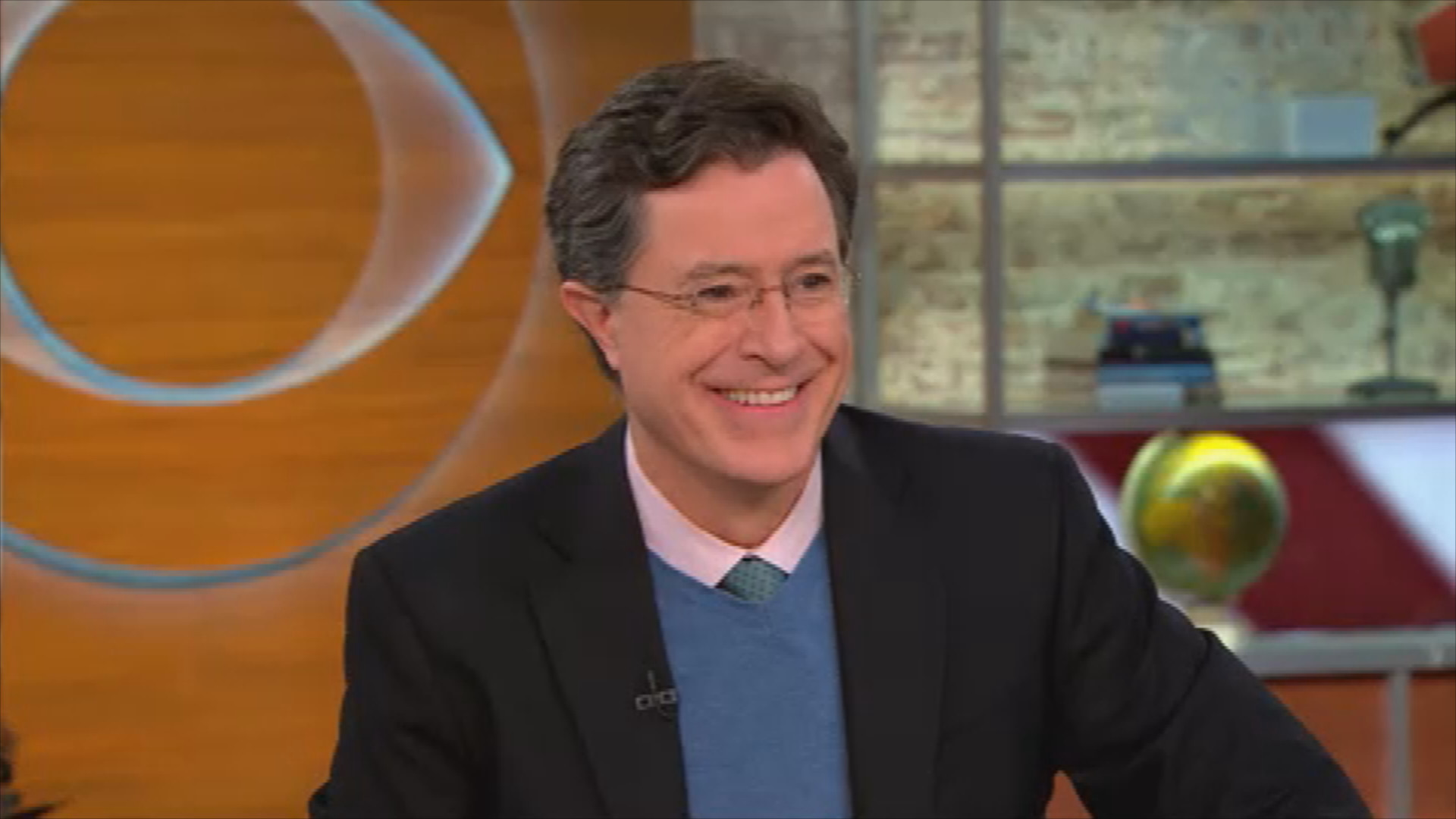 Stephen Colbert unveils donors for #BestSchoolDay
When Stephen Colbert wrapped up The Colbert Report last December, he made sure two of his beloved set pieces would live on.
Auctioning off his iconic anchor desk and fireplace hearth, the talk show host earned $800,000 and gave back to his home state, funding every classroom project in South Carolina on the crowdfunding website, DonorsChoose.org.
Colbert first engaged with DonorsChoose.org when he ran for the South Carolina Democratic Primary in 2007. Instead of accepting donations for his campaign, he directed supporters to donate to classrooms in need in his honor, totaling $70,000. The Late Show talk host also hands gift cards to every guest on the show to support a classroom project of his or her choice. Now, Colbert's philanthropy is blooming in even fuller scale.
A DonorsChoose.org board member since 2009, Colbert inspired #BestSchoolDay, a call to action for people to fund supplies and resources for classrooms in need across America.
"#BestSchoolDay is probably the best thing I've ever been involved in," Colbert told "CBS This Morning" on Thursday. "It's my favorite charity because teachers in classrooms all around the country can put up any project they want to teach their children or help their kids with but they don't have the funds for."
Fifty-eight celebrities, athletes, business executives and more have joined in the cause, committing over $14 million to flash fund over 11,000 projects in communities spanning 47 states and D.C.
"The reason they're doing it and the reason I did it is that I know the real heroes are the teachers who are too often themselves spending their own money for these projects," Colbert said. "And every dollar you give goes exactly to that project and you hear back from those kids."
Donors also hear directly from the teachers and students who have received their support. The teachers and students send thank you letters and photos.
"Dear Stephen Colbert," wrote one student. "Thank you for donating... We heard you have a TV show but it is too late for us to watch. Are you funny?"
"If I'm not, I'm in big trouble," Colbert responded, laughing.
On The Late Show Thursday, Colbert will speak to his favorite fourth grade teacher. When he flash funded the classroom projects in South Carolina last spring, he discovered two of them were in his elementary school.
"So I went back to my original classroom from fourth grade and talked to my fourth grade teacher," Colbert recalled.
To inspire citizen donors to support classroom projects, Google co-founder Sergey Brin and WhatsApp co-founder Brian Acton have together pledged $3.2 million to match donations on DonorsChoose.org beginning March 10th.
You can visit DonorsChoose.org to see what classroom projects are being funded and donate to one of your choice.
Revealed for the first time only on "CBS This Morning," here are the list of donors who are making this possible:
Alexis Ohanian
Co-founder of Reddit, and best-selling author, supporting Fort Greene, Brooklyn, NY
Alison and Mark Pincus
Supporting Long Beach, CA
Alys and Brad Smith
Chairman and CEO of Intuit, supporting West Virginia
Angela and David Filo
Yellow Chair Foundation, supporting Kansas, Louisiana, Solano, Santa Cruz, San Benito, Stanislaus, Yolo, and Fresno Counties, CA and northern Alameda County, CA
Anna Kendrick
Actress, supporting Maine with an anonymous donor
Ashton Kutcher
Actor and entrepreneur, supporting Iowa
Barbara Dalio
Public school advocate, supporting Connecticut
Bezos Family Foundation
Supporting student-led projects from high-need schools
Bill & Melinda Gates
Supporting South Bronx, NY
Blake Mycoskie
Founder and chief shoe giver of TOMS, supporting Wyoming
Bob Moritz and the PwC Charitable Foundation
PwC U.S. Chairman, supporting Jamaica, Queens, NY and Miami, FL
Carmelo Anthony
New York Knicks, supporting West Baltimore, MD
Chris Sacca
Venture investor of Lowercase Capital, supporting Buffalo, NY
Craig Newmark
Founder of Craigslist and Craigconnects, supporting Detroit, MI and New Jersey
Dan Gilbert
Cleveland Cavaliers, supporting Akron and Canton, OH, and Cuyahoga County, OH
David Sze
Venture capitalist, supporting Monterey County, CA
Perry and Donna Golkin Family Foundation
Supporting Southern Tier, Manhattan and highest-need communities in Brooklyn, NY
Dwight Howard
Starting center of the Houston Rockets, supporting PreK-2 literacy projects in Houston, TX
Elizabeth Simons and Mark Heising
Supporting Mississippi
Elon Musk
Supporting Los Angeles, CA; Washoe, NV; and Coryell and Cameron, TX
Elsa Brule
Philanthropist, supporting Alabama, Michigan, North Dakota, South Dakota, Milwaukee, WI, and Brownsville, Brooklyn, NY
Eron Jokipii
Software author, supporting Western TX
Gwyneth Paltrow
Actress, supporting Santa Monica, CA
Henry and Marie-Josée Kravis
Supporting Tulsa, OK
Herbert Simon Family Foundation and the Pacers Foundation
Supporting Indiana
Howard L. Morgan
Venture capitalist of First Round Capital, supporting West Bronx, NY
Jack Dorsey
Co-founder & CEO of Twitter & Co-founder, CEO, and Chairman of Square, supporting Missouri
James Anderson
NFL player and actor, supporting Chesapeake, VA
Jeff Weiner
CEO of LinkedIn, supporting San Mateo County, CA
Jeremy Stoppelman
CEO and co-founder, Yelp, supporting Oakland, CA
Joanne and Fred Wilson
Supporting Montgomery County, MD and Orange County, NY
Karen Leshner
President of Intrepid Philanthropy Foundation, supporting San Joaquin County, CA
Larry Fitzgerald
Wide receiver for the Arizona Cardinals, supporting Minneapolis, MN
Laura and John Overdeck
Overdeck Family Foundation, supporting Washington, DC, and the surrounding metro area
Leslie and Cliff Hudson
CEO of Sonic, supporting Oklahoma City, OK
Livia and Biz Stone
Co-founder of Twitter and co-founder and CEO of Askjelly.com, supporting Boston, MA and Contra Costa County, CA
Lynda Resnick
Vice-chair and co-owner of The Wonderful Company, supporting Kern and Kings Counties, CA
Marc Benioff
Chairman & CEO of Salesforce, supporting Hawaii
Mark Ingram
Running back for the New Orleans Saints, supporting Flint, MI
Paul G. Allen
Founder & CEO of Vulcan, Inc., supporting Washington
Ric Elias
On behalf of Red Ventures, supporting Lancaster County, SC and Mecklenberg County, NC
Russell Simmons
Entrepreneur and philanthropist, supporting Hollis, Queens, NY
Samuel L. Jackson
Actor, supporting Chattanooga, TN
Sara and Evan Williams
Founder of Medium and co-founder of Twitter, supporting Nebraska and San Francisco County, CA
Serena Williams
World's #1 women's tennis player, supporting Compton, CA
Seth Rogen and Lauren Miller Rogen
Actor and wife, supporting Sonoma County, CA
Sheryl Sandberg
COO of Facebook, and founder of LeanIn.org, supporting Imperial, Modoc, Tehama, Tulare, Trinity, Siskiyou, Merced, Lake, Glenn, and Madera Counties, CA
The Simons Foundation and Math for America
Supporting Bronx, NY
Sobrato Family Foundation
Supporting Santa Clara County, CA and Southern Alameda County, CA
Theresia Gouw
Venture capitalist and co-founder of Aspect Ventures, supporting Northern NY
Tim Ferriss
Author of "The 4-Hour Work Week," supporting Sacramento, CA, Long Island, NY and New Hampshire
Tony Hsieh
On behalf of Zappos, supporting Las Vegas, NV
Torrey Smith
NFL wide receiver, supporting East Baltimore, MD
Yvette Nicole Brown
Actress, supporting Cleveland with an anonymous donor
Anonymous donor
Supporting Alaska, Kentucky, New Mexico, Ohio, and projects from among the 50 highest-need communities in the country
Thanks for reading CBS NEWS.
Create your free account or log in
for more features.