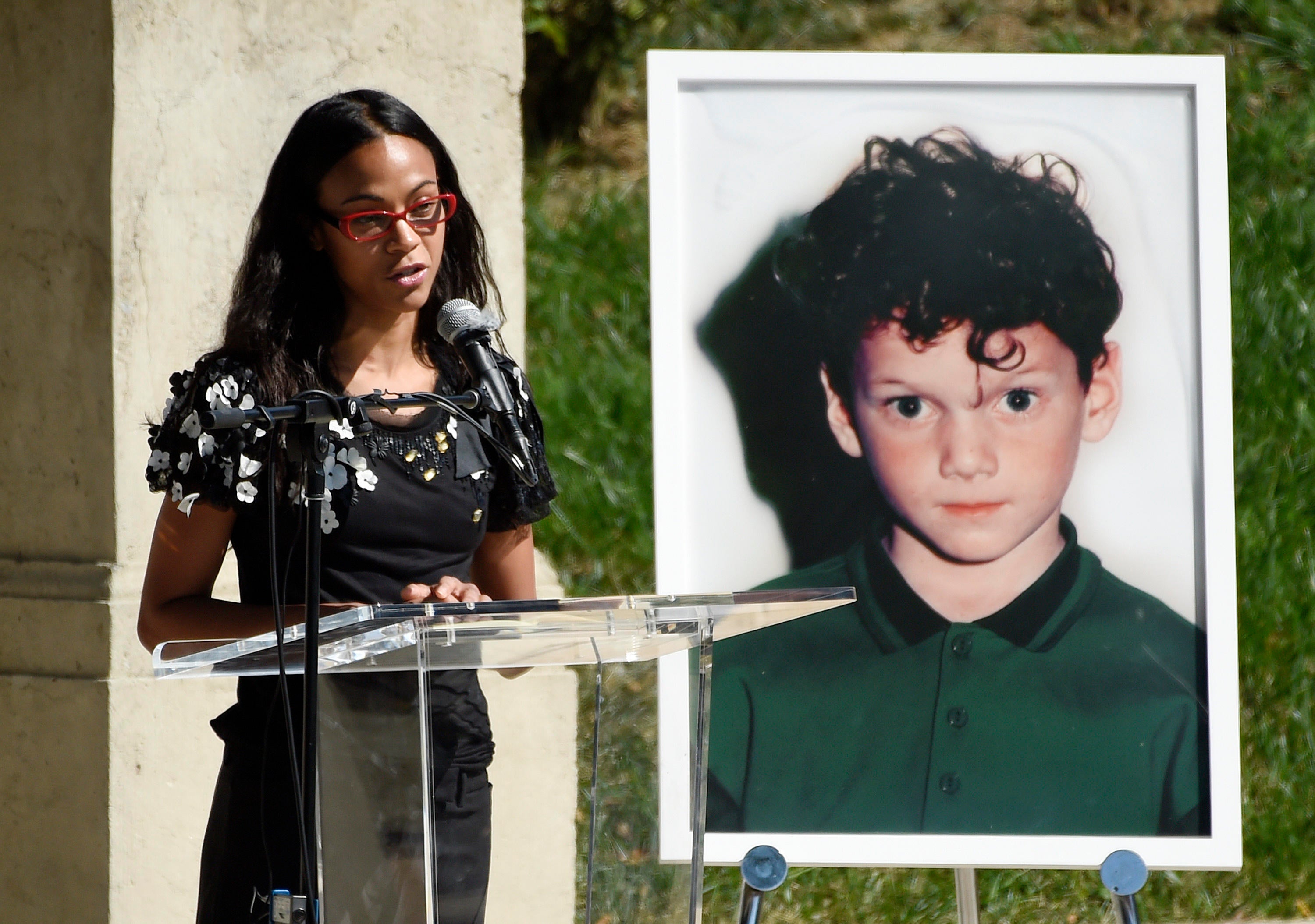 "Star Trek" actor Anton Yelchin memorialized with statue in Hollywood
LOS ANGELES — Anton Yelchin's friends and colleagues came together to honor his life and remember him with a newly unveiled statue of the late "Star Trek" actor. The service was attended by Oscar winner Jennifer Lawrence and several of his collaborators in the "Star Trek" franchise.
Zoe Saldana spoke of her "Star Trek" co-star during the service Sunday, which was also attended by "Star Trek" co-star Simon Pegg and director J.J. Abrams. Saldana and other speakers, including Yelchin's parents, addressed guests next to several pictures of the actor showing him as a baby, a young boy, and from his film career.
Other celebrity guests included actors Emile Hirsch and Jon Voight, and directors Drake Doremus and Jeremy Saulnier.
A bronze statue of Yelchin was unveiled at the "Life Celebration" event and is now open for public viewing in the cemetery's Garden of Legends. It was created by sculptor Nick Marra and FX artist Greg Nicotero. A mural of Yelchin created by fans at a "Star Trek" convention was also on display at the service at the Hollywood Forever Cemetery.
Yelchin died in June 2016 at age 27 when he was pinned by his sport utility vehicle after it rolled down the driveway of his Los Angeles home. His parents filed a wrongful death lawsuit against the makers of Jeep Grand Cherokees, claiming the company manufactured unsafe gear selectors.
Yelchin began acting as a child, taking small roles in independent films and various television shows, such as "ER," ''The Practice," and "Curb Your Enthusiasm." His breakout big-screen role came opposite Anthony Hopkins in 2001's "Hearts in Atlantis."
He transitioned into teen roles in films such as the crime thriller "Alpha Dog" and the comedy "Charlie Bartlett." He also played a young Kyle Reese in 2009's "Terminator Salvation."
Yelchin, an only child, was born in Russia. He drew on his Russian roots for his role as the heavily accented navigator Chekov in the "Star Trek" films.
Thanks for reading CBS NEWS.
Create your free account or log in
for more features.