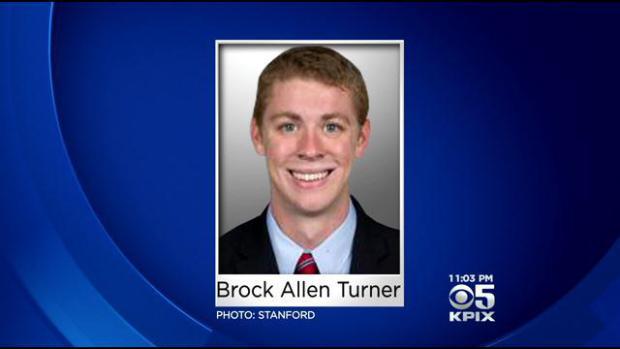 Father's defense of convict in Stanford sex case draws outrage
PALO ALTO, Calif. -- The father of a former Stanford University student sentenced to six months in county jail for the sexual assault of an unconscious woman said in a letter to the court that "incarceration is not the appropriate punishment" for his son's crime, reports the San Francisco Chronicle.
In a letter to Santa Clara County Superior Court Judge Aaron Persky that's drawn outrage on social media, Dan Turner wrote: "His life will never be the one that he dreamed about and worked so hard to achieve. That is a steep price to pay for 20 minutes of action out of his 20 plus years of life."
Turner's son Brock faced a maximum of 14 years in prison after being convicted of three counts of sexual assault in the Jan. 18, 2015 incident. In handing down the six month sentence, Persky said a longer term would have a "severe impact" on Turner. It was a decision that has drawn widespread criticism.
But in the widely-circulated letter to Persky, Dan Turner said even some jail time was too much for the 20-year-old former collegiate swimmer.
Dan Turner said in the letter that it is "inappropriate" to incarcerate someone who has "no prior criminal history and has never been violent with anyone including on the night of January 17."
The father also notes the Brock Turner has lost his appetite. The father wrote he used to be "excited to buy (Brock Turner) a big ribeye steak .... Now he barely consumes any food and eats only to exist."
Brock Turner is expected to serve three months if his behavior in jail is good, CBS San Francisco reported. Turner will also have to register as a sex offender for life and complete a sex offender management program.
Alaleh Kianerci, the prosecutor in the case, told CBS News' John Blackstone she cried after the sentencing was handed down.
"I felt like I didn't do my part in representing her interests in the case because of the slap-on-the-wrist sentence," she said.
Michelle Dauber teaches law at Stanford, she also spoke to CBS News' John Blackstone.
"This sentence is making all women at Stanford less safe because its sending the message to women student if this happens to you, you are on your own and its sending the message to potential perpetrators I have your back," she said.
The young woman Turner assaulted told the court she should not be viewed as "a drunk victim discarded behind a dumpster" nor should the scales of justice be tipped in favor of "the all-American swimmer."
"This is not a story of another drunk college hook­up with poor decision making. Assault is not an accident," the victim said, according to a complete transcript of the statement published by Buzzfeed and the San Jose Mercury News. "Somehow, you still don't get it. Somehow, you still sound confused."
She described how the attack left her "closed off, angry, self-deprecating, tired, irritable, empty."
"I pretended the whole thing wasn't real," she said, and adding in a direct address to Turner, "You bought me a ticket to a planet that I lived in by myself."
A light sentence, she said, would make a "mockery of the seriousness of his assaults." She said she has not been able to forgive Turner because he has not acknowledged that he sexually assaulted her.
"You have been convicted of violating me with malicious intent, and all you can admit to is consuming alcohol," the victim told Turner. "Do not talk about the sad way your life was upturned because alcohol made you do bad things. Figure out how to take responsibility for your own conduct."
"Her words resonated with people, not just locally or in our county. But, across the nation and all over the world," prosecutor Kianerci told Blackstone.
In a statement released Monday, Stanford University called the sexual assault a "horrible incident" and said it "did everything within its power to assure that justice was served in this case, including an immediate police investigation and referral to the Santa Clara County District Attorney's Office for a successful prosecution."
"Stanford urges its students to do the right thing and intervene and we are proud of our students for stopping this incident. Many other student witnesses cooperated in the investigation," the university said.
Stanford said Turner was banned from campus less than two weeks after the incident, "the harshest sanction that a university can impose on a student."
Thanks for reading CBS NEWS.
Create your free account or log in
for more features.