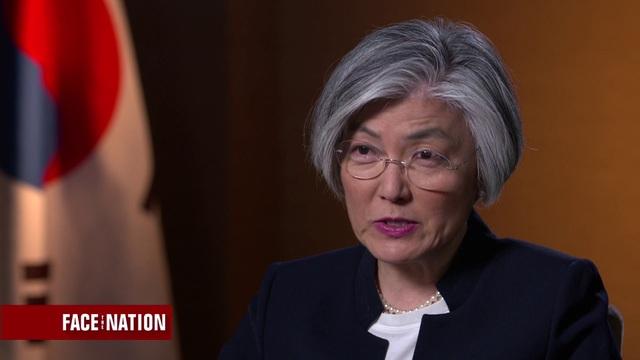 South Korea's foreign minister says Kim Jong Un has "given his word" on denuclearization
South Korean Foreign Minister Kang Kyung-wha says North Korean dictator Kim Jong Un has "given his word" in a commitment toward eventual denuclearization ahead of yet-to-be finalized talks between the U.S. and North Korea.
"The significance of his word is quite weighty in the sense that this is the first time that the words came directly from the North Korean supreme leader himself, and that has never been done before," Kang said on CBS News' "Face the Nation" Sunday.
"I think this is a concern not just for the United States but for South Korea as well," she added. "But I think we will want to discuss key security issues including the denuclearization issue."
Kang's comments come after the stunning announcement earlier this month that President Trump had agreed to meet with Kim for talks about the country's nuclear program. South Korean officials said the talks are due to take place by May, but the White House has said the time and place have yet to be determined.
"This is, of course, also a very historic engagement and the North Korean leader is coming just south of the DMZ for the third inter-Korean summit," Kang said, referring to the demilitarized zone separating the two countries. "The two previous ones were held in Pyongyang, the North Korean capital. So, the indication that he is willing to come south for this is very significant in itself."
Kang said the international community was in fact "quite surprised" by Mr. Trump's quick acceptance of the talks.
"I think it was an extremely courageous decision on the part of President Trump," Kang said. "We believe the North Korean leader is now taking stock. We give them the benefit of the doubt, and the time that he would need to come out with some public messaging."
The meeting would be the first time an American president participated in direct talks with the leader of North Korea. Kang said it shows Mr. Trump's "determination to resolve this issue once and for all," something she says is "hugely appreciated by the South Korean public."
Kang cited the administration's "maximum pressure campaign" of strict economic sanctions on the regime as the impetus for North Korea's participation.
"North Korea is in a situation of very limited ability to engage economically with the outside world, which means it has very limited ways of improving the livelihood of the people," she said.
While Kang maintains that South Korea is willing to engage, she said "there will be no reward for dialogue."
"It's not a matter of trusting. It's a matter of discussing, and pressing for action. And once you see those actions, then you move forward further," said Kang.
Thanks for reading CBS NEWS.
Create your free account or log in
for more features.