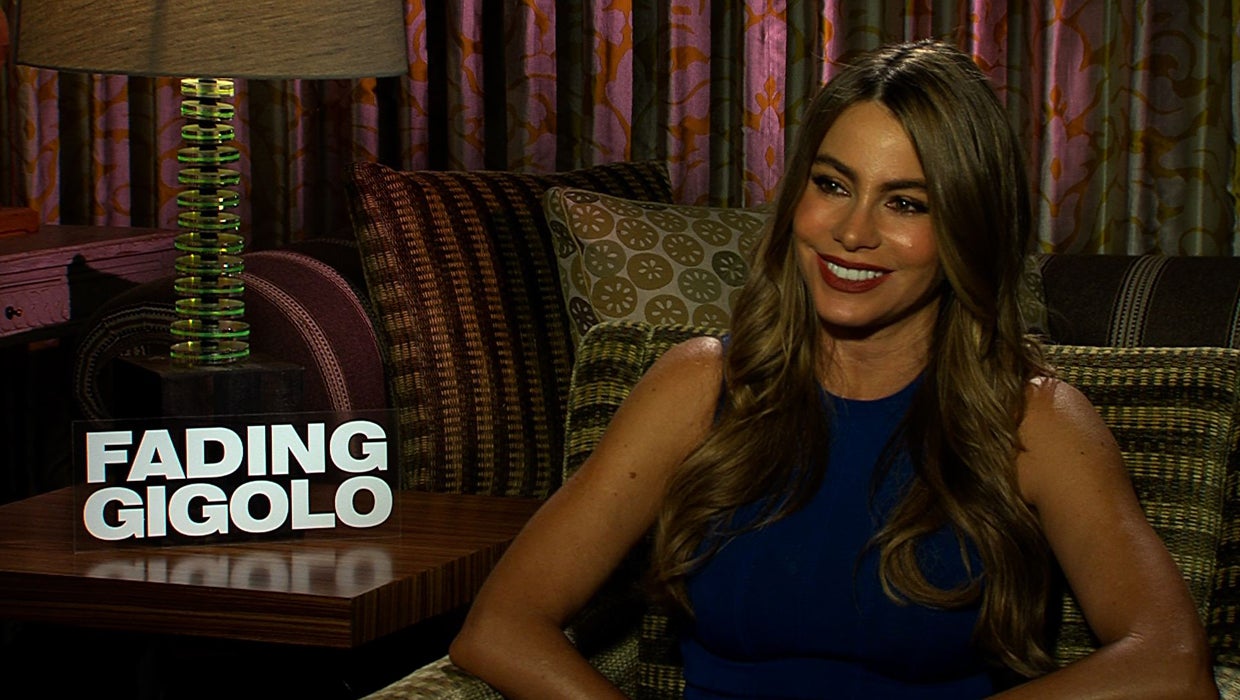 Sofia Vergara on threesome scene with Sharon Stone in "Fading Gigolo"
Sofia Vergara is hopping into bed with Sharon Stone and John Tuturro in the new romantic drama, "Fading Gigolo."

Turturro, who also served as writer and director, plays a male escort teaming up with an unlikely pimp (Woody Allen) to make a little extra money.

Vergara and Stone co-star as two of Turturro's satisfied clients. The three actors engage in a menage a trois at one point in the film.


The "Modern Family" star admitted that it took a bit of time getting used to filming her very first love scene involving two partners."At the beginning, I was a little nervous because...I've never done anything like this, not in real life or on camera," Vergara revealed. "So it was a little nerve-wracking."

Luckily, she had some help from Stone, who previously did racy scenes in other films like "Basic Instinct."

"When I arrived on the set, Sharon was very supportive," Vergara said. "She was very nice. She told me, 'Just follow me, I've done this many times, it's going to be fine, just relax.'"

Turturro said that one of the reasons he made the film was to explore people's reactions to unusual encounters.

"I thought it would be interesting to put these characters in situations they had never been in before," he said. The cast members agreed that Turturro's previous experience as an actor helped him understand his co-stars as their director.

"He's got an energy that is so communicative," French actress (and Johnny Depp's former partner) Vanessa Paradis said of her director. In the film, Paradis plays a very conservative Orthodox Jew who falls in love with Turturro's character, which creates issues when he has to see his clients.

Watch the video above to hear Vergara speak more about the threesome scene.


"Fading Gigolo" opens in limited release on Friday.

Thanks for reading CBS NEWS.
Create your free account or log in
for more features.