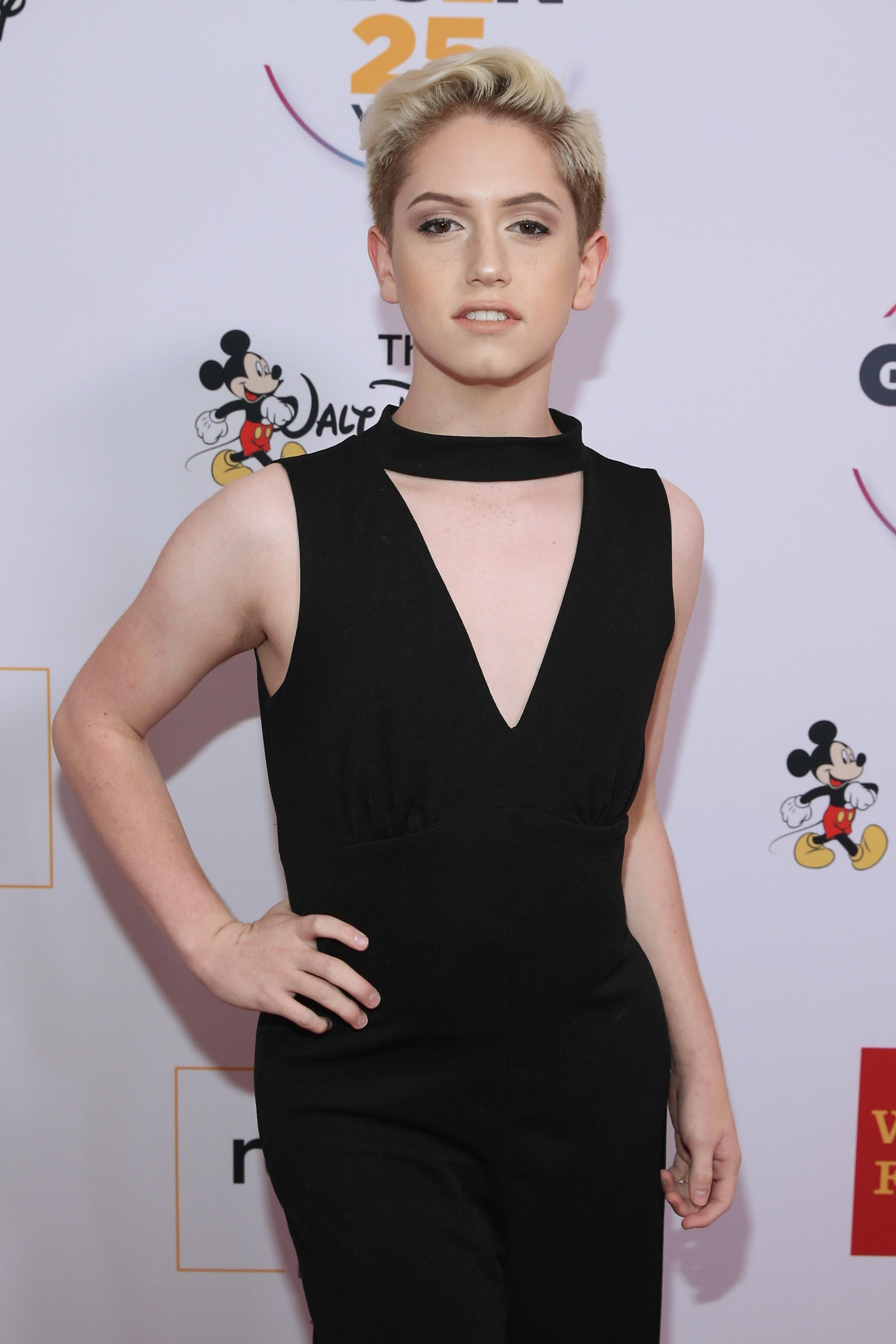 Social media, celebrities, and transgender youth
The CBSN Originals documentary, "Gender: The Space Between," aired on CBSN Monday, March 27 and is available to view online
---
It's no secret that today's teenagers rely heavily on social media for interaction with friends, celebrities, and more. Between Facebook, Instagram, Twitter, Snapchat, and the blogging site Tumblr, the younger generation has seemingly endless avenues to post photos and share messages back and forth — for better or for worse.
But for transgender and gender non-conforming youth, the ability to instantly connect with friends online means much more than just socializing and sending selfies.
"Being able to meet people online is just so incredible, because it makes you feel less alone," said Talia Bellia, a 17-year-old high school senior in Shorewood, Illinois. "Because if you're alone in what you're going through it's so isolating and it just drives you into such a dark place."
Talia identifies as genderqueer, and has struggled with finding acceptance in her small midwestern town. But online, she's found a community that embraces her. "I have a lot of internet friends that are genderqueer ... it's nice to be able to relate to people through your own experience."
She is an example of what experts say is a growing transgender community on social media providing support to friends that they might not find in their own communities — a contrast to the higher likelihood of bullying teens face online.
"There is a ginormous network of kids on Instagram and Snapchat and Tumblr and on Facebook that are interconnecting in cyberspace for that kind of support," said sj miller, Deputy Director at NYU's Metropolitan Center for Research on Equity and the Transformation of Schools.
They aren't just turning to social media for emotional support — but also for answers as they try to make more sense of what they might be going through.
"I'm not sure I would have coped as easily if I didn't have social media," Ela Hosp, a 19-year-old student who identifies as non-binary, told CBS News. "For my generation, I feel like it's a good outlet to find people you can connect with and find things in common with who you can ask questions. 'I feel this way, I don't know why,' and then someone can say 'Oh, I felt that way too.' And then you find out that there's thousands of other people who feel the same way."
"There is a real community being built on YouTube for transgender and gender non-conforming people," said Phillip Picardi, digital editorial director at Teen Vogue. "Because there's not a wealth of information, or easily accessible information, for people about anything from hormone therapy to gender confirmation surgery, even to coming out for this demographic, they're going to go to YouTube first, which is really cool. Because I think its a way to go right to the source of people who should be telling these stories."
One of those YouTubers is 17-year-old Brendan Jordan, who updates his hundreds of thousands of fans with videos filmed mostly in his Las Vegas bedroom.
"I wanted to have a platform where I could share about my life, but also give a message out there to kids like me behind the screen who may not feel as openly accepted," said Brendan, who identifies as gender fluid and uses the pronouns he/him/his or she/her/hers.
Brendan rose to internet stardom quite literally overnight in 2014, when a video of his dance moves in the background of a local news report went viral. Capitalizing on the moment, he started his YouTube channel and began experimenting with makeup and different fashion styles for his fans. Suddenly he was starring in ads for American Apparel, where he modeled both men's and women's clothing, and speaking at Human Rights Campaign events.
As a junior in high school, Brendan says the attention can sometimes be overwhelming. But he believes it's worth it if he can provide comfort and inspiration to other kids like him. "It drives me to keep doing what I'm doing ... because even if I can help one person out, it means the world to me."
It's not just internet stars that are inspiring the young transgender community to embrace their identities. Coverage of transgender celebrities, like Laverne Cox, and public figures who challenge gender norms has increased in recent years.
Actress Ruby Rose, who identifies as gender fluid, was featured on Netflix's hit series "Orange is the New Black" and has gone on to model for high-profile brand names. Will Smith's son Jaden was met with praise when he wore a dress to prom, and is frequently spotted wearing skirts paired with fashionable sneakers. Former Disney darling Miley Cyrus described herself as pansexual and gender-neutral last year.
"Representation in these spaces, in advertising and in editorial, really matters," said Picardi. "It shows people that because we are queer or trans or gender non-conforming, we are people too. And it helps for people to accept and look at this as normal, because that's what it is."
Publications like Teen Vogue have made significant efforts to provide visibility for gender issues and figures who represent a diverse trans community — and that matters to teens like Talia, Ela, Brendan, and their peers.
"Having somebody that's being themselves in the media helps out so much, for children and for adults alike, to feel valid with who they are," said Talia. "It's just really nice to know that somebody's out there that can help you."
Thanks for reading CBS NEWS.
Create your free account or log in
for more features.