It was deja vu in the South.
A snow and ice storm that came with plenty of advance notice caused huge traffic jams after drivers ignored warnings to stay off the road.
This time the traffic jams aren't in Georgia, but in North Carolina. Snow and ice brought traffic to a stop in the Raleigh-Durham area and in Charlotte.
More than 97 million Americans in more than 20 states are in the path of this storm, which hit the Southeast on Wednesday and was heading up the coast to the Northeast.
The storm has already knocked out power to nearly half a million homes and businesses. It was being blamed for at least 11 deaths.
In North Carolina, light freezing rain was falling Wednesday evening in Raleigh and was expected to remain heavy through 2 a.m. Despite all the official warnings for residents to stay home, Raleigh was hit with gridlocked traffic as workers waited too late to escape downtown.
Although it was not as bad as the standstill Atlanta suffered two weeks ago, traffic was snarled by hundreds of minor accidents or cars losing traction and blocking roads.
Erica Shaw, who works at the state prison, got stuck when she slowed down on a highway entrance ramp. She had a four-wheel-drive vehicle, "but it isn't doing anything."
North Carolina Gov. Pat McCrory had asked citizens to stay off the roads, but on Wednesday he amplified the warning, saying, "Don't put your stupid hat on at this point in time."
At the state's emergency command center, the governor said he wasn't joking.
"I was serious. People, don't do anything stupid. Don't do anything that puts yourself in jeopardy, your families in jeopardy or my emergency operations people in jeopardy," he said.
Central North Carolina was one of the hardest-hit areas. Snow and ice made the roads impassable and the state was sending four-wheel-drive vehicles and humvees to rescue dozens of drivers stranded by the storm.
In Georgia, the Atlanta area -- which was crippled by a storm two weeks ago – was better prepared this time.
Snow and freezing rain began falling before dawn and the wintry mix was still coming down Wednesday evening. Fortunately, almost everyone had decided to ride out the storm at home.
Roads glazed over with ice and warnings that this winter storm could be "catastrophic" scared away virtually all traffic in Atlanta.
School was canceled. Downtown was a ghost town.
"Our biggest concern is that people continue to heed the warnings and that they stay home and out of the way of emergency agencies and power companies, especially the power companies," said Georgia Gov. Nathan Deal.
Trees and power lines iced over and collapsed under the weight. Some neighborhoods had lost power by daybreak. Georgia Power, the state's largest utility, recruited 2,000 workers from out of state as reinforcements to meet the demand for emergency calls.
Brittani White and her family woke up in a cold, dark house.
"There's no heat. It's freezing. We're dressed from head to toe," she said. "We have no lights, we have no food, we have nothing."
White said the power outage was particularly hard on her two children, ages 1 and 2. The toddlers needed both food and heat.
"And it's going to get colder the later it gets. Once it gets dark, they're going to lose their minds. They're afraid of the dark," White said, adding, "I'll probably lose my mind too."
A tree fell over in Jonesboro, 20 miles south of Atlanta, knocking out power to all of the town's 4,700 residents.
"It got louder and louder and finally it snapped off. And it fell, it was like slow-motion," said resident Heather Davis.
Forecasters were predicting that ice in Jonesboro could get an inch thick.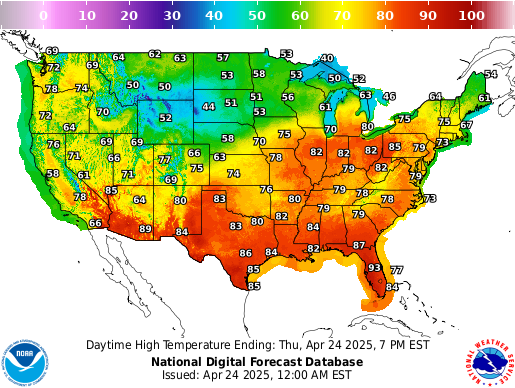 Eric Fisher, chief meteorologist at CBS station WBZ in Boston, said the storm was heading right up the East Coast.
"Millions of Americans are certainly feeling this winter storm's impact," he said.
The snow and ice will climb up into Washington, D.C., overnight and move into New York by Thursday morning and into Boston as well, he said.
The heaviest snowfall will come Thursday.
"We call it bombogenesis. This wraps in cold in the back edge and you have the most significant amount of snowfall," Fisher said.
In Boston, the precipitation will turn to rain Thursday but snow will still fall in Northern New England.
Fisher predicted 6 to 12 inches of snow for New York, Philadelphia and Washington. But suburbs just to the west of those cities could get more than a foot with ice on top of that.
In the South, the snow and ice will stick around for a while, since there isn't a big warm-up in the immediate forecast. There should be some melting on Friday, with temperatures in the 40s, but the temperature will still be below average on Saturday.
In South Carolina, National Guard troops were stationed along major interstates, ready to respond to wrecks.
Many snow-covered roads were deserted as drivers heeded warnings to steer clear of the roads. Those who didn't saw the dangers. At least 140 accidents were reported statewide, and three people were killed.
Gary Dyer had a close call on Interstate 95 when an ice-laden tree came crashing down right in front of this truck.
"All of a sudden the tree started coming down and I had to get down on it and stop," said Dyer.
"I was raised in Indiana. I know how to drive on ice and snow, and know what to expect. You gotta respect it," Dyer said.
Within minutes, crews cleared the fallen tree.
As night fell, state troopers said the biggest problem would be cars getting stuck on ice.
Officials were also trying to keep smaller, secondary roads open to make way for power crews trying to restore electricity to at least 20,000 people in central South Carolina.
Airlines canceled more than 3,300 flights Wednesday and they've already canceled more than 3,400 Thursday.
At the sprawling Federal Aviation Administration command center outside of Washington, D.C., the big screens on the wall showed all anyone need edto know about Wednesday's aviation problem spots. Blue lines indicated canceled flights in Charlotte, N.C., and in Atlanta.
"We landed two airplanes in the last hour. Two," said Debra Griffith, an FAA traffic management officer. She runs a conference call every couple of hours for airlines and FAA control towers.
They typically track between 50,000 and 55,000 commercial and private planes daily lighting up in U.S. airspace. But the command center was surprisingly quiet Wednesday, because airlines canceled so many flights ahead of the storm.
All that could change with unexpected weather developments.
"There are times when there's a disruption, you know perhaps a thunderstorm shows up where we didn't expect it to show up, ice shows a little earlier than may have been anticipated," said air traffic manager Anthony Tisdall.
The FAA command center will really be put to the test Thursday and Friday. That's when the number of cancellations will decrease and there will be more planes in the air as airlines try to resume a normal schedule.
CBS News' Wyatt Andrews, Mark Strassmann,Manuel Borjorquez and Jeff Pegues and CBS Boston's Eric Fisher contributed to this report.