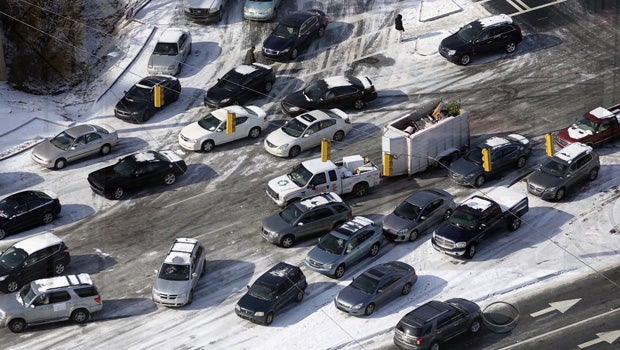 Road to nowhere: Minor snowstorm brings Atlanta to standstill
ATLANTA - Thousands of Atlanta students stranded all night in their schools were reunited with their parents Wednesday, while rescuers rushed to deliver blankets, food, gas and a ride home to countless shivering motorists stopped cold by a storm that paralyzed the business capital of the South with less than 3 inches of snow.

As National Guardsmen and state troopers fanned out, Mayor Kasim Reed and Georgia Gov. Nathan Deal found themselves on the defensive, acknowledging the storm preparations could have been better. But Deal also blamed forecasters, saying he was led to believe it would not be so bad.

The icy weather wreaked similar havoc across much of the South, closing schools and highways, grounding flights and contributing to at least a dozen deaths from traffic accidents.

In Alabama, thousands of people stranded overnight at school, at work or in their cars began getting home Wednesday as ice melted from highways and crews cleared roads littered with wrecked and abandoned vehicles.

"It looked like the zombie apocalypse," state Rep. Mack Butler said Wednesday. He was driving to a meeting of the Legislature on Tuesday when he had to stop at a gas station in Birmingham and spent the night in his pickup truck because highways were impassable.

Yet it was Atlanta, home to major corporations and the world's busiest airport, that was Exhibit A for how a Southern city could be sent reeling by winter weather that, in the North, might be no more than an inconvenience.

The mayor admitted the city could have directed schools, businesses and government offices to stagger their closings on Tuesday afternoon, as the storm began, rather than dismissing everyone at the same time.

"I'm not thinking about a grade right now," Reed said when asked about the city's response. "I'm thinking about getting people out of their cars."


The forecast for the Atlanta area showed little hope of any widespread melting of the snow and ice in the short term.
Temperatures did not get above freezing Wednesday, though a warm-up was expected in the next few days. Still, temperatures were expected to be in the teens overnight so any moisture on the roads will turn to ice again.
Atlanta commuter trains were running on a modified schedule and bus service was suspended because of unsafe road conditions, said Lyle Harris, a spokesman for the Metropolitan Atlanta Rapid Transit Authority.
Some people spent Tuesday night in supermarkets and kids slept overnight on the floors of their schools. More than 1,200 traffic accidents were reported in Georgia alone.
By dawn on Wednesday, traffic was frozen on all three of Atlanta's main highways.
Ron Rivero was hauling bananas to Chicago when he got stuck west of Atlanta at 11 a.m. Tuesday. Thirty hours later ,he was still stuck.
"Nothing against the South and I'm from the South, but we're just not prepared for this type of weather on a regular basis," he said.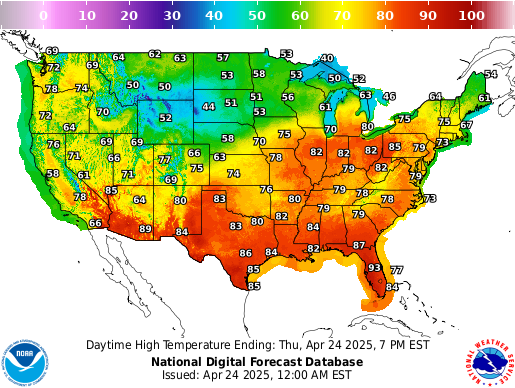 Flurries began before noon Tuesday. Ice soon followed. Schools, businesses and government offices closed early -- and at nearly the same time. In less than an hour, traffic went from 20 mph to a standstill. Salt and sand trucks could not get through to treat the roads.

"We made a mistake by not staggering when people should leave," Reed said. "So I'll take responsibility for that. If we had it to do again, we would have said, 'Schools, you go out, you go first, private sector businesses you go second, and government goes last.'"

In Fulton County, 99 school buses filled with kids were still on the road at midnight. At least 2,000 other students spent the night at school.

National Guardsmen in Humvees, state troopers and transportation crews delivered food and other relief, and by Wednesday night, Deal said all Atlanta-area schoolchildren were back home with their parents.
Atlanta was crippled by an ice storm in 2011, and officials had vowed not to be caught unprepared again. But in this case, few closings or other measures were ordered ahead of time.
In an interview Wednesday with CBS News' Scott Pelley, Reed rejected a comparison to 2011.
"We're in day one of this snow event and we have our city moving again with the exception of the freeways," he said. "During 2011 that was a four-day event that had much worse results than this."
Eighty percent of the roads were passable, he said. The city's hospitals, fire stations and police precincts were all open, he said.
Deal, who is up for re-election in November, said warnings could have been posted along highways earlier and farther out Tuesday. But he also fended off criticism, and said that the storm hit Atlanta harder and sooner than anyone predicted.
"I don't blame anyone," he said. "Mother Nature has a mind of its own."
But the National Weather Service told CBS News that its forecast was "spot on," and that it issued the first winter storm warning 21 hours before it started.
Around the time the traffic jam started, Deal and Reed were at an award ceremony recognizing the mayor as the "2014 Georgian of the Year." Deal spokesman Brian Robinson said the governor left before 1:30 p.m. Tuesday and was in constant contact with emergency officials.
Chris Hartzog was stranded on the road for nine hours Tuesday. Sympathetic to others enduring similar ordeals, he was handing out food and water Wednesday to motorists stuck on one interstate.
"There were just some folks stranded, especially some pregnant folks, folks with small children, and we were just trying to bring them some food, water," he said.
Many motorists abandoned their cars to take shelter in stores or restaurants -- including one Hardee's where 60 people spent the night.
Officer Timothy Sheffield of the Sandy Springs, Ga., Police Department was heading to an accident Tuesday when he spotted a stopped SUV.

"And I asked the driver, I said, 'Are you OK?'" Sheffield said. "And he -- very calm, he was on the phone with 911 -- and he said, 'No, we're having a baby.'"

The baby's head had appeared, and when the father started to pull, Sheffield urged him to stop.

"As soon as we said that she pushed one more time and the baby came out," Sheffield said. "Today was my birthday, you know, so what a birthday present -- to be a part of that!"

The couple, Nick and Amy Anderson, said they had named their baby Grace.
Thanks for reading CBS NEWS.
Create your free account or log in
for more features.