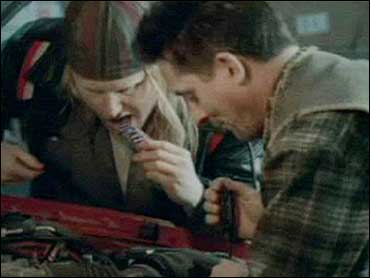 Snickers "Kiss" Super Bowl Ad Pulled
A commercial for Snickers candy bars launched in the Super Bowl broadcast was benched after its maker got complaints that it was homophobic.
Road to Super Bowl XLVII starts at CBSSports.com
The ad showed two auto mechanics accidentally kissing while eating the same candy bar and then ripping out some chest hair to do something "manly." One of the alternate endings on the Snickers Web site showed the men attacking each other.
The Human Rights Campaign and the Gay and Lesbian Alliance Against Defamation complained to the maker of Snickers, Hackettstown-based Masterfoods USA, a division of Mars Inc., which also makes M&M's and other candies.
The Web site also featured video of players from the Super Bowl teams reacting to the kiss.
"This type of jeering from professional sports figures at the sight of two men kissing fuels the kind of anti-gay bullying that haunts countless gay and lesbian school children on playgrounds all across the country," Human Rights Campaign president Joe Solmonese said in a statement.
GLAAD spokesman Marc McCarthy said Tuesday the group believed "this kind of prejudice was inexcusable."
Masterfoods spokeswoman Alice Nathanson issued a statement in which she said the company would stop running the ad on television and the Web site.
"As with all of our Snickers advertising, our goal was to capture the attention of our core Snickers consumer," Nathanson wrote.
"Feedback from our target consumers has been positive. In addition, many media and website commentators of this year's Super Bowl commercial line-up ranked the commercial among this year's top ten best. USA Today ranked it 9 of its top ten picks," she continued.
"We know that humor is highly subjective and understand that some people may have found the ad offensive. Clearly that was not our intent," she wrote.
Masterfoods brands include Uncle Ben's rice, Pedigree dog food and Whiskas cat food. It is part of Mars Inc., a family-owned company.
Thanks for reading CBS NEWS.
Create your free account or log in
for more features.