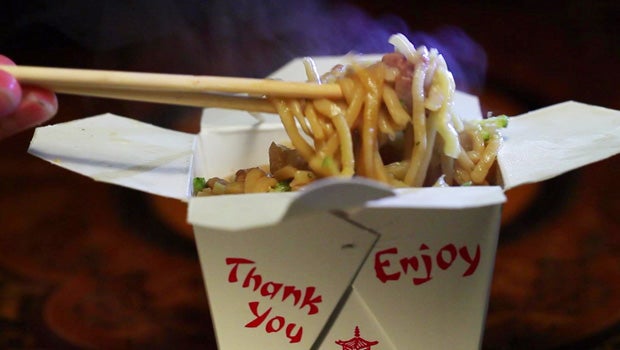 Small wonders of design: The Chinese take-out box
Susan Spencer highlights some everyday items that are so well-designed, they're hard to improve upon:
Nothing quite says "Dig in!" like the unmistakable sight of the iconic Chinese take-out box.
"You see it, and you know exactly what it means," said Peter Kim, executive director of New York's Museum of Food and Drink.
So iconic, in fact, that the take-out carton will soon be featured there.
"It's a pretty amazing piece of design," Kim said. "It's all cut from one piece of paper, and it's folded up, so you don't have any seams. What that means is that there's no place for liquids to actually seep out."
Spencer said, "Yet most people who get their Chinese food don't look at that and say, 'What a great box.'"
"No, but it is a wondrous thing."
A wondrous work of origami, to which you never give a second thought, even on your second helping.
And, it's a uniquely American creation. It was patented in 1894 by Chicago inventor Frederick Weeks Wilcox.
In the 1970s that red pagoda, popularized in San Francisco, was added, along with the words "Thank you," and "Enjoy."
As for the food inside: "Chinese-American cuisine itself is very different from food you find in China," said Kim.
"So we have American food, basically, in an American box, and we all think that we're going around being ethnic?" laughed Spencer.
"Yes, Chinese food in the Chinese takeout box is as American as apple pie."
No surprise, then, that the takeout box is made in the U.S.A. -- the biggest company churns out a whopping 300 million a year.
"There are over 40,000 Chinese restaurants in the U.S.," said Kim. "And just to put that in context for you, that's nearly three times as many McDonald's as there are in the U.S."
But back to that iconic box: Peter Kim likes to save the best for last. "I'm gonna let you in on a little secret: not only is this takeout container great for holding in food, but if you just pop out the wire handle, then the container turns into a really nifty little plate."
Something to keep in mind at your next swanky dinner party...

More Small Wonders:

For more info:
Thanks for reading CBS NEWS.
Create your free account or log in
for more features.