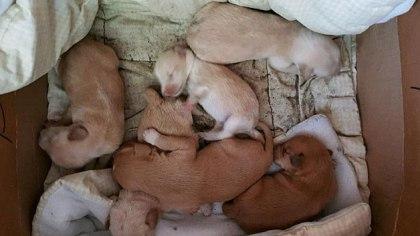 6 newborn puppies found in tied-up sack in river expected to survive
UXBRIDGE, Mass. -- Six newborn puppies are expected to survive after being found in a tied-up sack dumped in a southern Massachusetts waterway Sunday, police say.
Police in Uxbridge believe whoever is responsible tossed the bag with the puppies into the Blackstone River sometime between 11:30 a.m. and 1 p.m. Sunday. Two kayakers came across the potato sack, heard whimpering and were able to rescue the puppies and contact authorities, Uxbridge Police Department Chief Jeffrey Lourie told Crimesider.
The sack was not totally submerged when the kayakers found it, but was on the side of the river and quickly taking on water, Lourie said. The animals were in distress, and one of them – the runt of the litter, who was on the bottom of the sack -- was beginning to become submerged and had taken on some water and mud into its lungs, Lourie said.
It was not clear how long the sack had been in the water before the kayakers discovered it. Lourie said if it weren't for the quick actions the kayakers, the puppies surely would have died.
"I believe as a police chief they had guardian angels looking over them, these kayakers," Lourie said. "It was only a matter of time before they were all submerged and perished."
All the puppies, believed to be less than seven days old, are expected to survive. They're in the care of Uxbridge Animal Control, Lourie said.
The police department says they've received a large amount of inquiries from the community about adoption. The lab-mix puppies were expected to be adopted out in about 8 to 9 weeks, reports CBS Boston.
In a Facebook post, the department said they are still searching for the "low life" suspect.
Lourie said the department aims to find homes for the puppies and identify whoever is responsible for nearly killing them.
"Obviously this is a heinous act, unconscionable," Lourie said. "We definitely want to be able to charge [the suspect] with six counts of cruelty to animals."
Lourie said his department is combing through surveillance video and will release any relevant footage to the media. They're also asking to speak with a man on a mountain bike who was seen in the area between 11:30 and 1 p.m. who may have information.
Thanks for reading CBS NEWS.
Create your free account or log in
for more features.